DNA's grandparental leave rewarded as the Working Life Action of the Year
The paid grandparental leave launched by DNA was rewarded as the Working Life Action of the year in the 100 Actions campaign, organised by Ilmarinen Mutual Pension Insurance Company. In the campaign, Ilmarinen challenged companies and other organisations to devise 100 actions for a better working community in honour of the 100th anniversary of Finland's independence. DNA's grandparental leave won the campaign vote.
Since the beginning of 2017, DNA has been the first company in Finland to offer a week's paid leave for all employees who become grandparents. The leave should be used for spending time with the family.
"We are very pleased that our unique grandparental leave was chosen as the Working Life Action of the Year. DNA's strategic goal is to be an excellent workplace and we wish to draw attention to family friendliness and well-being even at a later stage in one's career. Thank you to all who have voted for us!" says Marko Rissanen, Senior Vice President, Human Resources at DNA.
In a short time, just under 20 DNA employees who have become grandmothers or grandfathers have taken grandparental leave, and many others are already waiting for theirs. The grandparental leave has been widely welcomed amongst staff, regardless of age.
"It has been nice to see that both men and women have decided to use the grandparental leave. As more than 500 DNA employees are at an age in which they can become grandparents, this leave will certainly be taken in the future as well," Marko says.
"This action is a great example of combining work and leisure and family-friendly values. It is also commended for taking personnel opinions into account, because the initiative for grandparental leave originally came from the staff, and it was taken forward in an open-minded and agile way", state the award criteria.
DNA participates in the Family-Friendly Workplace pilot project  of Väestöliitto, the Family Federation of Finland. The project aims at promoting family-friendly attitudes and practices at workplaces. "We constantly seek new ways of promoting family friendliness and flexibility at work. As part of the project, in addition to introducing grandparental leave, we have considerably expanded remote working opportunities in customer service positions and also encouraged men to take longer family leave", says Marko, summarising the company's efforts.
More information:
Marko Rissanen, Senior Vice President, Human Resources, tel. +358 (0)44 220 3230 marko.rissanen@dna.fi
DNA Corporate Communications, tel. +358 (0)44 044 8000, viestinta@dna.fi
Tietoja julkaisijasta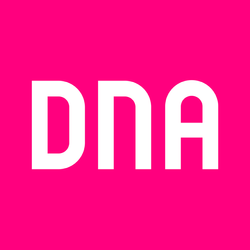 DNA Oyj
PL 10
01044 DNA
http://www.dna.fi
DNA Plc is a Finnish telecommunications group providing high-quality voice, data and TV services for communication, entertainment and working. DNA is Finland's largest cable operator and the leading pay TV provider in both cable and terrestrial networks. For DNA, the key area for growth in corporate business is the new way of working, independent of time and place, facilitated by smart terminal devices, diverse communications services and rapid connections. In 2016, DNA recorded net sales of EUR 859 million and an operating profit of EUR 91 million. DNA has more than 3.8 million subscriptions in its fixed and mobile communications networks. The Group also includes DNA Store, Finland's largest retail chain selling mobile phones. DNA shares are listed on Nasdaq Helsinki Ltd. For further information, visit www.dna.fi or follow us on Twitter @DNA_fi, @DNA_Business and @DNA_Palvelu and Facebook.
Tilaa tiedotteet sähköpostiisi
Haluatko tietää asioista ensimmäisten joukossa? Kun tilaat mediatiedotteemme, saat ne sähköpostiisi välittömästi julkaisuhetkellä. Tilauksen voit halutessasi perua milloin tahansa.
Lue lisää julkaisijalta DNA Oyj
Uutishuoneessa voit lukea tiedotteitamme ja muuta julkaisemaamme materiaalia. Löydät sieltä niin yhteyshenkilöidemme tiedot kuin vapaasti julkaistavissa olevia kuvia ja videoita. Uutishuoneessa voit nähdä myös sosiaalisen median sisältöjä. Kaikki STT Infossa julkaistu materiaali on vapaasti median käytettävissä.
Tutustu uutishuoneeseemme