DNA's mobile data transfer speeds proven to be at top level
According to Omnitele Oy's recent comparison covering 15 towns and cities DNA's mobile broadband had higher average downlink speed than its competitors. DNA's mobile networks have been upgraded considerably to enable even higher user speeds and 5G services.
The survey was directed at the domestic mobile networks of DNA, Elisa and Telia. The measurements were made on the fastest consumer subscription offered by each operator.
DNA was the fastest in average downlink traffic (from the network to the mobile device). DNA's average speed was 53.5 Mbps, while Elisa's speed was 47.4 Mbps and Telia's 40.3 Mbps.
In uplink traffic (from the mobile device to the network), the situation was more even. Telia had the highest average uplink speed in the comparison, 25.9 Mbps. DNA's corresponding figure was 25.2 Mbps and Elisa's 22.5 Mbps.
The most important figure illustrating network performance is the downlink speed, as users typically transfer far more data from the network to their device than vice versa. The downlink speed has a direct impact on how quickly websites and videos, for example, are downloaded.
By international standards, the data transfer speeds of all Finnish operators are at an excellent level.
Services require increasingly high speeds – Ultra HD video, for example, requires about 25 Mbps
The requirements set for data transfer speeds by services will increase in the near future. Smooth watching of Ultra HD videos, for example, requires a download speed of about 25 Mbps. Of the measured DNA samples, 73% exceeded 25 Mbps in the service breakdown. Elisa's corresponding figure was 65% and Telia's 57%.
DNA's upgraded network and 5G preparations
The most important factor behind the speed differences established by Omnitele seems to be the utilisation of Carrier Aggregation.
"The differences in data transfer speeds correlate primarily with the utilisation rate of Carrier Aggregation, where several carrier waves are utilised in parallel to increase the data transfer speed and capacity. As appears from Omnitele's survey, DNA uses this technology in a larger scale than its competitors. We have moved on to a capacity age in network construction, which means that a clearly larger part of network investments are targeted at expanding the capacity, of the existing 4G network," says Tommy Olenius, VP for Technology at DNA.
DNA's mobile networks have been upgraded considerably to enable even higher user speeds. The network has also been prepared for 5G readiness since 2016. The latest actions taken to prepare for 5G include providing the mobile network with IPv6 readiness and expanding the NB-IoT readiness. NB-Iot readiness covers about 85 percent of the Finnish population. During the winter, DNA has demonstrated the LTE-M technology, which plays a key role in 5G and IoT services.
Differences between cities – DNA's network the fastest in most of them
Omnitele is an independent consulting company specialised in mobile networks and their development. It is owned by a number of Finnish investors and operators, e.g. DNA and, with a small holding, Elisa.
The measurements were made between November 2017 and January 2018 in the following 15 cities: Helsinki, Espoo, Vantaa, Tampere, Oulu, Turku, Jyväskylä, Lahti, Kuopio, Kouvola, Pori, Joensuu, Lappeenranta, Hämeenlinna and Rovaniemi.
DNA achieved the highest average downlink data transfer speed in 12 cities, Telia in two and Elisa in one. The operators' data transfer speeds varied somewhat between different cities and locations. However, the results give a fairly good overall picture of the average data transfer speeds and of the differences between the operators in the areas where the measurements were made.
DNA had the highest average uplink data transfer speed in eight cities, Telia in six and Elisa in one.
Omnitele's comparison report is available in full (in Finnish) at: http://www.dna.fi/verkko

Further information:
Tommy Olenius, VP Technology, DNA Plc, tel. +358 44 2203240, tommy.olenius@dna.fi
DNA Communications: tel: +358 44 044 8000, communications@dna.fi
Tietoja julkaisijasta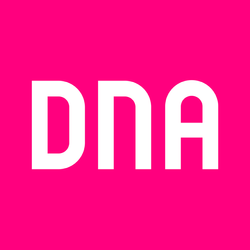 DNA Oyj
PL 10
01044 DNA
http://www.dna.fi
DNA Plc is a Finnish telecommunications group providing high-quality voice, data and TV services for communication, entertainment and working. DNA is Finland's largest cable operator and the leading pay TV provider in both cable and terrestrial networks. For DNA, the key area for growth in corporate business is the new way of working, independent of time and place, facilitated by smart terminal devices, diverse communications services and rapid connections. In 2017, DNA recorded net sales of EUR 886 million and an operating profit of EUR 124 million. DNA has more than 3.9 million subscriptions in its fixed and mobile communications networks. The Group also includes DNA Store, Finland's largest retail chain selling mobile phones. DNA shares are listed on Nasdaq Helsinki Ltd. For further information, visit www.dna.fi or follow us on Twitter @DNA_fi and Facebook.