Exports from Finland to the U.S. now almost at par with exports from Finland to Sweden - Fresh insights on U.S.-Finland trade in new Finland Supplement to The Transatlantic Economy 2021 report
Today, Amcham Finland published The Finland Supplement to The Transatlantic Economy 2021 report. The supplement provides some key insights on the U.S.-Finland trade and economic relationship.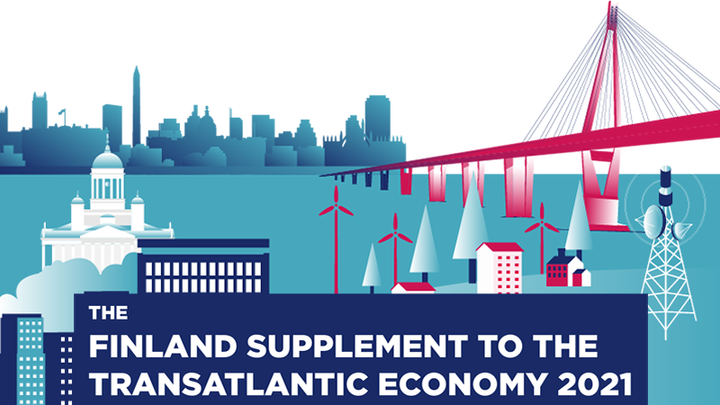 The insights will be discussed in an online event at 16:00 EEST featuring Ville Skinnari, Finland's Minister for Development Cooperation and Foreign Trade, and Ian Campbell, Chargé d'Affaires ad interim at the U.S. Embassy in Finland.
Some key insights from the supplement:
- The U.S. was the second-largest trading partner for Finland in 2020 – almost at par with Finland's trade with Sweden
- Exports from Finland to the U.S. grew by 13.4% in 2020 (an increase of more than EUR 1 billion), despite the 11% decrease in the total value of Finland's exports for the year
- The U.S. was the only country in Finland's top seven export markets to which exports increased during 2020
- While exports of goods from Finland to the U.S. increased by just 1%, overall growth in exports from Finland to the U.S. was driven by a 34% year-on-year increase in exports of services
- In 2020, the U.S. was the most important service export country for Finland, accounting for 18% of Finland's total exports of services
- The U.S. is the second-largest source of foreign direct investment in Finland (after Sweden)
In the 2020 Network Readiness Index – a measure of a country's propensity to exploit the opportunities of information & communications technology (ICT) – Finland and the United States ranked 6th and 8th respectively. ICT services represented Finland's largest export sector to the United States in 2020.
IBM Managing Director Mervi Airaksinen says, "Finland is considered a fast-moving technology forerunner, and we need to take more advantage of that. I want to see Finland and the U.S. deepen cooperation in areas like R&D, business and defense."
The supplement also outlines how Finland now ranks 7th in the Global Innovation Index 2020, an important measure for U.S. life science companies operating in Finland. American multinationals appreciate Finland'sprotection of intellectual property rights, macroeconomic stability and transparent institutions.
"As a global lifting industry leader with deep roots in Finland and a significant presence in the United States, Konecranes has strong transatlantic relations," says Konecranes President and CEO Rob Smith.
"We believe a firm commitment to free trade is crucial for both Europe and the United States, and we're pleased to see the continued strengthening of trade between the two countries," he says. "We have also given an unequivocal commitment to making our industry more sustainable – including helping our customers make their material flows more sustainable – and we believe that transatlantic cooperation can play a huge part in advancing this sustainability and ethics agenda."
Amcham Finland CEO Alexandra Pasternak-Jackson says, "I'm proud to work with our members and stakeholders to continue to increase opportunities for commercial achievement, investments, R&D collaboration, and job creation on both sides of the Atlantic."
The Finland Supplement includes contributions from Joseph P. Quinlan, Senior Fellow at the Transatlantic Leadership Network, and Juho Kostiainen, Senior Analyst at Nordea.
Visit www.amcham.fi to view the Finland Supplement and the Transatlantic Economy 2021, or to register to attend the launch event at 16:00 EEST.
About Amcham Finland
We are an international business community taking care of inbound companies building their presence in the Finnish market and outbound companies entering the United States and beyond. Through business advocacy and public-private dialogue we work toimprove and internationalize the business environment in Finland, and launch Finnish brands into the U.S. market.