Finnhub Stock API announces new partnerships with ActivFinancial and Nordic IR to boost its global coverage
Finnhub, a New-York based fintech company focusing on building a one-stop stock API for global equity data, today announced new support for global market data and market news.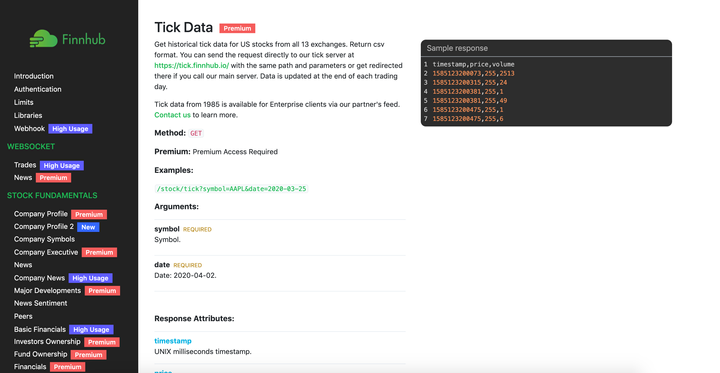 Partnering with ActivFinancial and EDI, Finhub stock API now offers support for global end-of-day market data in addition to the existing global fundamental datasets and corporate actions. This new market data plan covers end-of-day OHLC data for 60+ exchanges globally and tick-level data for North American, European, and Australian markets.
Additionally, Finnhub has partnered with company announcement service Nordic IR to improve the market news feeds for its 100,000+ users. The news service is provided by Nordic news agencies STT (Finland), TT (Sweden), NTB (Norway) and Ritzau (Denmark).
With this expansion, Finnhub stock API has now become the first vendor that provides retail investors and startups with global stock data coverage including fundamental data, market news, market data, estimates, and alternative data. You can now sign up and access these data for free on Finnhub stock API website.
Contacts
Gracie Hayes
Marketing Manager
gracie.h@finnhub.io

About Finnhub
Finnhub is a New York-based fintech company with people working in New York, Mumbai, Sydney, and Ho Chi Minh City to source, clean and serve institutional-grade financial data to investors. Finnhub stock API makes use of state-of-the-art machine learning algorithms to collect, clean, and standardize data across global markets. With global data centers and a diverse workforce, Finnhub Stock API provides high quality data with easy access to the biggest clients in the industry ranging from hedge funds, mutual funds to investment banks, S&P companies, and individual investors. Finnhub is ranked 1st in Towards Data Science stock api guide.
Subscribe to releases from Finnhub
Subscribe to all the latest releases from Finnhub by registering your e-mail address below. You can unsubscribe at any time.