Finnish boat industry manufacturers present a wide range of future solutions at METSTRADE. Welcome!
Welcome to the Finnish Pavilion at METSTRADE Amsterdam 15–17 November 2022 and meet leading Finnish manufacturers presenting the boating solutions of the future. At the world's largest marine equipment event, Finnish companies present e.g. superyacht refit services, new electric motor technology, innovative biocide-free antifouling solutions, boat electronics and boating accessories.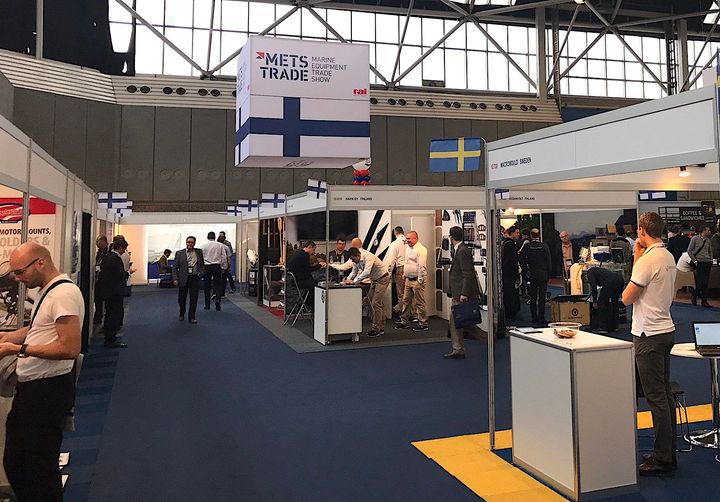 The Finnish Pavilion in hall 01 is hosted by the Finnish Marine Industries Federation Finnboat. Finnish companies are widely exhibited in the Finnish Pavilion, and many member companies are also in other halls: Lahnakoski Oy, Nawa / Lankapaja Oy, Navix Oy, Nextfour Solutions Oy, Oceanvolt Oy, Remoran Oy, Safire / SF-Lämmitin Oy, TM Company Oy, Toppi Oy, VA-Varuste Ltd, Wallas-Marin Oy, Baltic Yachts, Scandinavian Teak Deck, Velcron Oy.
The Finnish Pavilion, hall 01:
Finnboat – stand 01.680
Finnish Marine Industries Federation Finnboat hosts the Finnish Pavilion. Finnboat is the umbrella organisation for Finland's marine industry and trade. Finnboat membership represents close to one hundred percent of both the nation's domestic marine industry turnover and the value of boat exports.
Lahnakoski Oy Ab – stand 01.783
Being the leading manufacturer of wooden oars in Europe, Lahnakoski is a family enterprise where expertise and experience have been honed in four generations. The extensive range includes oars, paddles, flagpoles, boat hooks and other boating accessories with more than 50 years of experience.
Nawa / Lankapaja Oy – stand 01.778
Nawa is a Finnish brand of marine equipment manufactured by Lankapaja Oy. Lankapaja Oy is a major metal contract manufacturer from Finland that offers a wide range of services. The company manufactures metal products from sheet, coil, wire, pipe, as well as provides automation and coating. NEW for this year are the Nawa SUP board and cup holders that improve comfort on board.
The idea of Nawa products is to make mooring and fastening of different equipment easy by using patented fasteners for rail tubing combined with high-grade stainless-steel solutions. The product range includes line- and rope reels, holders for fenders, safety equipment and equipment needed on board at motor and sailboats.
Lankapaja also represents the Seaboost brand, which will be presented at the fair for the first time. Seaboost provides innovative biocide-free antifouling solutions as in-water hull brushes and floating hull cleaning devices.
Navix Oy – stand 01.681
Navix presents its concept of future boating at the fair. The company was born from a commitment to make the complex easy: to provide boat manufacturers with a critical factor of their products – safe and reliable electrical systems.
Offering includes among a wide selection of custom made products: console and helm panels, wiring harnesses, battery and heavy power management cabling, control panels, fuse units and switch panels, battery management units, shore power systems and products. Hull and roof windows, windshields, shower doors and other custom made products made of plastic.
Focus on well-designed and executed products and processes proved a successful match with the needs of customers. And in a world of constantly increasing complexity, the company's offering grew organically to provide products and services for an ever-broader scope of customers' needs.
Expanding from electrics to dashboards and panels, windshields and tailormade design elements, for land-based machines as well as boats, Navix never lost sight of its original promise. Every product is still designed, engineered, and produced to fit effortlessly into the customer's manufacturing process – to make a complex part of their business easy.
Nextfour Solutions Oy – stand 01.872
Nextfour Solutions Oy will present the entire The Q Experience ecosystem – the easiest-to-use smart plotters on the market. The following Q Displays will be displayed: 10", 12", 16" & double 10". In addition, the company will reveal two new Q Display sizes in the category "Bigger is better".
Nextfour Solutions will also demo the new Q App 2.0 and display the Q Experience accessories such as, Q Digital Switch, Q Remote, and auxiliary displays in sizes 10" & 16".
Furthermore, for the first time ever, they will reveal the ground-breaking connectivity platform for marine manufacturers to connect their products to the Q Display - Q Display API. In the booth you can get to know the Q Connected Boat, a 4G smart device for your boat that includes a surveillance system The new Q Display sizes and the Q Display API are significant news for the industry.
Oceanvolt – stand 01.682
Founded in 2004, Oceanvolt is a leading manufacturer of clean electric power and propulsion systems for boats. Oceanvolt offers clean, safe, reliable and state-of-the-art electric motors, which promote sustainability. The hydrogeneration or "creating energy while sailing" function is an automatic feature in all Oceanvolt motors and makes any sailing vessel truly self sustainable.
Oceanvolt focuses 100% on clean electric power and propulsion systems for boats ranging from monohulls and catamarans to non-plaining motorboats and commercial ferries.
Remoran Oy – stand 01.683
Remoran presents the Remoran Wave 3 hydrogen generator for sailboats for the first time at international fairs. Remoran Wave 3 produces 300 watts of clean energy while sailing at a speed of 10 knots. The device has already been tested on a sea voyage of 10,000 miles, which included e.g. Atlantic crossing. The hydrogenerator has just received the Design From Finland label, which is something to be proud of. The product is designed and manufactured in Salo, Finland.
Remoran Wave 3 can be kept in the water during the entire sailing even if the boat's battery is full thanks to its advanced charging algorithm. However, in offshore sailing, it is necessary to lift the device out of the water during sailing for cleaning if, for example, algae sticks to it.
The company also presents new brackets, slide rails and other solutions that allow the device to be easily installed on various boats, and with which lifting and lowering can be done easily and safely even when the boat is moving.
Safire / SF-Lämmitin Oy – stand 01.782
Safire diesel heaters are manufactured with 30 years' experience in design and production. Safire products have been developed in accordance with requests from the users of the heaters. Boat heaters from the Safire family provide an easy and safe way to create the ambience and warmth of a leisure boater.
Offering includes a heat source SAFIRE 39Di, which is the new and also most powerful heater in the whole range of SAFIRE heaters producing heat comfortably even to bigger boats; cera22 heat blower lid, the ideal solution for smaller boats where you can enjoy comfortable heating through the blower lid on the cera22 cooker; a compact cabin heater Safire 16Di which is a quiet direct flow heater for small HT and cabin boats as well as small sailboats.
TM Company Oy – stand 05.264
TM Company is specializing in marine innovations to make boating safe and convenient. They have recently unveiled the new Snubber mooring product line of user-friendly and aesthetically pleasing boating accessories.
All products are made of the highest quality materials in Finland and have passed rigorous quality testing needed to perform well in rough mooring conditions for any kind of boat. TM Company's Snubber Twist Mooring compensator has been nominated by the jury for
the DAME - Design Award 2021 competition.
Toppi Oy AB – stand 01.784
Toppi Oy presents samples of plastic profiles, hoses and pipes that it has produced at the fair. At METSTRADE Toppi will especially focus on the presentation of profiles and the know-how required in the manufacturing process, as well as customer meetings. At the department, customers can simultaneously design a profile that suits their needs in cooperation with Toppi's experts.
Toppi Oy is a family-owned company, established in 1953 – a pioneer in the Finnish plastic industry and extrusion techniques. Toppi Oy manufactures high-quality plastic profiles, hoses, tubes and multicables for industrial and consumer needs.
VA-Varuste Ltd – stand 01.777
VA-Varuste Ltd is one of the leading manufacturers of fitted boat textiles in the whole of Europe. Main products are boat canopies, harbour covers, boat cushions and seats. Boat textiles represent peak expertise in the field both in relation to quality and practical use. The functionality, appearance and durability are the key factors in designing new products. VA-Varuste uses 3D programs by which they can model a wide variety of alternatives without having to prepare a prototype of products. The factories are located in Finland and Poland.
Wallas-Marin Oy – stand 01.781

Wallas-Marin is providing boat heaters and cooking units with the highest quality from Finland
* Sustainable heating and cooking with carbon-free renewable diesels
* Energy-efficient, durable and low maintenance units for reducing environmental impact
* Global operations – sales and service network covering key global markets
The new products in METSTRADE are Wallas Spartan 5kw and Wallas Viking 3kW water heaters with environmental effective green boost burner, totally new APP and superior wireless features and new gimballed stoves and oven.
Also get to know Finnboat member companies participating at different parts of the fair:
Baltic Yachts – stand 11.620 at the Super Yacht Pavilion
Close to 50 years of boat building to the highest standards mean Baltic Yachts recognises the need for top quality, reliable service and refit to keep yachts operating faultlessly and to their full potential.
Baltic Yachts Service & Refit benefits from this policy by basing specialist teams from our Finland HQ in our Palma, Mallorca service and refit centre and our highly skilled and experienced teams can also travel quickly to clients anywhere in the world.
Scandinavian Teak Deck Oy – stand 11.623 at the Super Yacht Pavilion
Scandinavian Teak Deck's business idea has always been to manufacture high-quality teak-, cork and synthetic decks to mega-, motor-, and sailing yachts located anywhere in the world. The company's product range at the fair includes e.g. cork decking.
Velcron Oy – stand 12.430
Velcron offers a full range of high quality plastic components for motorboats under 30 ft. All products are made in Finland, and 95% of the products are recyclable, UV stabilised, fast and flexible deliveries.


See you at the Finnish Pavilion at METSTRADE 15–17 November!