Finnish eBrands is on the market for Amazon success stories
Finnish start-up, eBrands, is conquering the global ecommerce market by purchasing independently operated brands that have already gained significant growth from Amazon in Europe or the USA. The company currently focuses on brands that have over 90% of their sales through Amazon's ecommerce platform. eBrands has already acquired several brands from the international markets and has started operating them. The company continues to purchase new additions to its portfolio and is currently identifying further potential sellers.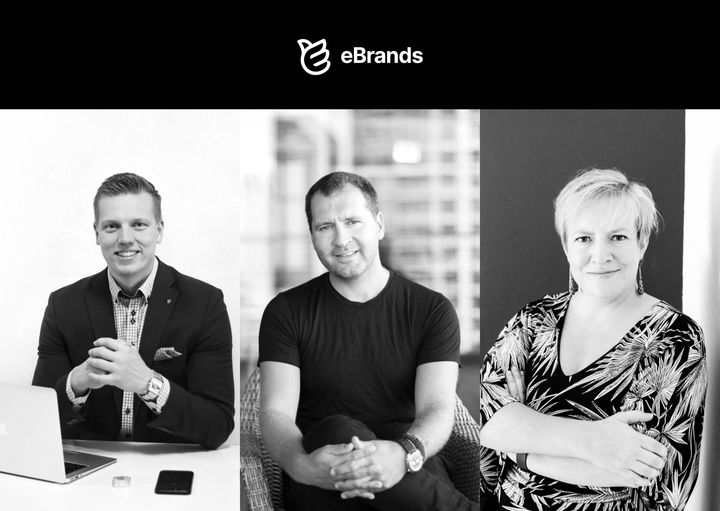 Amazon's potential for independent sellers is immense - a million new sellers are expected to register on Amazon's platform every year. "The ecommerce market itself grows over 15% every year," says Robin Bade, the CEO and co-founder of eBrands. "We focus on buying brands from entrepreneurs who have successfully grown the brands up to that point, and then we bring further scale and professionalism in growing them."
There are already some competitors with similar business models around the world – the largest of which has gained over a billion-dollar valuation in just a few years. But eBrands is the first to operate from the Nordics.
The team before all else
Robin Bade, who sold his international digital marketing agency a few years back, has since been an active angel investor and a mentor within the start-up community. For eBrands, he has joined forces with Jonne Välilä, another entrepreneur who recently sold his Amazon consultancy business. Jonne has himself been building brands in Amazon since 2017 – his first own brand sold over million pens through Amazon.
"Being aware of Robin's background and knowhow, I got immediately excited about the venture. I have some experience in negotiating the sale of my own brands, so the concept was familiar, and I have gone through some of the pains in the process." Välilä, COO and co-founder explains. "Even though the business model is based on financing the purchase of the brands, we are really taking a more entrepreneurial approach in the way we manage and scale these brands. We are not bankers, but have a deep understanding of serving customers through Amazon"
eBrands received its funding from its founders, private angel investors and from the Finnish venture capitalist Icebreaker.vc. "The market potential is huge. For example in 2020 the entire global SaaS market was $157 Bn, whereas the size of the opportunity in Amazon platform was over $200 Bn." Lasse Lehtinen from Icebreakers.vc explains. "After the highly-experienced team was completed with Erika Ottela, who is a senior ex-Amazonian leader, the decision to invest was an easy one"
Objective to create long term value with sustainable choices
In the jungles of Amazon ecommerce platform there are all types and levels of products, and the retail giant has not always been praised for its sustainable choices.
"We will focus on specific categories and choose products that can truly add value to customers. Responsibility, sustainability and high quality are our core values." Bade clarifies. Välilä adds: "We have a lot of experience in growing brands in Amazon environment, but we do not want to contribute to the sales of, for example, single-use plastics"
Subscribe to releases from eBrands Global Oy
Subscribe to all the latest releases from eBrands Global Oy by registering your e-mail address below. You can unsubscribe at any time.
Latest releases from eBrands Global Oy