Finnish Startup Soletair Power Signs Contract with German ZBT to Provide their Direct Air Capture of CO₂ Unit
A significant leap towards companies embracing carbon minus solutions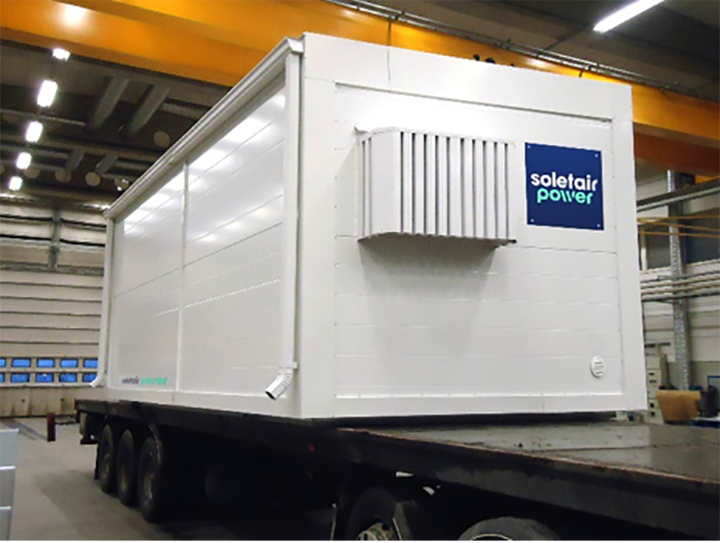 Lappeenranta, Finland: Soletair Power has signed a contract with the Hydrogen and Fuel Cell Center ZBT, Germany on June 8, 2021, to provide them a carbon dioxide capture plant that will daily extract a significant amount of carbon dioxide directly from air after installation.
"Our system is more compact and tailored for buildings - I think that's what makes our units suitable for organizational use. Winning this tender shows our competence in the global carbon capture market" says Petri Laakso, CEO at Soletair Power. "We are delighted and super excited to deliver our system to ZBT!"
Through the installation, Soletair Power's system will enable ZBT to utilize the carbon dioxide from the air in making synthetic fuels.
"The DAC technology is a link to close the carbon cycle and to enhance the storage of renewable power," says Ulrich Gardemann, Group Leader, Methane Technologies at ZBT. "We are happy to install Soletair Power's CO2 capture system and demonstrate the whole variety of power to gas applications on our test field in Duisburg."
Most climate model scenarios suggest that billions of metric tons of carbon dioxide must be removed from the atmosphere to confront global warming and to prevent the worst climate impacts. Among the several carbon-removal approaches, direct air capture technology shows enormous potential for scaling up and these systems are the first of their kind.
Definition of DAC: [Direct Air Capture is a process where carbon dioxide is captured directly from air, and then converted into forms of renewable energy source and thus removed from atmosphere]
Contacts
Petri Laakso
CEO
Soletair Power
+358405445646
petri.laakso@soletairpower.fi

Images
About Soletair Power Oy
Soletair Power Oy




About Soletair Power: Soletair Power is a Finnish startup founded in 2016 that manufactures solutions for carbon capture directly from the ambient air. The captured carbon dioxide is stored as long-lived products such as hydrocarbons or synthetic fuel. Soletair Power is backed by technology giant Wärtsilä Corporation and secured more than a million euro as seed funding for representing an important step towards a carbon-neutral future. www.soletairpower.fi
About Hydrogen and Fuel Cell Center ZBT: ZBT is one of the leading research institutes in Europe for fuel cell and hydrogen technologies and a sought-after R&D partner in both European and national cutting-edge research as well as in industrial projects focusing on automotive applications and stationary power generation. www.zbt.de/nc/en/meta-menu/home 
Subscribe to releases from Soletair Power Oy
Subscribe to all the latest releases from Soletair Power Oy by registering your e-mail address below. You can unsubscribe at any time.
Latest releases from Soletair Power Oy