Harvesting show convinced in Catalonia: Fixteri proving to become a successful solution for fighting forest fires
Finnish Fixteri has successfully demonstrated the advanced supply chain of biofuel raw material in Spain. In addition to the productivity leap, special interest was targeted to solution offered by Fixteri for thinning of combustible forestry areas. Over a hundred forest and bioenergy experts from as far as Brazil as well as local authorities attended the harvesting show.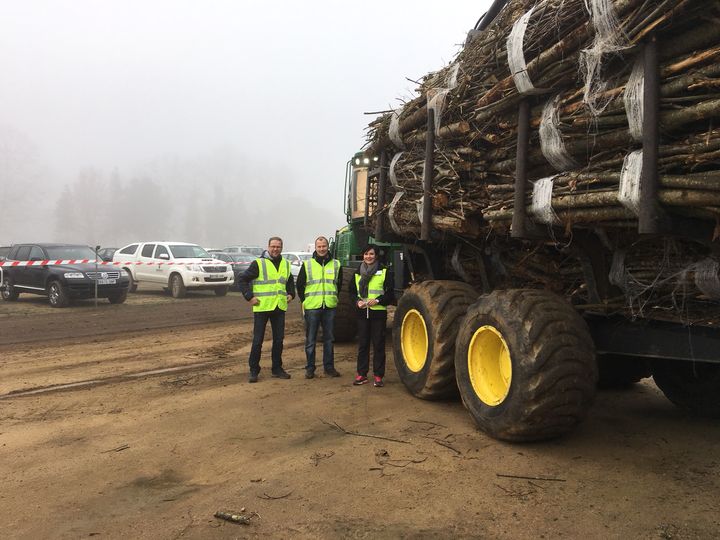 Press Release 1st February 2018
Fixteri's capability for effective thinning of small diameter wood is highly interesting for Catalonian authorities, as untreated forest is exposed to forest fires especially in the dry climate of Southern Europe. Harnessing the Fixteri bundle for preventing forest fires was seen as a great opportunity. At the same time the participants were convinced by the effectiveness of the whole supply chain.
'We were excited to understand that Fixteri provides so many advantages here in Catalonia as well as back home in Brazil. Fixteri's potential to prevent forest fires has been well demonstrated and not only that, it's clear that the leap in productivity offered by Fixteri is massive and valuable in all circumstances', tells Mr Lucas Cavalcanti, CEO of Grupo Semil. Grupo Semil is Brazil's largest wood harvesting company with its fleet of 150 machines.
The harvesting show yesterday proceeded from forest thinning and bundle processing to storage and chipping of the wood material, and continuation of logistics towards the bioenergy facility. Also, the record pace of forwarding the bundles and chipping came as a surprise for many.
"Since last November we have tested Fixteri in Catalonian chestnut and pinewood forests and Lignia Biomassa has supplied woodchips as mass to a French power plant. It's magnificent to witness that Fixteri works here just as smoothly as back home in Central Finland', says Ms Minna Lappalainen, Chairman of the Board of the Fixteri Group.
'We believe the harvesting show proved to those present how small diameter wood can be utilised sustainably and productively. At the same time, Fixteri is an excellent tool to prevent forest fires. It's good to go forward from here', says Lappalainen.
The Fixteri bundler is used as an attachment to forestry machinery. It collects and bundles small trees more cost-effectively than any other technology. Fixteri's significantly better efficiency in thinning and regeneration felling has been proven in several Finnish and international studies, which are available at www.fixteri.fi.
In a young untreated forest, the trees do not grow properly, and small wood will be left unused. Ecological thinning by Fixteri supports the forest industry's targets and forestry becomes more profitable than ever before. At the same time, Fixteri creates an infrastructure for the diversified use of the forest and carbon neutrality for society.
Further information,
Finland and internationally:   
Minna Lappalainen, partner, +358 40 705 4395, minna.lappalainen@fixteri.fi
Spain:                                 
Timo Meriläinen, +34 609 88 7648, timo@tmforest.com
Jesus Martinez Ben, +34 622 390297, jesus.martinez@fmc-galicia.com
Kuvat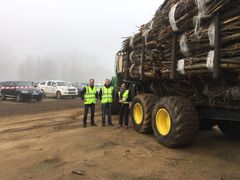 Tietoja julkaisijasta

Fixteri
Lokakyläntie 223
43300 Kannonkoski
+358 40 705 4395
https://fixteri.fi
Fixteri on älykäs suomalainen ratkaisu hoitaa ja käyttää metsiä kestävästi ja tuottavasti. Se on myös hyvä työkalu metsäpalojen torjuntaan. Ainutlaatuinen teknologia paalaa pienpuun valmiiksi harvennuksen ja uudistushakkuun yhteydessä. Metsäkoneen lisälaitteena toimivan Fixteri-paalaimen tehokkuus on verifioitu ylivertaiseksi pieniläpimittaisten puiden korjuussa. Fixing forests: www.fixteri.fi, Facebook, Twitter, YouTube.
Fixteri is an intelligent Finnish solution for treating and using forests sustainably and productively. It is also a good tool to prevent forest fires. Unique technology bundles the small trees during thinning and is used together with regeneration felling. The efficiency of the Fixteri bundler which is used as an attachment to forestry machinery has been verified as superior in the harvesting of small diameter trees. Fixing forests: www.fixteri.fi, Facebook, Twitter, YouTube.
Tilaa tiedotteet sähköpostiisi
Haluatko tietää asioista ensimmäisten joukossa? Kun tilaat mediatiedotteemme, saat ne sähköpostiisi välittömästi julkaisuhetkellä. Tilauksen voit halutessasi perua milloin tahansa.
Lue lisää julkaisijalta Fixteri
Uutishuoneessa voit lukea tiedotteitamme ja muuta julkaisemaamme materiaalia. Löydät sieltä niin yhteyshenkilöidemme tiedot kuin vapaasti julkaistavissa olevia kuvia ja videoita. Uutishuoneessa voit nähdä myös sosiaalisen median sisältöjä. Kaikki STT Infossa julkaistu materiaali on vapaasti median käytettävissä.
Tutustu uutishuoneeseemme