Helsinki Chemicals Forum Brings Chemicals Safety experts together to debate hot topics on chemicals regulations
The 2022 conference is bringing the global chemicals safety community back together from 8 to 9 June 2022 in Helsinki, Finland, for information and to provide expert advice to policy makers around the world.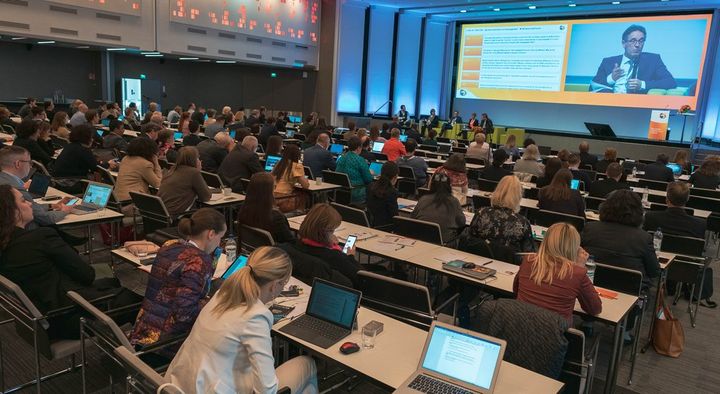 The Helsinki Chemicals Forum (HCF) engages international authorities, industry leaders, NGOs, academics and media with moderated discussion panels and keynote presentations of global relevance. Topics delve into all relevant aspects in chemicals safety and regulations.
"The hybrid HCF 2022 conference starts on Wednesday 8th June and offers a unique insight in the most topical subjects on international chemicals regulations debated by panels of top experts from different stakeholders and countries, a perfect networking and learning opportunity for all", says Geert Dancet, Secretary General of HCF.
Five topical panel discussions
Kristin Schreiber, Director Ecosystems of the European Commission at DG Growth, and Peter van der Zandt, Director of Risk Management at ECHA, will open the conference with opening keynote speeches.
Top international moderators from ECHA, European Commission, CEFIC, OECD and UNEP will debate with 4 to 5 expert speakers and the live and online audience to draw conclusions on five panel topics:
Accelerating chemicals regulation: grouping of chemicals, generic approach to risk management and essential use concept
How to best define and stimulate Safe and Sustainable by Design substances that can replace substances of concern?
Can chemicals risk management be integrated with circularity and climate policy objectives in one holistic assessment?
How to accelerate the replacement of animal toxicity testing?
A science policy interface for the sound management of chemicals and waste: "something in it for all".
The tickets for online registration can still be bought during the Forum and over the coming 3 months. The recorded keynotes and panel debates will be available by Friday 10 June after the event for access. Additionally, an informative conclusion report will be available before the end of June.
Three linked events for chemicals professionals at Messukeskus
The HCF conference will be held at the Helsinki Expo and Convention Centre with ChemBio Finland exhibition, the event for the chemistry and biotechnology professionals in the Nordic Countries and Baltic regions, as well as PulPaper, the leading international event for the forest industry. Participants in person of the HCF exhibitions. Over 90 companies will be presented at the ChemBio Finland exhibition and nearly 250 companies at the PulPaper event.
They can also participate in the Green Economy Business Summit on 8th of June. At the event there will be discussions on how to ensure adequate economic well-being while reducing the burden on the environment. A panel of four industry experts will debate this topic after keynote speeches given by Mr. Jyrki Katainen, President of the Finnish Innovation Fund Sitra and Internal Market Commissioner Thierry Breton.
Next HCF dates in 2024
The Helsinki Chemicals Forum will be organized next time in 2024, April 10-11, at the Helsinki Expo and Convention Centre, simultaneously with ChemBio Finland and PulPaper 2024 events.
Helsinki Chemicals Forum is promoting chemicals safety and chemicals management globally. The conference is built around high-profile panels and keynote presentations as well as related debates. The forum will in future be organised every other year simultaneously with the ChemBio Finland and PulPaper by the non-profit Chemicals Forum Association in co-operation with the European Chemicals Agency (ECHA), the European Commission, The European Chemical Industry Council CEFIC, the City of Helsinki, the Chemical Industry Federation of Finland and the University of Helsinki. Helsinki Chemicals Forum will organize a conference in Asia with a local partner.
Useful links:
More information:
Helsinki Chemicals Forum: Geert Dancet, Secretary General, geert.dancet@messukeskus.com
Helsinki Expo and Convention Centre: Anu-Eveliina Mattila, Communications Manager, tel.: +358 50 555 6183, anu-eveliina.mattila@messukeskus.com
Tietoja julkaisijasta

Messukeskus
Messuaukio 1
00520 HELSINKI
+358 40 450 3250
http://www.messukeskus.com
Helsingin Messukeskus on ihmisläheinen media ja turvallisuudestaan palkittu tapahtumatalo, joka luo kasvua aitojen kohtaamisten kautta. Suomen suurin tapahtumajärjestäjä tuottaa laadukkaita tapahtumia sekä vuokraa tilojaan ja palvelujaan live-, hybridi- ja virtuaalitapahtumien areenaksi. | Messukeskus – kasvua kohtaamsista | www.messukeskus.com | @messukeskus | twitter.com/messukeskus 
Helsinki Expo and Convention Centre (brand name Messukeskus) creates growth through encounters. We are the largest event organiser in Finland producing or hosting 50 exhibitions and one thousand meetings and congresses annually. We provide a perfect venue with 7 adaptable halls, 40 conference spaces, the 4,400-seater Amfi Hall auditorium, 21 restaurants, a fully renewed event hotel, and all event services, including live, virtual and hybrid events. | www.messukeskus.com | @messukeskus |  | twitter.com/messukeskus 
Tilaa tiedotteet sähköpostiisi
Haluatko tietää asioista ensimmäisten joukossa? Kun tilaat tiedotteemme, saat ne sähköpostiisi välittömästi julkaisuhetkellä. Tilauksen voit halutessasi perua milloin tahansa.
Lue lisää julkaisijalta Messukeskus
Uutishuoneessa voit lukea tiedotteitamme ja muuta julkaisemaamme materiaalia. Löydät sieltä niin yhteyshenkilöidemme tiedot kuin vapaasti julkaistavissa olevia kuvia ja videoita. Uutishuoneessa voit nähdä myös sosiaalisen median sisältöjä. Kaikki tiedotepalvelussa julkaistu materiaali on vapaasti median käytettävissä.
Tutustu uutishuoneeseemme