Helsinki Expo and Convention Centre chose NoHo Partners as its new strategic partner to renew its restaurant service
Helsinki Expo and Convention Centre and NoHo Partners have signed a multi-year contract for restaurant and catering services. The agreement enters into force on 1 July 2023. As a result of the cooperation, the restaurant world at Finland's largest event centre will be significantly renewed.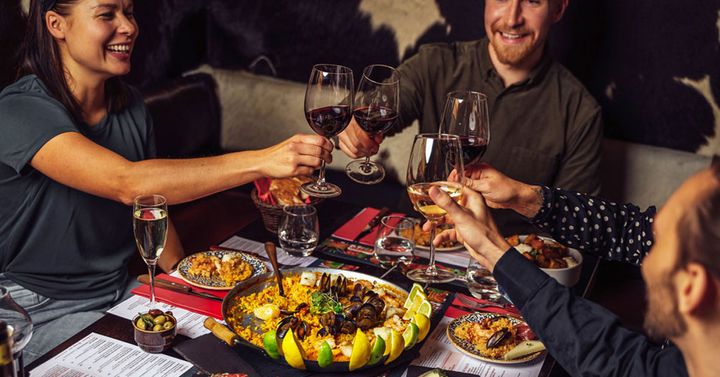 NoHo Partners is a Finnish group specialized in catering services, founded in 1996. Cooperation with Helsinki Expo and Convention Centre is one of NoHo Partners' major city projects. The company has established a dedicated business unit, NoHo Events, to respond to customers' growing and diversifying quality expectations.
- Helsinki Expo and Convention Centre is a well-established entity for Finnish events, congresses, and fairs, known broadly both in Finland and abroad. It is an honour to be involved in developing its restaurant operations in cooperation with the Centre. We take on the challenge with a humble but enthusiastic spirit and stake all our expertise in large public events and restaurant brands on it. Helsinki Expo and Convention Centre's restaurant operations are unique in their category in Finland, and their development and growth are at the core of our strategy, says CEO of NoHo Partners Aku Vikström.
Helsinki Expo and Convention Centre organizes dozens of large trade and public fairs, hundreds of meetings, international congresses with thousands of participants as well as corporate and entertainment events, parties, and banquets, which are visited annually by a total of about one million visitors. The annual revenue from the restaurant services is approximately EUR 15 million. – The event industry is developing rapidly, and restaurant services are an increasingly important part of a successful event experience. As a result of the cooperation, our restaurant world will be greatly renewed, and the accessibility and comfort of the facilities will also be significantly improved. Together with NoHo Partners, we can develop mouth-watering experiences and fascinating restaurant atmospheres for both our domestic and international clientele, says Anni Vepsäläinen, CEO of Helsinki Expo and Convention Centre.
Helsinki Expo and Convention Centre's restaurant world includes 21 different restaurants and cafés, including the restaurant services of the hotel operating in connection with Helsinki Expo and Convention Centre. In the halls, catering can be arranged for up to 10,000 party guests at the same time. The business is very versatile, and the customer base is international. The product and service range must stretch flexibly from fine dining to finger foods and champagne bars, from delicious café products to high-quality lunch servings and from salad bars to casual and quickly eaten fast food.
Sustainability in restaurant services as well as the high quality, origin and traceability of the food are important goals for both partners. Joint plans include sustainable and ethical sourcing, minimizing food waste, reducing energy consumption, using environmentally friendly packaging materials and efficient recycling.
Helsinki Expo and Convention Centre, brand name Messukeskus, is a people-oriented media and an event house recognised for its safety, creating growth through genuine encounters. Finland's largest event organiser produces high quality events and offers its facilities and services as an arena for various events. Events produced by Messukeskus include among others Habitare, Educa, FinnBuild, Helsinki Book Fair, Matka Nordic Travel Fair and The Helsinki International Boat Show. Guest events organised at Helsinki Exhibition and Convention Centre are among others Slush, Nordic Business Forum, the Dog Fair and many international congresses and corporate events annually. The owner company Finnish Fair Corporation was founded in 1919. www.messukeskus.com
NoHo Partners Plc is a Finnish group established in 1996, specialising in restaurant services. The company, which was listed on Nasdaq Helsinki in 2013 and became the first Finnish listed restaurant company, has continued to grow strongly throughout its history. The Group companies include some 250 restaurants in Finland, Denmark and Norway. The well-known restaurant concepts of the company include Elite, Savoy, Teatteri, Sea Horse, Stefan's Steakhouse, Palace, Löyly, Hanko Sushi, Friends & Brgrs, Campingen and Cock's & Cows. Depending on the season, the Group employs approximately 2,100 people converted into full-time employees. The Group aims to achieve turnover of MEUR 400 by the end of 2024. The company's vision is to be the leading restaurant company in Northern Europe.
Contacts
Helsinki Expo and Convention Centre (The Finnish Fair Corporation)
Anni Vepsäläinen, CEO, +358 400 400 074

NoHo Partners
Aku Vikström, CEO, tel. +358 44 235 7817
Jarno Suominen, Deputy Managing Director, tel. +358 40 721 5655
Maria Koivula, Director NoHo Events, tel. +358 50 366 2382

About Messukeskus

Messukeskus
Messuaukio 1
00520 HELSINKI
+358 40 450 3250
http://www.messukeskus.com
Helsingin Messukeskus on ihmisläheinen media ja turvallisuudestaan palkittu tapahtumatalo, joka luo kasvua aitojen kohtaamisten kautta. Suomen suurin tapahtumajärjestäjä tuottaa laadukkaita tapahtumia sekä vuokraa tilojaan ja palvelujaan live-, hybridi- ja virtuaalitapahtumien areenaksi. | Messukeskus – kasvua kohtaamsista | www.messukeskus.com | @messukeskus | twitter.com/messukeskus 
Helsinki Expo and Convention Centre (brand name Messukeskus) creates growth through encounters. We are the largest event organiser in Finland producing or hosting 50 exhibitions and one thousand meetings and congresses annually. We provide a perfect venue with 7 adaptable halls, 40 conference spaces, the 4,400-seater Amfi Hall auditorium, 21 restaurants, a fully renewed event hotel, and all event services, including live, virtual and hybrid events. | www.messukeskus.com | @messukeskus |  | twitter.com/messukeskus