Hesselholdt & Mejlvang's new show at EMMA, The White Exhibition draws attention to whiteness and its symbols
The White Exhibition by Hesselholdt & Mejlvang analyses whiteness and its underlying power structures. Despite the serious topic, the collective's approach is playful, approachable, and visually engaging. Their installation is activated through daily live performances, and the exhibition extends outside the museum in the form of artworks to be printed in Espoo's local newspaper, Länsiväylä. The White Exhibition will be on view at EMMA from June 2 to August 29, 2021.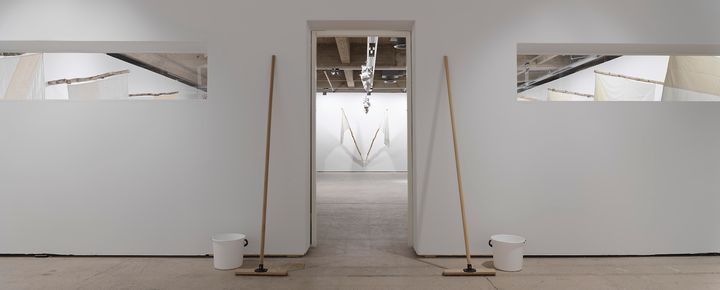 You are cordially invited to attend the online press conference on June 1, from 10.00 am to 11.00 am, via this link.
Hesselholdt & Mejlvang is a Danish artist collective formed over 20 years by Sofie Hesselholdt (b. 1974) and Vibeke Mejlvang (b. 1976), whose work analyses themes such as cultural readings of race and gender. The White Exhibition asserts that whiteness is not neutral; it´s a system that we all are a part of. The artists urge us not to lose hope, but to recognize and dismantle the systems that perpetuate social inequity and to reimagine a new, more egalitarian tomorrow.
Curated by EMMA's curator Ingrid Orman, Hesselholdt & Mejlvang's exhibition is presented in EMMA's Areena, a space reserved for new, experimental art. The collective makes a practice of reaching out to audiences also in surprising contexts outside gallery spaces. The live performances will be presented daily for four hours at a time. The collective's artworks will additionally appear on the pages of Espoo's Länsiväylä newspaper on five consecutive Wednesdays, engaging in a dialogue with the daily news.
EMMA's overarching theme for 2021 is the power of art. Hesselholdt & Mejlvang raise important topics of current discourse by exposing the underlying structures of social inequality and deconstructing entrenched notions of national identity, otherness, and collectivity.
Hesselholdt & Mejlvang have exhibited internationally in various museums including the ARoS Aarhus Art Museum, Denmark and numerous galleries and art events such as the Manifesta 12 European Biennial of Contemporary Art in Palermo, Italy.

The exhibition is supported by the Danish Arts Foundation.