Households invested heavily in equities in March 2022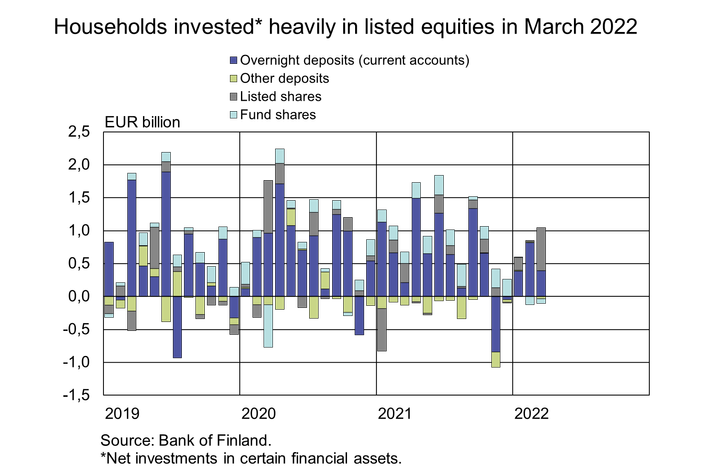 In March 2022, households invested in a further EUR 650 million in net terms[1] in listed shares, although Russia's invasion war had increased uncertainty in the markets. The last time households invested more in equities in a month's period was at the onset of the COVID-19 pandemic in March 2020, when equity prices tumbled. Almost a third of the investments this March were made in foreign companies' shares. In recent years, the proportion of foreign shares in households' shareholdings has risen, but it was still low (12%) at the end of March 2022.
At the end of March 2022, households had listed shareholdings worth EUR 49.2 billion, which is 10.8% less than at the end of 2021. Due to the decline of equity prices in January and February 2022, the value of the holdings decreased by a total of EUR 6.6 billion, while households invested EUR 210 million more in equities during the same period. In March 2022, equities depreciated only by EUR 200 million, and owing to large net investment, shareholdings increased by EUR 440 million from the previous month.
In the first quarter of 2022, Finnish households made more redemptions than subscriptions in Finnish investment funds. The redemptions were concentrated on bond funds. The value of fund holdings also decreased in January to February 2022 by over EUR 2 billion. In January–February, most of the impairments stemmed from equity funds (EUR 1.4 billion), but there were significant amounts also from bond and mixed funds. In March 2022, the value of the holdings rose again by EUR 320 million owing to the appreciation of equity funds.
At the end of March 2022, Finnish households held investment fund shares worth EUR 32.5 billion, which is 6.2% less than at the end of 2021. Only a small proportion (0.2%) of Finnish households' investments were in Russian and Eastern European funds.
Finnish households deposit stock stood at EUR 110.6 billion at the end of March 2022, and its annual rate of growth was 5.5%. 92% of the funds on deposit accounts were on current accounts. The average interest rate on the deposit stock was 0.03%. In March 2022, the net inflow of new funds to deposit accounts was lower than normal (EUR 360 million).
For further information, please contact:
Markus Aaltonen, tel. +358 9 183 2395, email: markus.aaltonen(at)bof.fi,
Ville Tolkki, tel. +358 9 183 2420, email: ville.tolkki(at)bof.fi.
Related statistical data and graphs are also available on the Bank of Finland website: shttps://www.suomenpankki.fi/en/Statistics/saving-and-investing/.
The next news release on saving and investing will be published at 10 am on 10 August 2022.
[1] Purchases-sales
About Suomen Pankki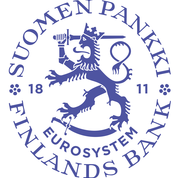 Suomen Pankki
Snellmaninaukio, PL 160
00101 HELSINKI
09 1831
http://www.bof.fi
The Bank of Finland is the national monetary authority and central bank of Finland. At the same time, it is also a part of the Eurosystem, which is responsible for monetary policy and other central bank tasks in the euro area and administers use of the world's second largest currency – the euro.