Internationalization Award of the President of the Republic of Finland to Kempower
Mr. Sauli Niinistö, the President of the Republic of Finland, has granted the annual internationalization award to successful Finnish companies. Kempower, a provider of fast charging solutions for electric vehicles, will be awarded as the newcomer company of 2022.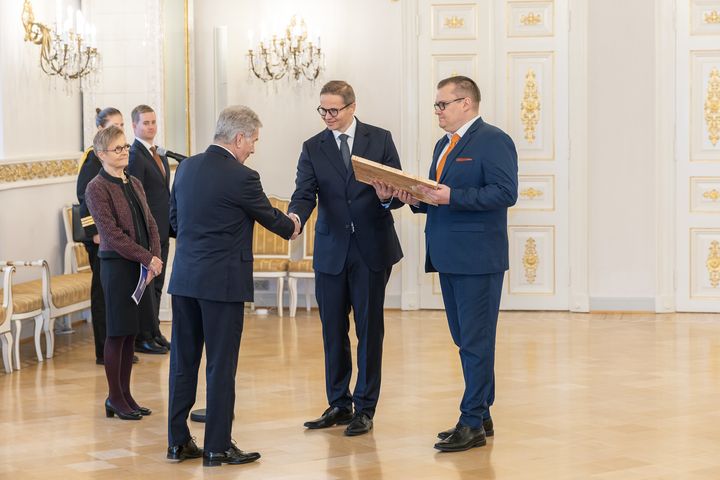 The Internationalization Award of the President of the Republic of Finland is bestowed annually in recognition of internationally successful companies or communities. Nominations were proposed by various business organizations. In addition to Kempower, K. Hartwall, Andritz and Kasvuryhmä Suomi ry were awarded.
"In addition to international success, the evaluation this year emphasized sustainable development and the ethical nature of operations as well as impacts on Finnish competence, innovation, the development of employment and foreign investments. The award-winning companies have been able to continue healthy business despite the coronavirus crisis and the war in Ukraine," says Ilona Lundström, Chairman of the Team Finland Executive Group and Director-General at the Ministry of Economic Affairs and Employment.
The final award recipients were proposed to the president by the actors of the Team Finland network, Business Finland, ELY centers (Centers for Economic Development, Transport and the Environment), Finnvera, and the Ministry for Foreign Affairs.
"There is a growing demand in the world for sustainable solutions. The award-winning companies have boldly developed their competence skills to solve difficult problems. It is great to see that we in Finland can be bigger than we are and thereby boost our exports," says Nina Kopola, Director-General of Business Finland and Vice Chairman of the Team Finland network.
Kempower, which was granted the Newcomer Award, designs, and manufactures DC fast charging solutions for electric vehicles. Kempower has rapidly grown into an e-mobility enabler.
Kempower's CEO Tomi Ristimäki comments on the award:
"Kempower's goal is to boost the EV evolution by offering the world's most desired EV charging solutions to everyone, everywhere. E-mobility is already a reality for us today – our solution has been developed for a world where there are far more electric cars, buses and trucks on the roads than there are today."
"Our international growth has been rapid. We have succeeded in scaling our production in Lahti and our supply chain, located in the nearby area, along with the growth. The award is based on countless hours of work and challenges solved, which our team has overcome together with customers and other stakeholders. We will continue this work and, to support growth, we will also continue to recruit employees throughout the organization in and outside of Finland."
"I hope that we set an example for Finnish companies to believe that it is possible to grow and internationalize even amid global crises. Finnish expertise is needed and there is demand for sustainable solutions - now and in the future."


Photos of the companies: https://businessfinland.kuvat.fi/i/wmc4eM7Xt5uFVE8krAG2NgUsDSBfa93h
Photos from the President's Office; https://www.flickr.com/photos/tpkanslia/
Further information:
Team Finland:
Risto Huhta-Koivisto, Senior Advisor, Business Finland, risto.huhta-koivisto@businessfinland.fi, +358 40 343 3347
Kempower:
Paula Savonen, Communications Director, Kempower, paula.savonen@kempower.com, +358 400 343 851


About Team Finland:
The Team Finland network promotes the success of Finland and Finnish companies around the world. With its publicly funded services, the network supports companies in their internationalisation, attracts investment to Finland and builds Finland's image in the world. Find out more about Team Finland and its services: www.team-finland.fi
About Kempower:
Kempower designs and manufactures DC fast charging solutions for electric vehicles and machines. We're a team of electric vehicle enthusiasts with a deep understanding of the charging market and a hands-on mentality. Our product development and production are based in Finland, with a majority of our materials and components sourced locally. We focus on all areas of transportation, from personal cars and commercial vehicles to mining equipment, boats and motorsports. With Kemppi Group's 70 years' experience in perfecting DC power supplies, we set the bar high in engineering and user-experience design. Kempower is listed in the Nasdaq First North Growth Market Finland. www.kempower.com