Invitation to press event: Generation 2023
The Generation 2023 exhibition at Amos Rex presents works by artists aged 15–23. The 50+ exhibited works showcase themes ranging from the state of nature, issues relating to identity, freedom of expression to digital exhaustion. The exhibition is on view 29 March–20 August 2023.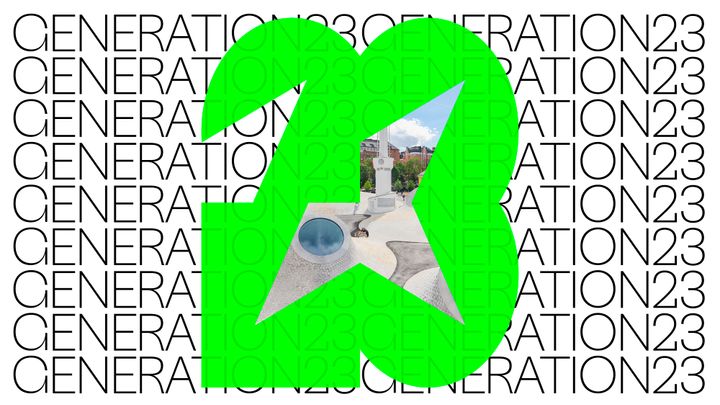 Welcome to the press event, Tuesday 28 March at 11am–1pm.
In their works, the artists of Generation 2023 seek new ways to approach the most pressing issues of our time. Many put a spotlight on the state of nature, its coexistence with humankind and our way of life in the city. Other themes that emerge are questions of cultural and gender identity, reactions to the Covid-19 pandemic, memory, mental health as well as questioning established norms related to appearance and clothing.
"The Generation triennial is one of Amos Rex's boldest ventures. Every three years we are presented with the stories and viewpoints of a new generation of artists. Giving young artists this space feels significant," Anastasia Isakova, curator of the exhibition, points out.
The selected works present a broad spectrum of mediums including painting, photography, textile art, graphic art and sculpture, aswell as media-installation- and performance art.
"Several of the artists explore different styles and art mediums. We see fearless combining of more traditional techniques with e.g. artificial intelligence or 3D printing", says Krista Mamia, curator of the exhibition.
A total of 1,004 work proposals were submitted. From these impassioned, high-quality applications, the jury selected 50 artists and working pairs to participate in the exhibition.
The artists were chosen for the exhibition by a jury led by choreographer and director Ima Iduozee. The jury included Generation 2020 artists Anna-Karoliina Vainio and Alex Luonto, museumdirector Kai Kartio, curators of the exhibition Anastasia Isakova, Krista Mamia and Laura Porola.
During the exhibition project the artists have received grants as well as support in the grants application process from Konstsamfundet and access to residency- and studio space from Tero Saarinen Company and from NuoriTaide forum (Young Visual Art).
"We have an ensemble of artists providing food for thought, conversation openers, insights, inspiration, a counterweight to the atmosphere of fear. The artists are justifiably concerned, but at the sametime full of hope for the future," says jury chair Ima Iduozee.
Performance art moving us in new directions
Esitystaide on alusta asti muodostunut erottamattomaksi osaksi Generation-näyttelyitä. Esitystaiteen teokset kutsuvat näyttelyvieraat kokemaan taidetta yhteisenä kokemuksena, kun teoksia esitetään näyttelysalissa.
The Generation exhibitions and performance art have walked closely side by side,since the beginning of the triennial. The performative works call for the audience to experience art as a collective encounter when performed in the exhibition hall.
"The performance art of the Generation exhibitions moves like a gently ruffling beat through the museum institution, literally placing us face to face with new perspectives. We are presented with a moment to reflect on how we ourselves settle into the exhibition space and moreover to follow the dialogue between artist and the inanimate materials", says curator Laura Porola.
Performances are on show in the museum during April, May and August.

Generation 2023, 29 March–20 August 2023
The exhibition is curated by Anastasia Isakova, Krista Mamia and Laura Porola.
Exhibition partners:
Föreningen Konstsamfundet, Nuori taide, Tero Saarinen Company
Subscribe to releases from Amos Rex
Subscribe to all the latest releases from Amos Rex by registering your e-mail address below. You can unsubscribe at any time.
Latest releases from Amos Rex
In our pressroom you can read all our latest releases, find our press contacts, images, documents and other relevant information about us.
Visit our pressroom