INVITATION to press event, Wednesday, June 15, 10 am: Fine Arts Academy of Finland Prize winner
You are cordially invited to attend a press event at EMMA on June 15, at 10 am. The event will mark the announcement of the winner of the 2022 Fine Arts Academy of Finland Prize, which is awarded in recognition of outstanding achievement by a Finnish artist. This is the fifth time the 2013-founded prize will be awarded. The prize includes an exhibition that will be part of EMMA's 2023 programme.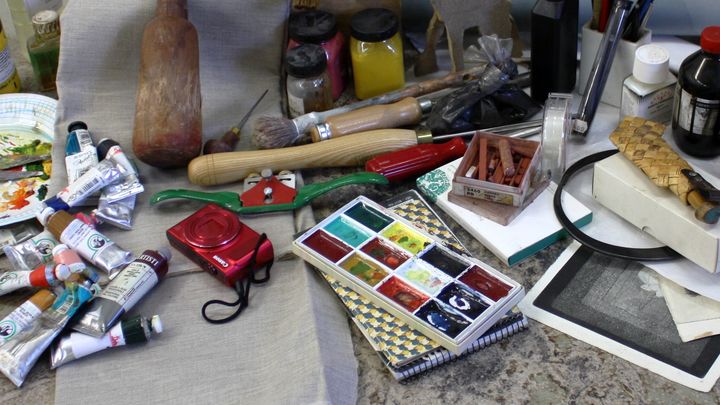 The Fine Arts Academy of Finland Prize is awarded to a Finnish artist at their creative peak whose work attracts international interest. The nominees for 2022 are visual artist Taneli Rautiainen (b.1983), visual artist Katarina Reuter (b.1964) and visual-media-graphic artist Vappu Rossi (b.1976). Each nominee has an engaging, original and recognizable style through which they make their unique voices heard. The previous prize winners have been Aaron Heino, Tuomas A. Laitinen, Camilla Vuorenmaa and Outi Pieski.
The prize consists of EUR 25.000 and an exhibition at EMMA in 2023, including a catalogue published in conjunction with the show. The prize is supported by the City of Espoo.
The media event will be hosted simultaneously online and in-person at EMMA – Espoo Museum of Modern Art. You can follow the streaming of the event on Zoom via this link.
Please address registrations and requests for interviews by Tuesday, June 14 to: Iris Suomi, Marketing Communications Designer, iris.suomi@emmamuseum.fi
Speeches to be held by:
Mauri Ylä-Kotola, Chair, Fine Arts Academy of Finland Foundation
Pilvi Kalhama, Executive Director, EMMA
The 2022 prize-winner
The event will be in Finnish. Questions can be asked also in English.
About EMMA – Espoo Museum of Modern Art
EMMA – Espoon modernin taiteen museon kokoelma- ja näyttelytoiminta profiloituu kotimaiseen ja kansainväliseen modernismiin, nykytaiteeseen sekä designiin. EMMA sijaitsee Espoon Tapiolassa, professori Aarno Ruusuvuoren suunnittelemassa betoniarkkitehtuuria edustavassa Näyttelykeskus WeeGeessä. Näyttelytilat ovat pinta-alaltaan Suomen suurimmat, ja pelkistetty moderni arkkitehtuuri tukee EMMAn, Saastamoisen säätiön ja Tapio Wirkkala Rut Bryk Säätiön kokoelmien sekä vaihtuvien näyttelyiden kokemuksellista esittämistä. Tervetuloa!
@emmamuseum
Subscribe to releases from EMMA – Espoo Museum of Modern Art
Subscribe to all the latest releases from EMMA – Espoo Museum of Modern Art by registering your e-mail address below. You can unsubscribe at any time.
Latest releases from EMMA – Espoo Museum of Modern Art
In our pressroom you can read all our latest releases, find our press contacts, images, documents and other relevant information about us.
Visit our pressroom