Invitation: Torsten Wasastjerna – a world of fairy tales and fantasy Villa Gyllenberg, 11 May - 11 September 2022
Torsten Wasastjerna's exhibition brings a lost fairy tale back to life: Some pieces have never been seen publicly before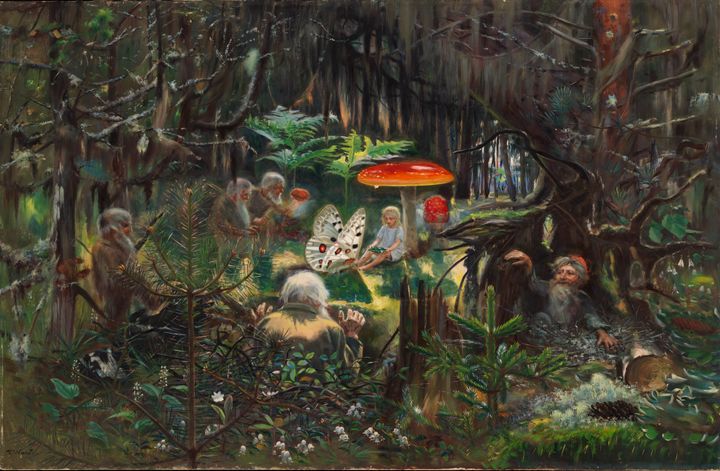 A new exhibition presenting the works of Torsten Wasastjerna will open at the Villa Gyllenberg art museum on May 11. The exhibition focuses on Wasastjerna's seldom exhibited fairy tale and fantasy themes.
Today, fairy tale and fantasy themes, as well as their visual style, are familiar from fantasy literature and movies, the pictorial tradition of fairy tales, and the aesthetics of computer games. At the same time, we are concerned about the loss of biodiversity and the lack of appreciation for the arts and imagination in this era of efficiency. As a result, Wasastjerna's paintings feel surprisingly contemporary.
These themes can be seen in the works of Torsten Wasastjerna (1863-1924), which will be on display at Villa Gyllenberg Museum from May 11 to September 11. Wasastjerna was an important artist in the Golden Age of Finnish art. He produced most of his art between the 1880s to the 1910s.
At the turn of the 20th century, he painted very large paintings with fairy tale and fantasy themes. Wasastjerna was concerned that the world of fairy tales and fantasy would give way and disappear in the triumphal path of rationalism. In his paintings, Wasastjerna brings a lost fairy tale world to life. This world feels strikingly contemporary.

Wasastjerna studied in Düsseldorf and Paris and shifted away from realistic landscape painting towards Impressionism and Symbolism. The new exhibition presents his entire spectrum of his artistic output, from the paintings he produced in Düsseldorf to the landscapes of his last years in the 1920s.
Exhibition and book shed new light on long-forgotten artist
Wasastjerna was a versatile and prolific artist. He was a good drawer, productive painter, sculptor and graphic artist as well as a talented violin player. However, he has only ever received very little attention until now.
Torsten Wasastjerna was an artist who walked his own path. He believed that even if his contemporaries did not understand his artistic endeavours, future generations would recognise the uniqueness of his art and appreciate it. Perhaps now is the time?
The new exhibition at Villa Gyllenberg explores and re-evaluates Wasastjerna's works within the context of the arts of their time. Some of the paintings, drawings and graphic art in the exhibition have not been exhibited for over a hundred years, and some are even on public display for the first time ever.
In connection with the exhibition, a new book about Torsten Wasastjerna is being published in Finnish and Swedish. Authored by PhD Erkki Anttonen, curator of the exhibition, Torsten Wasastjerna – Satujen ja fantasian maailma / Sagornas och fantasins värld focuses specifically on the artist's large-scale Symbolist fantasy and fairy tale themes, which have received little attention in previous research.
The author of the book, PhD Erkki Anttonen, is Docent of Art History at the University of Helsinki.
Torsten Wasastjerna – Satujen ja fantasian maailma / Sagornas och fantasins värld
208 pages, Finnish, Swedish
ISBN 978-952-7441-08-4