Ismo Hölttö's photographs at Ateneum
Spring at Ateneum Art Museum kicks of with Ismo Hölttö's (b. 1940) photographic exhibition, which turns the spotlight on the people in the pictures, candid and unpretentious. The photographs illustrate the major transformation brought on by urbanisation in Finland in the 1960s. Hölttö's keen eye and role as an unobtrusive observer creates a channel through which the viewer is able to gaze directly at the subject, despite the decades of time between the two. Hölttö's exhibition is open at Ateneum from 10 April until 31 May 2015.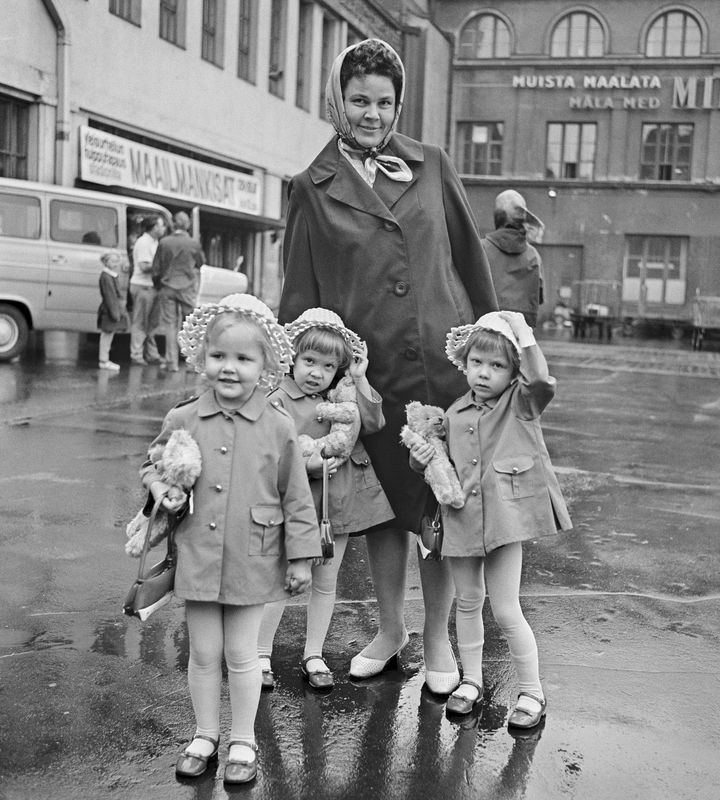 Ismo Hölttö continues Ateneum's series of exhibitions showcasing the classics of Finnish photography. The present exhibition was preceded by collections of work by Matti Saanio, Caj Bremer, Eino Mäkinen and Aho & Soldan. With these exhibitions, Ateneum reflects the key role that photography has played in the history of Finnish art.
The works displayed at this exhibition date from the 1960s, when Ismo Hölttö worked as a goldsmith. He spent his free time touring the streets of Helsinki and the Finnish countryside, including North Karelia, Savonia and the Oulu Region, with his 1962 Rolleiflex at the ready. An active member of the Helsinki Camera Club, he is self-taught in the techniques of photography and developed his expression further. He is a master of light and intuitive composition, which has won him accolades in many competitions, such as the 1967 European Photographer award in West Berlin. In the same year, he also won the photographic competition marking the 50th anniversary of Finnish independence.
As a photographer of people, Hölttö forms part of the humanistic photographic canon, dominated by an interest in people and the environment and circumstances in which they live. "After the mid-1960s, Hölttö's work acquired a new, clearly social and political perspective," says Riitta Raatikainen, the curator of the exhibition. "He made numerous trips around Finland to show, through his work, how one-dimensional the earlier, romanticised image of Finland was." Hölttö wanted show another reality, which is also conveyed in the three photographic books created by Hölttö and Mikko Savolainen: Suomea tämäkin [This too is Finland] (1970); Raportti Suomen mustalaisista [A report on the Roma of Finland] (1972) and Vanhuksia [The eldery](1982).
Hölttö's images are deeply anchored in time, and they bring the past close to the viewer today. At the same time, they are completely timeless and universal in their insight into the human condition. Ismö Hölttö has dedicated himself to telling the "ordinary people's story" – always poignant and moving. The great narrative lives on and is retold through the lives of the individual.
The artist's work is supported by the Kone Foundation and Patricia Seppälä Foundation.
***********************
More press photos:
www.ateneum.fi/press
username : ateneum
salasana: mediat
Twitter: @AteneumMuseum #AteneumHölttö
Facebook: AteneumArtMuseum
Instagram: @ateneummuseum
Opening hours: Tue, Fri 10-18 | Wed, Thu 10-20 | Sat, Sun 10-17 | Closed on Mondays 
Tickets: €13/11, free admission for visitors under the age of 18
Yhteyshenkilöt
Head of Communications Johanna Eiramo,
p. 0400 995699, johanna.eiramo@ateneum.fi

Tietoja julkaisijasta

Ateneumin taidemuseo / Konstmuseet Ateneum / Ateneum Art Museum
Kaivokatu 2
00100 HELSINKI
0294 500 401
http://www.ateneum.fi
Ateneum Art Museum is Finland's leading art museum, which houses Finnish art from the 1750s to the 1960s. Ateneum's main corporate partners are Helsingin Sanomat, HOK-Elanto and KPMG. Ateneum Art Museum is part of the Finnish National Gallery, together with the Museum of Contemporary Art Kiasma and Sinebrychoff Art Museum. www.kansallisgalleria.fi/en/