JÄGERMEISTER LAUNCHES "BEST NIGHTS" STREETWEAR COLLECTION BACKED BY "BLOODY OSIRIS"
• First international streetwear launch by Jägermeister.• Stylist and fashion fanatic "Bloody Osiris" is the international face of the campaign. • The limited BEST NIGHTS collection is available from 31st January 2021 exclusively on www.bestnights.com.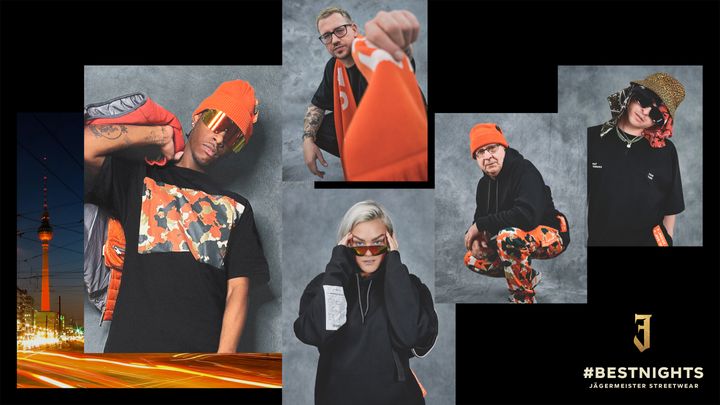 Wolfenbüttel, 18th January 2021 – With the BEST NIGHTS collection, Jägermeister is launching its first ever international streetwear collection in 22 select countries in Europe, North America, South Africa and Asia (Taiwan). The face of the BEST NIGHTS campaign is New York-based stylist and well-known fashion talent Bloody Osiris. His pioneering and unconventional design ideas have earned him respect and a big standing in the global streetwear fashion community.

"I'm honored to be a part of the international BEST NIGHTS campaign because as someone who thinks outside the box, I really appreciate the boldness that Jägermeister steps outside their comfort zone and create something new. Within the campaign I had the creative control to stay true to my authentic self and the Jägermeister streetwear collection is driven by the same convictions", says Bloody Osiris.

The BEST NIGHTS collection combines elements of the Jägermeister brand, urban streetstyle and facets of nightlife in twelve exclusive streetwear pieces. Every piece contains the location coordinates of Jägermeister headquarters in Wolfenbüttel, Germany, which thread throughout the collection as a unique and unmistakable symbol and a subtle nod to the brand.

In terms of production Jägermeister prioritized high-quality materials: The fabric is made of 100 percent organic cotton, certified according to the Organic Cotton Standard (OCS), and each piece is manufactured in the EU. Furthermore, a camouflage T-shirt with a special feature completes the contemporary BEST NIGHTS collection and creates an interactive experience: By applying an Instagram AR filter, users can reveal hidden elements in the print.

The exclusive pieces target the streetwear and brand community worldwide. Each item emphasizes the meaning of a best night with friends. Even though these nights look different now because of the global coronavirus pandemic, Jägermeister is committed to sending a message of optimism, conveying that we will hopefully soon be able to enjoy our best nights out together again. In addition, Jägermeister will give one euro per order to the international cultural platform and streaming collective United We Stream that is committed to supporting club culture during this worldwide crisis.

Apart but together – The BEST NIGHTS collection connects the dots

The international BEST NIGHTS campaign is supported by even more creatives from the international streetwear scene. Among them model and stylist Lisa Anckarman (Sweden), rapper and fashion fanatic Dalibor Stofan aka. DALYB (Slovakia), blogger and sneaker expert Christopher Blumenthal (Germany) and the "probably oldest streetwear talent on earth" Alojz Abram aka Gramps (Germany).

Due to the current coronavirus pandemic, the international talents are not only models for the collection but also producing their own campaign shoots. For the local shootings, Jägermeister sent an individual shooting kit to each talent. The artists' combinations of the BEST NIGHTS pieces with their own unique styles will be showcased as part of the international campaign on both Jägermeister's and the artists' social media channels.
The strictly limited pieces of the collection will be exclusively available from the 31st of January 2021 on www.bestnights.com.

The BEST NIGHTS collection and the associated campaign were developed and executed in collaboration with the German agency la red Berlin.
Official press photo
Contacts
Michael Eichel
Director Corporate Communications
Tel.: +49 5331 81-416
Email: michael.eichel@jaegermeister.de

Andreas Lehmann
Head of Public Relations
Tel.: +49 5331 81-473
Email: andreas.lehmann@jaegermeister.de

About Mast-Jägermeister SE
Mast-Jägermeister SE
Jägermeisterstrasse 7-1
38296 WOLFENBÜTTEL / GERMANY


Subscribe to releases from Mast-Jägermeister SE
Subscribe to all the latest releases from Mast-Jägermeister SE by registering your e-mail address below. You can unsubscribe at any time.