Kaija and Heikki Siren's architecture on display at KAMU, featuring works from Tapiola to Baghdad
KAMU Espoo City Museum's special exhibition, Everything and Nothing – Architects Kaija + Heikki Siren is set to open on 23 October 2020. The exhibition is the first in Finland to present a comprehensive review of the architecture of Kaija Siren (1920–2001) and Heikki Siren (1918–2013), and opens on the 100th anniversary of Kaija Siren's birth.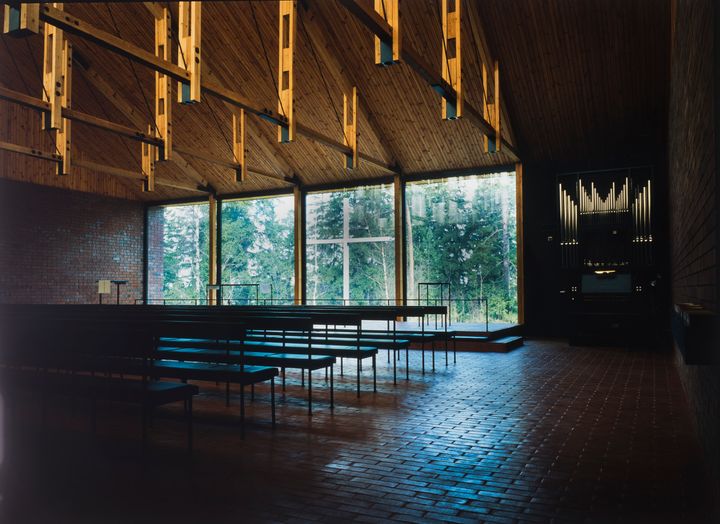 The architects' design work from the 1950s and 1960s is presented with a particular focus on their works in Espoo: those featuring prominently include the internationally renowned Otaniemi Chapel and the experimental terraced houses in the garden city of Tapiola. The simple beauty characteristic of the Sirens' style led the Italian composer Luigi Nono to exclaim: Tutto e niente! This has everything and nothing!

Teekkarikylä with its many buildings in the northern part of Otaniemi was Kaija and Heikki Siren's first design work in Espoo. During their joint career of over fifty years, the Sirens designed schools, commercial buildings, administrative buildings, cultural buildings, residential buildings, industrial buildings, sports centres, churches, chapels and town plans. They were also given exceptionally large international commissions. The most famous of these are the huge Baghdad Conference Palace and the Brucknerhaus concert hall in Linz, Austria. However, their favourite works were the chapels of Otaniemi and Lingonsö. As Kaija stated in 1997: 'The smaller the better…'

The architect couple Kaija and Heikki Siren were at the heart of modern architecture and established their position in the forefront of Finnish architects as early as the late 1950s. Sophisticated proportions, a harmonious relationship with nature and the environment, carefully considered experimentations with materials and avant-garde experiments with building techniques were typical features of Kaija and Heikki Siren's architecture.

The exhibition features previously unseen models and drawings of the Sirens' production, and the Sirens' work is presented in a varied and multi-sensory way. The exhibition allows you to virtually enter a terraced house designed by the Sirens, first in 1957 and then in 2020, enjoy the Otaniemi Chapel at different times of the year and look at Tapiola's architecture from a bird's-eye view. On the opening day of the exhibition, 23 October 2020, the book 'Kaikki ja ei mitään – Kaija ja Heikki Sirenin arkkitehtuuria' will also be published by the Museum of Finnish Architecture.

Quite Japanese – yet so Finnish: Kaija + Heikki Siren

At the same time with KAMU's exhibition, from 23 October to 6 December 2020, the Studio of the Museum of Finnish Architecture will display the exhibition 'Ihan japanilaista – Niin suomalaista: Kaija + Heikki Siren' presenting the connection of the Sirens' architecture with Japan.

Kaija and Heikki Siren designed and realised several projects in Japan, a country admired by numerous Finnish architects. For the Sirens, Japanese architecture meant the same as the Sirens' architecture meant for the Japanese: simplistic and beautiful architecture that takes its environment into account and skilfully combines interior and exterior spaces. Since then, the Sirens' work has been featured in Japanese architecture magazines for six decades.
Everything and Nothing – Architects Kaija + Heikki Siren
23 October 2020 – 9 January 2022
KAMU – Espoo City Museum
WeeGee Exhibition Centre
Ahertajantie 5
www.kulttuuriespoo.fi/en/kaupunginmuseo

Quite Japanese – yet so Finnish: Kaija + Heikki Siren
Museum of Finnish Architecture's Studio 23 October – 6 December 2020
Kasarmikatu 24, Helsinki
www.mfa.fi/en
Contacts
Further information on the KAMU exhibition:
Exhibition Project Manager / Educator
Tiina Hero
tiina.hero@espoo.fi
+358 (0)46 877 2680

Exhibition Curator
Elina Standertskjöld
elinastd@gmail.com
+358 (0)40 824 6001

Marketing and Communications Planner
Jonna Pennanen
jonna.pennanen@espoo.fi
+358 (0)40 509 2365

About Espoon kaupunki - Esbo stad
Espoon kaupunki - Esbo stad
PL 1 / PB 1
02070 ESPOON KAUPUNKI / ESBO STAD
+358 9 816 21
http://www.espoo.fi
KAMU Espoon kaupunginmuseo on v.1958 perustettu kulttuurihistoriallinen museo, joka tarjoaa merkityksellisiä kohtaamisia historiasta ammentaen, nykyhetkeen peilaten ja tulevaisuuteen tähyten. KAMUn tehtävänä on vaalia, tutkia ja tallentaa Espoon alueen historiaa, asukkaiden tarinoita ja kulttuuriperintöä. KAMUn museoperheeseen kuuluvat Talomuseo Glims, Historiamuseo KAMU Näyttelykeskus WeeGeellä, Huvilamuseo Villa Rulludd, Koulumuseo Lagstad ja "vuoden eurooppalainen museo 2020" ehdokkaana oleva Saaristomuseo Pentala – museoiden yhteenlaskettu kävijämäärä on yli 100 000 (2019).
Subscribe to releases from Espoon kaupunki - Esbo stad
Subscribe to all the latest releases from Espoon kaupunki - Esbo stad by registering your e-mail address below. You can unsubscribe at any time.
Latest releases from Espoon kaupunki - Esbo stad
In our pressroom you can read all our latest releases, find our press contacts, images, documents and other relevant information about us.
Visit our pressroom