Kempower boosts Romania's EV charging infrastructure by supplying chargers for 14 new service stations
Kempower charging power units will be installed at 14 new Romanian service stations to boost the country's EV charging infrastructure. Each Kempower charging power unit will be equipped with three Kempower charging satellites. Romania is aiming to decarbonize its transportation sector to reach net zero by 2050.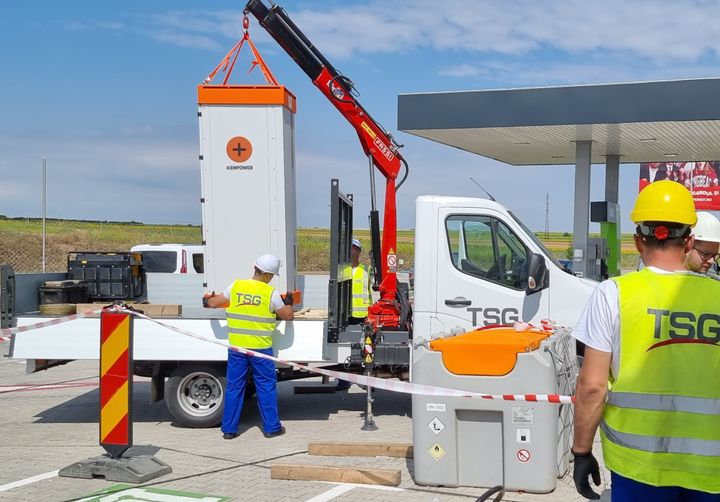 ROMANIA – Kempower has partnered with TSG, a European leader in technical services for responsible mobility solutions, and integrated oil and gas company MOL Group to install its rapid EV chargers at 14 new service stations in Romania. The chargers, which will be located along Romania's A1 and A2 highways, are being introduced as part of efforts to boost the country's EV charging infrastructure.
Romania is one of many countries in the European Union to pledge to achieve net-zero emissions by 2050. A significant part of this vow involves decarbonizing its transportation sector, which is currently the country's third largest source of greenhouse gas emissions. The Romanian government is also aiming to reduce its dependence on Russian fossil fuels and accelerate its green transition through the REPowerEU Plan.
MOL Group is delivering the Romanian project as part of its local investment strategy aiming to boost charging infrastructure in the country. It also supports the organization's push to minimize its environmental footprint by decreasing emissions throughout its entire value chain of operations.
Each of the 14 service stations will be equipped with a 200kW Kempower charging power unit and three Kempower satellite charging systems. Ten service stations are already installed, with the remaining four due to be installed soon.
Commenting on the company's first significant project in Romania, Tomi Ristimäki, CEO of Kempower, said:
"We want to introduce new technologies worldwide, so we're delighted to supply our chargers to Romania. Given the success of our partnership with TSG and MOL Group and the speed at which the first two service stations were opened, we're confident that the remainder of this project will be carried out swiftly. Once all 14 stations are operational, Romania will be one step closer to realizing fully decarbonized highways."
-ENDS-
Media enquiries:
Paula Savonen, Communications Director, Kempower
+358 400 343 851
About Kempower Oyj

Kempower Oyj
Ala-Okeroistentie 29
15700 Lahti
http://www.kempower.com
About Kempower:  
Kempower designs and manufactures Level 3 fast charging solutions for electric vehicles. We're a team of electric vehicle enthusiasts with a deep understanding of the charging market and a hands-on mentality. Our product development and production are based in Finland, with a majority of our materials and components sourced locally. We focus on all areas of transportation, from personal cars and commercial vehicles to mining equipment, boats and motorsports. With Kemppi Group's 70 years' experience in perfecting DC power supplies, we set the bar high in engineering and user-experience design. Kempower is listed in the Nasdaq First North Growth Market Finland.