Levain Bakery-Eatery moving to new, bigger premises at Merikortteli
Demand for Levain's sourdough bread and pastries is so high that its current bakery-eatery has grown too small. Fortunately, it found new, bigger premises nearby at Merikortteli in the Punavuori district of Helsinki.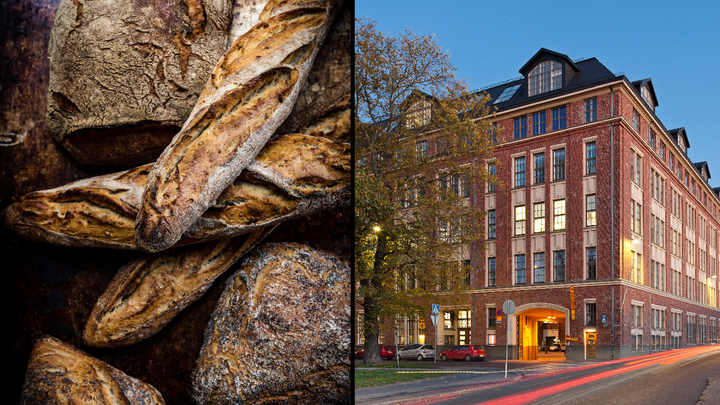 The most entertaining and tasty quarter in Punavuori will welcome another new arrival at the end of February, when the popular bakery-eatery Levain moves to larger premises in the Merikortteli building. The service offerings at the property on Telakkakatu are expanding rapidly: the superb Italian pizza restaurant Forza opened at Merikortteli earlier this year, and the popular indie cinema Riviera will open later this year. Merikortteli is already home to the Kaffa Roastery and Moko Market Café.
In addition to freshly baked breads and mouthwatering pastries, Levain serves casual breakfasts, lunches and dinners that you can enjoy on the premises or take with you.
"We opened Levain on Kankurinkatu in Punavuori in 2017, because we felt that Helsinki was lacking proper bread. Levain's bread and pastries have become so popular since then that our Kankurinkatu bakery-eatery has grown too small. Fortunately, we found wonderful new premises for Levain in the same neighbourhood, allowing us to further grow our business and serve our customers even better in the future!" restaurateur Matti Wikberg says.
Offering a wide range of services is important for real estate investment company Antilooppi.
"Merikortteli is home to a unique and vibrant work community to whom we are happy to offer a wide range of services, from restaurants and cafés to fitness, grocery shopping and evening entertainment. Our aim is to make daily life for the building's users and local residents easier and more enjoyable, and Levain is a great addition to Merikortteli's offerings. We wish Levain a very warm welcome!" says Asset Manager Maarit Kivelä.
Contacts
Maarit Kivelä
Asset Manager
maarit.kivela@antilooppi.fi
+358 50 390 0337

About Antilooppi
Antilooppi
Itämerenkatu 3
00180 Helsinki
https://antilooppi.fi/?lang=en
Antilooppi is a real estate investment company that focuses on office properties in the Helsinki Metropolitan Area. We develop our properties responsibly and consistently in cooperation with our customers. The most famous properties of Antilooppi are Ympyrätalo and other landmark buildings in Hakaniemi and at Hämeentie and Finnair headquarters at Helsinki airport. We have a total of approximately 426,000 sqm of leasable space. Antilooppi is owned by the Finnish pension insurance company Ilmarinen and the Swedish pension insurance company AMF Pensionsförsäkring.