MFA: Merikasarmi seaside façade lit up in honour of countries' anniversaries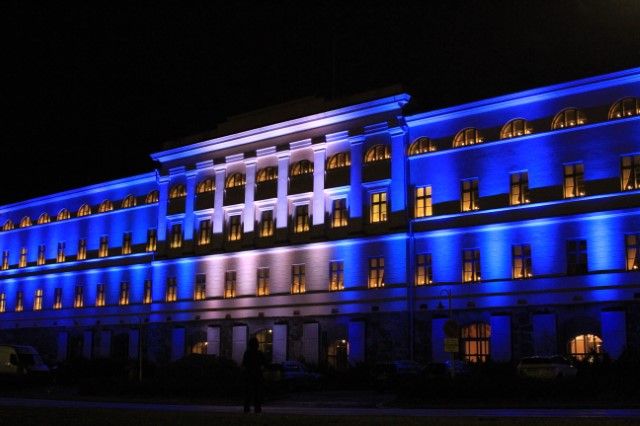 The Ministry for Foreign Affairs will illuminate the seaside façade of Merikasarmi, its main building, on 27–28 October to mark the 100th anniversaries of the independence of the Czech and Slovak Republics.
The Czech Republic gained its independence from Austria-Hungary on 28 October 1918. On 1 January 1993, Czechoslovakia was split into the Slovak and Czech Republics, the process being completed by parliament peacefully.
The façade will be lit up again later in the autumn to celebrate the centenaries of Poland (11 November), Latvia (18 November), and Iceland i December). The seaside façade of Merikasarmi will be lit up on the eve of the festive days and the lights will be turned off on the morning of the next day.
The illumination is a part of the Ministry's own centenary celebrations. The Ministry for Foreign Affairs was established in 1918.
The Ministry moved to the Merikasarmi premises in the late 1980s. Merikasarmi is architect Carl Ludvig Engel's first major architectural design in Helsinki.
The refurbishment of Merikasarmi will start at the beginning of November, and the premises will be empty by February 2019. The Ministry's personnel will move to work at temporary premises in central Helsinki and Katajanokka for the time of the refurbishment. The refurbishment is expected to be ready in 2021.
Inquiries: Vesa Häkkinen, Director, Unit for Communications on Current Affairs, tel. + 358 40 481 9880
The Foreign Ministry's email addresses are in the format firstname.lastname@formin.fi.
About Ulkoministeriö / Utrikesministeriet