MFA: The Duke of Cambridge presented with pair of hobbyhorses during his visit to Finland – tailored to Prince George and Princess Charlotte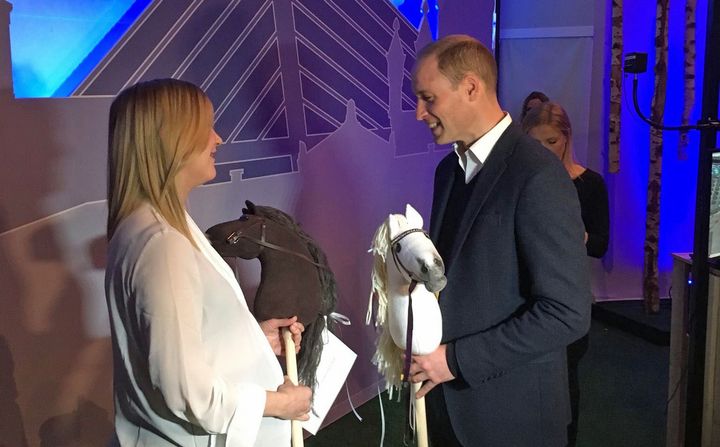 MINISTRY FOR FOREIGN AFFAIRS
http://formin.finland.fi/english
Press release 208/2017
30 November 2017
The Duke of Cambridge presented with pair of hobbyhorses during his visit to Finland – tailored to Prince George and Princess Charlotte
Prince William, The Duke of Cambridge, was presented with an unusual gift during his official visit to Finland.
Two handmade hobbyhorses were presented to The Duke during his visit to Slush, the biggest startup event in Europe, which takes place in Helsinki annually.
Hobbyhorsing has been sweeping the Nordic nation in recent years, with thousands of enthusiasts making and selling horses and riding them at events inspired by real equestrian disciplines such as dressage and show jumping.
Riding hobbyhorses has even taken the form of an organised sport, with the Hobbyhorse Championships held annually in Finland. The sport is estimated to have more than 10,000 followers in Finland alone.
Prince George's hobbyhorse, named after his father's first pony, Smokey, is a dark grey pony with a long, grey mane, friendly eyes and a dark brown bridle. Princess Charlotte's horse, called Snowflake, is a white Finnhorse with ashen markings on its muzzle and a light blond mane. Its bridle is magenta.
Both hobbyhorses are designed and handmade by Finnish hobbyhorsing superstar Alisa Aarniomäki, who achieved worldwide visibility after she was featured in the documentary Hobbyhorse Revolution.
The hobbyhorses were presented by Emma Rispoli from the Ministry for Foreign Affairs of Finland.
ThisisFINLAND, Finland's official country website, will tomorrow launch a worldwide campaign to promote hobbyhorsing to a global audience. The campaign includes a limited edition, hobbyhorse-inspired urban fashion collection by leading Finnish labels, a website that promotes the art and sport of hobbyhorsing, and a short film written and directed by Finnish filmmaker Viivi Huuska.
"The Duke of Cambridge and his family are known for their love of horses, and with hobbyhorsing a huge phenomenon in Finland, what better present to take home to Prince George and Princess Charlotte than a pair of hobbyhorses tailored to their interests," says Petra Theman, Director of the Unit for Public Diplomacy at the Ministry for Foreign Affairs.
Media contacts and interview requests: Petra Theman, Director of the Unit for Public Diplomacy, tel. +358 295 351 558
Photos, videos or other collateral: Emma Rispoli, Specialist, Country Branding, tel. +358 295 350 186 
The Foreign Ministry's email addresses are of the format firstname.lastname@formin.fi.
Kuvat