New work added to the Touch exhibition – Heiskuja, a documentary film about Outi Heiskanen and a selection of her artworks are on display at EMMA
Touch presents a curated selection of works from the Saastamoinen Foundation Art Collection. The exhibition is renewed regularly, work by work and section by section. The Human and Nature section has newly been refreshed with a selection of artworks by Outi Heiskanen and a documentary film about her life and art. Two interactive installations have also been added to the display: Lauri Astala's Small Spectacle about Encountering and Pors & Rao's sound-interactive kinetic installation.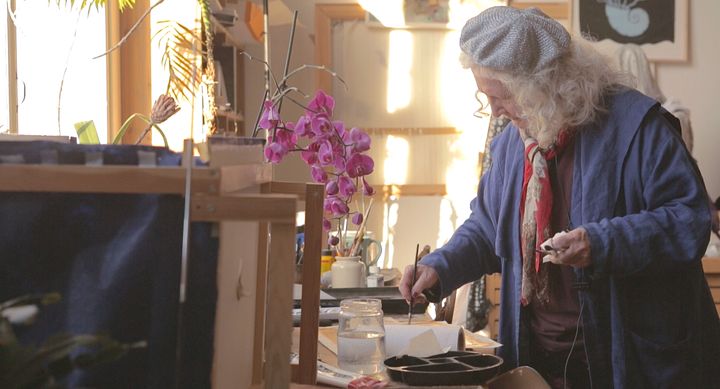 The selection of artworks by Outi Heiskanen (b. 1937) newly added to the Touch exhibition is built around Heiskuja (2021), a documentary film supported by the Saastamoinen Foundation that follows the artist's life and work over a period of four years. Directed by the architect and filmmaker Georg Grotenfelt(b. 1951), the documentary was filmed at the Lallukka Artists' Home between 2012 and 2015, shortly before Heiskanen relocated to her childhood home of Vehmaa. The film had its premiere at theDocpoint festival earlier this year.
Outi Heiskanen is one of Finland's best-known artists. The main protagonists in her art are women and children, along with various animals that are close to humans, such as apes, bears, dogs, and horses. In her art, animals and humans are portrayed as equals, mirroring each other, and blending. Many of her figures have autobiographical significance, but they also speak of the universal human existing and the world of the subconscious. Heiskanen uses the self-coined term kompiisi ("combice") to describe her technique, which involves combining separate plates in one composition, enabling her to integrate characters and images from different periods of her career, forming new relationships between them.
"Heiskuja sheds light on Outi Heiskanen's over 50-year career in a very moving way. It has been an honour for the Saastamoinen Foundation to support the making of this documentary about a widely loved artist, and we are delighted to see it featured alongside a collection of her graphics. This exhibit also offers audiences a great opportunity to enjoy an in-depth study of her work this summer as a foretaste of a major retrospective opening at the Ateneum Art Museum this autumn," enthuses Päivi Karttunen from the Saastamoinen Foundation.
Two new interactive works have been added to the Human and Nature section that opened in autumn 2020. Lauri Astala's (b. 1958) Small Spectacle about Encountering (2010) comes to life when the visitor takes a seat in the chair in front of the video. The piece is a meditation on the impossibility of human encounters and our relationship with the space around us. Pors & Rao is an artist duo comprised of Søren Pors (b. 1974) and Aparna Rao (b.1978) whose installation Untitled (2017) integrates robotics and sound-responsive sensors. The piece looks at primitive instincts that are common to all animals, including humans. Untitled pays homage to the sensitive creatures that thrive in silence and shy away from loud and sudden noises.
The Saastamoinen Foundation Art Collection is among Finland's most prestigious collections of Finnish and international art. The collection is augmented regularly with new acquisitions. The Touch exhibition features a selection of works from the collection that explore fundamental questions of humanity from a variety of perspectives. The exhibition is refreshed regularly, and the new additions to the Human and Nature section reflect on the often-blurry lines between the natural and the unnatural, and the search for balance between humans and their surroundings. The next major refresh of the exhibition will be unveiled in autumn 2021. The Collection Exhibition Touch is curated in collaboration with experts from EMMA and the Saastamoinen Foundation.
Summer 2021 exhibitions at EMMA:
Aaron Heino: Off Topic, until 12.12.2021
Hesselholdt & Mejlvang: The White Exhibition, until 29.08.2021
Eeva-Leena Eklund :) until 22.08.2021
Ceramics Facing the New, until 28.08.2022
Saara Ekström & Eero Tammi: Biblion, until 09.01.2021

Always on display: