NEWSFLASH: The Ozone Hole is Forming Again
Video Release Copernicus (CAMS) on the International Day for the Preservation of the Ozone Layer, 16th of September 2018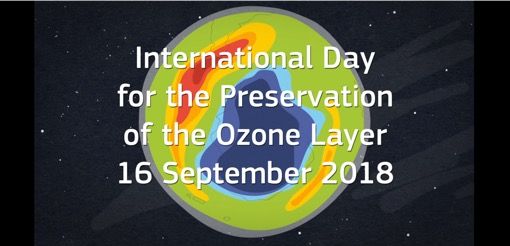 Every winter, the ozone layer in the Earth's atmosphere is compromised by the forming of the ozone hole in the Antarctic region. Chemical substances are to blame: Halocarbons (CFCs, HCFCs and halons) were long used for of a wide range of products from refrigerators to aerosol cans, triggering ozone depletion in the atmosphere. Even though these ozone depleting substances have been banned in most parts of the world since the 1990s, the ozone hole keeps forming every year. This endangers the climate situation of our planet, as it allows the entry of potentially harmful ultraviolet radiation.
The Copernicus Atmosphere Monitoring Service (CAMS), implemented by ECMWF, monitors and forecasts the amount of ozone in the atmosphere on a daily basis and keeps an eye on the annual formation of the ozone hole above the Antarctic.
On this year's International Day for the Preservation of the Ozone Layer on September 16th, CAMS will release an exclusive video which explains the role of the ozone layer, the formation of the ozone hole and reveals how atmospheric ozone is monitored to ensure the future wellbeing of our planet.
More information and graphics regarding the ozone hole available on: https://atmosphere.copernicus.eu/catalogue#/ 
More information about the International day for the preservation of the ozone layer available on: http://www.un.org/en/events/ozoneday/
Copernicus
Copernicus is the European Commission's flagship Earth observation programme. It delivers freely accessible operational data and information services which provide users with reliable and up-to-date information related to environmental issues.
CAMS is implemented by ECMWF on behalf of the European Commission. ECMWF also implements the Copernicus Climate Change Service (C3S). ECMWF is an independent intergovernmental organisation, producing and disseminating numerical weather predictions to its 34 Member and Co-operating States.
The Copernicus Climate Change Service website can be found at https://climate.copernicus.eu/
The Copernicus Atmosphere Monitoring Service website can be found at http://atmosphere.copernicus.eu/
The ECMWF website can be found at
https://www.ecmwf.int/
Media contact
Silke Zollinger
Press and Events Manager
Copernicus Communication
European Centre for Medium-Range Weather Forecasts
Shinfield Park, Reading, RG2 9AX, UK
Email: silke.zollinger@ecmwf.int
Phone: +44 (0)118 9499 778
Mobile: +44 (0) 755 477 3973
Web: ecmwf.int | atmosphere.copernicus.eu | climate.copernicus.eu
Tietoja julkaisijasta
Copernicus
Copernicus on Euroopan komission tärkein maanhavainnointiohjelma. Se tuottaa ilmaiseksi saatavilla olevaa käyttötietoa ja tietopalveluja, jotka tarjoavat käyttäjille luotettavaa ja ajantasaista ympäristötietoa.
ECMWF toteuttaa C3S-palvelua Euroopan komissiolle. ECMWF toteuttaa myös Copernicus ilmakehän seurantapalvelua (CAMS). ECMWF on itsenäinen hallitusten-välinen organisaatio, joka tuottaa ja julkaisee numeerisia sääennusteita 34 jäsen- ja yhteistyövaltiolleen.
Copernicus ilmastonmuutospalvelun verkkosivut:
https://climate.copernicus.eu/  
Copernicus ilmakehän seurantapalvelun verkkosivut:
http://atmosphere.copernicus.eu/
ECMWF:n verkkosivut: https://www.ecmwf.int/   
Tilaa tiedotteet sähköpostiisi
Haluatko tietää asioista ensimmäisten joukossa? Kun tilaat mediatiedotteemme, saat ne sähköpostiisi välittömästi julkaisuhetkellä. Tilauksen voit halutessasi perua milloin tahansa.
Lue lisää julkaisijalta Copernicus
Uutishuoneessa voit lukea tiedotteitamme ja muuta julkaisemaamme materiaalia. Löydät sieltä niin yhteyshenkilöidemme tiedot kuin vapaasti julkaistavissa olevia kuvia ja videoita. Uutishuoneessa voit nähdä myös sosiaalisen median sisältöjä. Kaikki STT Infossa julkaistu materiaali on vapaasti median käytettävissä.
Tutustu uutishuoneeseemme