Northern countries have developed effective practices to proactively adapt to climate impacts
A new report maps out the good practices in adaptation governance and policies of Arctic and Baltic sea region countries. In addition to climate change mitigation, proactive and planned adaptation to climate change is vital for reducing climate-induced risks.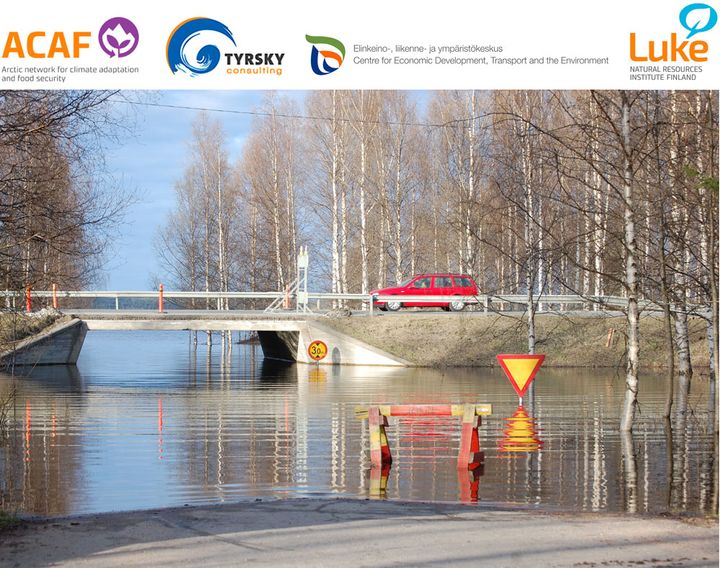 Joint press release by ELY centre and Luke (26.8.2021)
A recent report on adaptation work and policies in the Baltic Sea and Arctic countries offers tools for decision-makers to prepare for many of the threats addressed in the IPCC's recent 6th Assessment Report.
The objective of this study was to collect and synthesize information about climate adaptation policy and governance in the Baltic Sea and Arctic regions. In addition to Finland, the report covers the following countries and territories: Sweden, Denmark, Faroe Islands, Greenland, Norway, Iceland, Germany, Poland, Estonia, Lithuania, Russia, Belarus, Canada and the United States. The report also describes the best practices from different countries that Finland could learn from and gives recommendations.
The report shows that around the Northern Hemisphere there are many countries that have developed a broad range of well-functioning practices for climate change adaptation. There is no need to re-invent the wheel: by learning from other countries' experiences, Finland and other countries can adopt faster, more efficient and less expensive adaptation measures.
"For example, in Denmark, Germany and Norway, municipalities or regions are systematically offered training on climate change, which helps with the implementation of local adaptation actions",saysResearch Director Kati Berninger.
Different stages of and approaches to adaptation governance between countries
Broadly speaking, Nordic countries and those countries that started adaptation work early have more advanced adaptation policies and governance. For instance, Finland was the first to adopt a national climate adaptation policy in 2005. The countries and territories in the study show both similarities and differences in approaches. Five have both a national adaptation strategy and plan, two have only a strategy, and two have only a plan, while five do not have such a document yet. Some countries have integrated both mitigation and adaptation in the same strategy.
On sectoral adaptation work, the approach differs between countries from mandatory sectoral action plans to no separate sectoral adaptation documents at all. The most common approach in regional and local adaptation work is that subnational adaptation strategies are voluntary, but they are supported by projects. However, regional or local adaptation plans are obligatory in some countries.
The biggest challenges in adaptation policy cluster around three issues: the need to improve awareness and political priority of adaptation; challenges in coordination across sectors and levels; as well as lack of funding or human resources dedicated for adaptation. The recommendations listed in the report include taking an initiative to formulate a joint Nordic climate adaptation policy, setting up a master's programme on adaptation, setting up a Climate Adaptation Leaders' Forum, and requiring municipalities to prepare climate adaptation plans.
The report has been commissioned by two projects funded by the Ministry of Foreign Affairs of Finland from funding allocated for cooperation in the Baltic Sea, Barents and Arctic regions (IBA funds): the "Climate resilience with Baltic Sea co-operation – Flood and Drought Risk Management" project of the Centre for Economic Development, Transport and the Environment of Southwest Finland, and the "Arctic Network for Climate Adaptation and Food Security (ACAF)" project of the Natural Resources Institute Finland.
Kati Berninger, Maria Tiusanen, and Oras Tynkkynen. 2021. Adaptation to Climate Change in the Baltic Sea and Arctic Regions. Governance and policy tools across countries. Centre for Economic Development, Transport and the Environment. Reports 25/2021. The report was written by Tyrsky Consulting.
The report is available online at https://www.doria.fi/handle/10024/181635
More information:
Kati Berninger, Tyrsky Consulting, kati.berninger@tyrskyconsulting.fi
Pekka Parkkila, Centre for Economic Development, Transport and the Environment of Southwest Finland, pekka.parkkila@ely-keskus.fi
Ilona Mettiäinen, Natural Resources Institute Finland, ilona.mettiainen@luke.fi
Publishing webinar 8 September 2021 at 10–11 a.m. EEST on Zoom
The publishing webinar is open to all. The language of the webinar is English.
Registration by 6 September 2021: https://www.surveymonkey.com/r/AdaptationGovernance
Programme:
Opening speech: Finland´s Ambassador for Baltic Sea Affairs at the Ministry for Foreign Affairs of Finland Helena Tuuri
Research Director Kati Berninger, Tyrsky Consulting: Key outcomes and recommendations
Comment talks:

Professor Seija Tuulentie, Natural Resources Institute Finland
Finland's Ambassador for Barents and Northern Dimension at the Ministry for Foreign Affairs of Finland Jari Vilén
Policy Officer Valdur Lahtvee, Council of Baltic Sea States
Discussion
About ELY-keskukset

ELY-keskukset
http://www.ely-keskus.fi
ELY-keskukset ovat valtion viranomaisia, jotka edistävät alueellista kehittämistä hoitamalla valtionhallinnon toimeenpano- ja kehittämistehtäviä alueilla. ELY-keskukset hoitavat elinkeinoihin, työvoimaan, osaamiseen sekä liikenteeseen ja infrastruktuuriin että ympäristöön ja luonnonvaroihin liittyviä tehtäviä. ELY-keskukset kehittävät ja tukevat taloudellista, sosiaalista ja ekologisesti kestävää hyvinvointia.