Number of nuclear medicine examinations unchanged, therapy volumes increasing
Approximately 43,000 nuclear medicine examinations based on the use of radioactive substances were performed in Finland in 2021 and nearly 3,000 radionuclide therapies treatments were administered. The Radiation and Nuclear Safety Authority investigated the number of therapies and examinations and the radiation doses caused by them.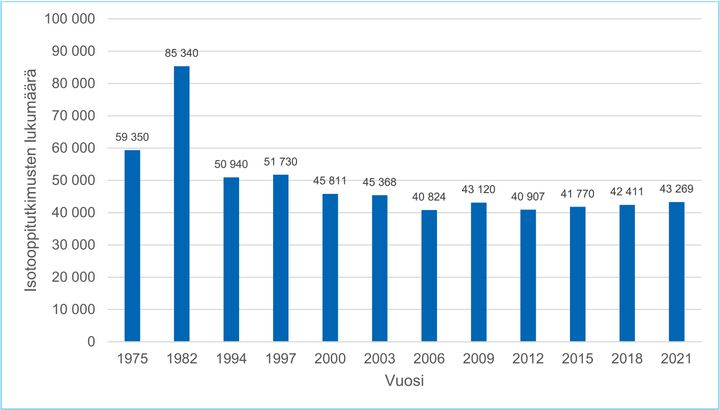 The Radiation and Nuclear Safety Authority (STUK) report "Nuclear medicine examinations and treatments in Finland in 2021", published in February 2023, presents the numbers of examinations, treatments and nuclear imaging equipment, and estimates the radiation exposure caused to adults by the examinations.
Inspector Iida Kuurne, the author of the report, says that the study examined the average radiation dose from nuclear medicine examinations carried out 2021 and the total combined radiation doses of Finns.
According to Iida Kuurne, the results show that only a small part of the radiation dose received by Finns is caused by nuclear medicine examinations. An adult participating in a single nuclear medicine examination receives an average dose of 3.4 millisieverts (mSv) from radiopharmaceuticals and a dose of 2.1 mSv from a CT scan, if this is done in addition to the nuclear medicine examination.
When the radiation exposure caused by nuclear medicine examinations is divided among all Finns, the radiation dose is less than 0.05 mSv per citizen per year. The dose has increased slightly in the last ten years. The increase is due to increased CT scans. The average radiation dose received by Finns from all sources combined is 5.9 millisieverts per year. More than five millisieverts come from natural radioactive materials, mainly radon.
The total number of nuclear medicine examinations has remained stable for the last 20 years. The most common nuclear medicine examinations were tumour imaging, examinations of skeletal and soft parts, and examinations of the circulatory system. The most widely used radioactive substances in imaging were technetium-99m, fluorine-18 and iodine-123.
The number of radionuclide therapies has increased every year in the last ten years. Compared to 2009, 58% more treatments were given in 2021. The most common radionuclide therapies are treatment of hyperthyroidism and cancer. The increase in the number of radionuclide therapies is due to new types of treatments that use, for example, Lutetium-177 for the treatment of prostate cancer. The most widely used radioactive substances in radionuclide therapies were iodine-131, lutetium-177 and radium-223.
In radionuclide therapies, as in other radiotherapies, radiation must be used sufficiently to obtain a therapeutic effect. It is international practice not to take radiation exposure into account when calculating the total exposure of citizens.
Contacts
Inspector Iida Kuurne, tel. +358 9 759 88 2626
Senior Inspector Sampsa Kaijaluoto, tel. +358 9 759 88 2542
Media contacts, tel. +358 10 850 4761

Images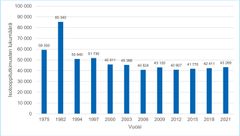 About Säteilyturvakeskus (STUK)

Säteilyturvakeskus (STUK)
Jokiniemenkuja 1
01370 Vantaa
Mediapalvelu: 010 850 4761
http://www.stuk.fi
Säteilyturvakeskus (STUK) on säteily- ja ydinturvallisuutta valvova viranomainen. Tehtävämme on ihmisten, yhteiskunnan, ympäristön ja tulevien sukupolvien suojelu säteilyn haitallisilta vaikutuksilta. STUKissa oli vuoden 2022 alussa yhteensä 336 työntekijää.

Strålsäkerhetscentralen (STUK) är en myndighet som övervakar strål- och kärnsäkerheten. Vårt uppdrag är att skydda människorna, samhället, miljön och de framtida generationerna för strålningens skadliga konsekvenser. I början av 2022 hade STUK sammanlagt 336 anställda.

Radiation and Nuclear Safety Authority (STUK) supervises radiation and nuclear safety in Finland. Our mission is to protect people, society, the environment and future generations from the detrimental effects of radiation. At the beginning of 2022 STUK had 336 employees.