Oodi Book Fest: celebrating literature and Central Library's fourth anniversary
The first-ever Oodi Book Fest is set to take place just before the beloved Central Library's fourth anniversary on 3–4 December 2022. Oodi invites residents of all ages to attend the festival programme, consisting of literary discussions with top names and a performance by rap artist Áilu Valle. The weekend's celebrations culminate in a visit by Aino Havukainen and Sami Toivonen, the creators of the popular children's book series Tatu and Patu, on Sunday.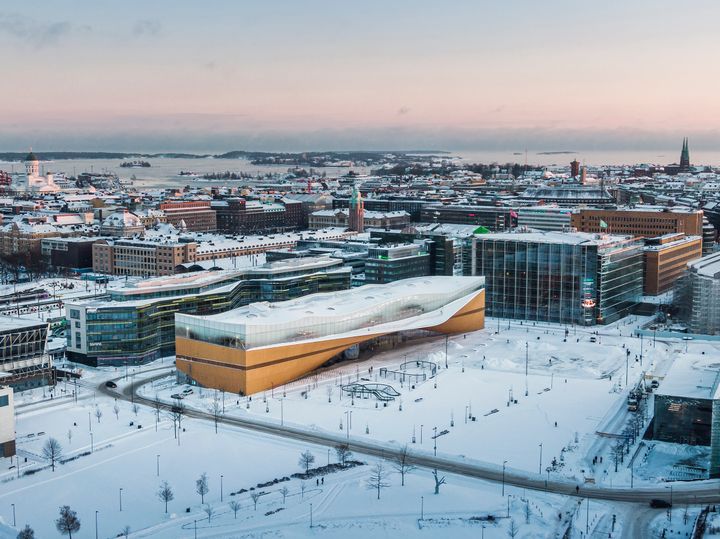 Literature, music, illustration art and game culture are at the heart of the two-day book festival organised at Helsinki Central Library Oodi. The literary discussions held in the third floor Book Heaven over the weekend feature visitors such as Susinukke Kosola, Heikki Kännö, Monika Fagerholm, Linda Bondestam, Sirpa Kähkönen and Mart Sander. Siri Kolu will be interviewed by young people as part of the book festival's pre-party on Friday, 2 December.
On Saturday, 3 December, the connections between games and literature are discussed at Oodi's second floor Urban Workshop. Aura Nurmi and Tuukka Hämäläinen discuss games as tools for storytelling as well as literary influences of games.
Graphic designer Jussi Karjalainen and author and visual artist Heikki Kännö evaluate book cover art in a playful cover panel in Oodi's first floor lobby. The audience also gets to vote for their favourite among the covers selected by the library staff.
On Saturday, we explore our western and northern connection at the Maijansali hall. Swedish author Alex Schulman will be a guest for an interview in English. Rap artist Áilu Valle arrives from Inari to give us a performance and an interview on his lyrics. He is interviewed in Finnish by Niillas Holmberg from the Utsjoki Library via remote connections. Oodi also takes the opportunity to congratulate the Utsjoki Pedar Jalvi Library on its 140th anniversary.
On Sunday, 4 December, Oodi is full of Oddville hustle and bustle. The creators of the beloved Tatu and Patu book series, Aino Havukainen and Sami Toivonen, answer children's questions in an author interview at the Maijansali hall. Naturally, Tatu and Patu are also at the library, bungling things up.
The festival weekend events are free of charge and open to all. The discussions are in Finnish, Swedish and English.
Library literary events developed to reach new audiences
The Oodi Book Fest marks the beginning of the Book Heaven project, focusing on library literary events, funded by the Regional State Administrative Agency. The project explores different ways of implementing literary events and their effects on visitors' reading enthusiasm. The project aims to develop library literary events together with library visitors, authors and other book industry operators.
"As a non-commercial venue for events and meetings, the library is second to none. Equality and inclusiveness are at the heart of library operations. We are also looking to cherish diversity through our literary events. The Book Heaven project allows us to focus on the perspectives of various groups, explore different concepts and develop our literary events to attract new audiences to reading," says Niina Holm, Project Manager at the Book Heaven project.
The event series, launching in January 2023, focus on the history, future and diversity of literature. In the series 'Hurmeen klassikot' (classics by Hurme), author and director Juha Hurme scrutinises his selection of Finnish literature classics together with changing guests. In the first event of the series, Hurme teams up with Rosa Liksom, a living legend of Finnish literature. His other guests include Sally Salminen, Runar Schildt and Samuli Paulaharju.
Translated literature and translating as work are also discussed in the events, as well as Helsinki residents who speak, for example, Sámi and Estonian. Cooperation with Tallinn Central Library brings together "two-city authors" who travel back and forth the Gulf of Finland, either physically or mentally.
The events, mainly organised at Oodi, also shed light on more marginal literary genres and phenomena, such as poetry of things combining literature, art and technology, song lyrics, cover art and illustrations.
"Literature is so much more than just traditional paper books, and it is our goal to highlight this diversity in the events of the Book Heaven project. For example, the workshops led by poet Susinukke Kosola view literature through technology. You can print out poetry using a 3D printer," Niina Holm says.
Contacts
Information Specialist Niina Holm
Helsinki Central Library Oodi / Book Heaven project
niina.holm@hel.fi
+358 40 1925181

Soila Leppäkangas
Communications Specialist
City of Helsinki / Culture and Leisure Division
soila.leppakangas@hel.fi
+358 40 124 6711

Images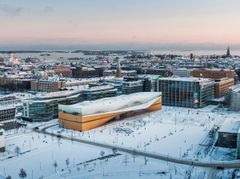 About Helsingin kaupunki, kulttuurin ja vapaa-ajan toimiala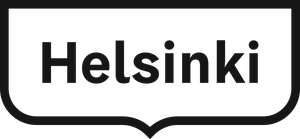 Helsingin kaupunki, kulttuurin ja vapaa-ajan toimiala
https://www.hel.fi/kulttuurin-ja-vapaa-ajan-toimiala/fi/
Helsinki Central Library Oodi is a living meeting place at Kansalaistori square, right at the heart of Helsinki. It is one of 37 branches of Helsinki City Library and part of the Helmet library network.
Oodi complements the cultural and media hub formed by Helsinki Music Centre, Finlandia Hall, Sanoma House and the Museum of Contemporary Art Kiasma. Oodi is a non-commercial, urban public space that is open to all, right opposite the Parliament Building.
Helsinki Central Library Oodi
Töölönlahdenkatu 4
00100 Helsinki
www.oodihelsinki.fi/en
Subscribe to releases from Helsingin kaupunki, kulttuurin ja vapaa-ajan toimiala
Subscribe to all the latest releases from Helsingin kaupunki, kulttuurin ja vapaa-ajan toimiala by registering your e-mail address below. You can unsubscribe at any time.
Latest releases from Helsingin kaupunki, kulttuurin ja vapaa-ajan toimiala
In our pressroom you can read all our latest releases, find our press contacts, images, documents and other relevant information about us.
Visit our pressroom