Press conference on Tue 26 Oct at 10 am: Chiharu Shiota: Tracing Boundaries and Touch: Listening to Silence
Please join us for the unveiling of Tracing Boundaries, a new exhibition by the world-famous Japanese artist Chiharu Shiota. The exhibition marks the continuation of an annual collaboration between EMMA and the Saastamoinen Foundation through which a new work is commissioned from a topically relevant contemporary artist. Created site-specifically for EMMA, Shiota's installation consists of thousands of interwoven threads that engage in an unprecedented dialogue with the museum's concrete architecture, offering visitors a unique experience of the gallery space. We will concurrently also unveil Listening to Silence, a new section added to the refreshed Touch exhibition, which presents highlights from the Saastamoinen Foundation Collection.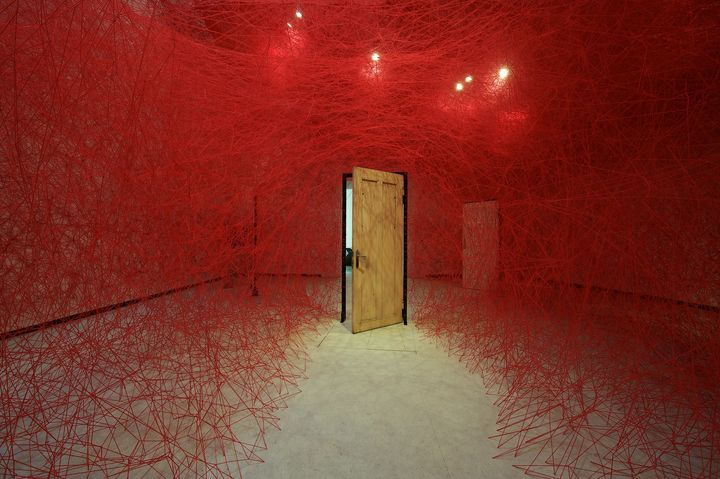 The two exhibitions will be introduced to the media on Tuesday, October 26, at 10.00 am. The media event will be hosted simultaneously online and in-person at EMMA – Espoo Museum of Modern Art.
At the event, Chiharu Shiota will be interviewed by the exhibition's curator Arja Miller, Chief Curator at EMMA. An address will also be given by Päivi Karttunen, Chair of the Saastamoinen Foundation's Arts Committee. The refreshed Touch exhibition will be presented by EMMA's curator Laura Kokkonen. The event will be in Finnish and Japanese. 
You can follow the streaming of the event on Zoom via this link. Members of the media will have the opportunity to present questions via live stream chat. 
Chiharu Shiota will grant interviews both online and in-person at EMMA. Chiharu Shiota will attend the media event and be available for interviews on October 25 and 26. Please address further inquiries, requests for interviews and registrations to the following address/number by Friday, October 23: iris.suomi@emmamuseum.fi tel.044 7601930.
Chiharu Shiota: Tracing Boundaries. 27.10.2021–27.11.2022  
Chiharu Shiota (b. 1972) is a Berlin-based Japanese artist who has created a giant, immersive installation especially for EMMA. Tracing Boundaries consists of thousands of strands of tangled red yarn woven around old doors that transform the gallery into an evocative red labyrinth. The viewer is invited to step inside the maze and embark on a journey within themselves and their memories. Shiota is the fourth invited artist to be featured as part of a special collaboration between the Saastamoinen Foundation and EMMA. Every year, the Saastamoinen Foundation commissions a new work for its collection from a topically relevant contemporary artist, and an exhibition is curated around the commissioned piece to shed further light on the artist's current practice.
Touch: Listener of Silence, from 27.10.2021
A new thematic section has been added to the Touch exhibition, which presents highlights from the Saastamoinen Foundation Collection. The new hang has been curated around a painting by Juhani Linnovaara (b. 1934), Listening to Silence. It presents art that explores inner worlds, whether through people processing past events or traumas, or the joy of play. The featured artists include Erika Adamsson, Alexander Calder, Kristjan Gudmundsson, Karoliina Hellberg, Reino Hietanen, Heli Hiltunen, Eetu Huhtala, Frida Hultcrantz, Ben Kaila, Jannis Kounellis, John Kørner, Antti Laitinen, Pirkko Lepistö, Juhani Linnovaara, Olli Lyytikäinen, J.O. Mallander, Marjatta Nuoreva, Hanna Diane Simpson, Suvi Sysi and Eulàlia Valldosera.
The Touch exhibition presents a pick of topical Finnish and international contemporary art from the Saastamoinen Foundation Collection. The exhibition is periodically refreshed with the addition of new works and thematic ensembles offering a variety of perspectives on the human condition and life's biggest questions. Listening to Silence is a thematic entity curated by team of four EMMA experts, curators Laura Kokkonen, Tuomas Laulainen, Pernilla Wiik and Chief Curator Henna Paunu.
About EMMA – Espoo Museum of Modern Art
EMMA – Espoon modernin taiteen museon kokoelma- ja näyttelytoiminta profiloituu kotimaiseen ja kansainväliseen modernismiin, nykytaiteeseen sekä designiin. EMMA sijaitsee Espoon Tapiolassa, professori Aarno Ruusuvuoren suunnittelemassa betoniarkkitehtuuria edustavassa Näyttelykeskus WeeGeessä. Näyttelytilat ovat pinta-alaltaan Suomen suurimmat, ja pelkistetty moderni arkkitehtuuri tukee EMMAn, Saastamoisen säätiön ja Tapio Wirkkala Rut Bryk Säätiön kokoelmien sekä vaihtuvien näyttelyiden kokemuksellista esittämistä. Tervetuloa!
@emmamuseum