Radical Health Festival Helsinki 2023 welcomes Lead Clinical Partner: European Society of Cardiology
The Radical Health Festival Helsinki is happy and proud to announce its partnership with the European Society of Cardiology (ESC), one of the largest medical societies in the world with over 120 000 members.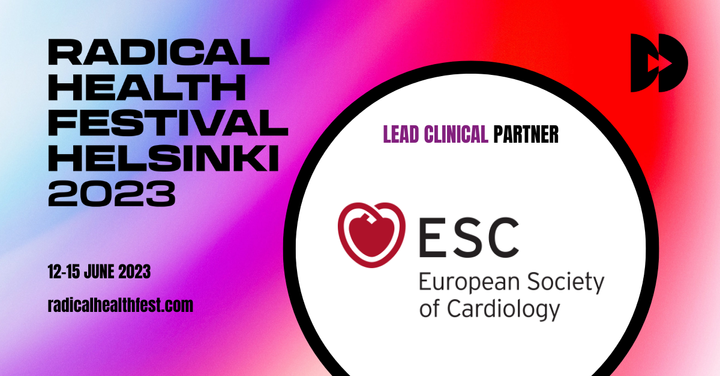 "A big warm welcome to ESC for joining this unique, radical community striving to revolutionize the current healthcare field. The best way to accelerate change, implement innovations and share the best concepts is to bring together people with ideas, knowhow, and a powerful mission", says Päivi Sillanaukee, Ambassador for Health and Wellbeing at the Ministry for Foreign Affairs of Finland.
CEO Janne Aaltonen from the Finnish Medical Association says; "Most of Finland´s health data has been digital for 30 years. We recognize how valuable this abundance of data is. However, we have only taken baby steps in leveraging all these records to improve clinical and financial outcomes. Like many other countries around the world, we have a long way to go on the road to unleashing the full potential of data. Venues like the Radical Health Festival Helsinki are the perfect forum to strategize out-of-the-box together and make great advances toward this vision."
Chaired by Prof. Gerhard Hindricks, the ESC Digital Health Committee will offer a 2-day accredited curriculum diving into topics such as:
• Digital health innovations vs. regulations (MDR/AI-Act)
• Connected health (mHealth and wearables/patient monitoring)
• Adoption, implementation, and reimbursements
• Electronic health records (EHR) and standardisation/sharing of data
• Cardiovascular digital health success stories
• Education/teaching
• Digital therapeutics, in-silico trials (diagnostics and regulatory)
• Big data, analytics, and perspective: connected health (mHealth and wearables/patient monitoring)
• Patient empowerment
Prof. Gerhard Hindricks comments; "We are delighted to be at the heart of Radical Health Festival Helsinki and look forward to bringing the clinical and scientific perspective to this meeting. More importantly however, this collaboration is about creating exciting new synergies and carving innovative, practical and safe ways forward, with the many groups from the digital health arena who will be there."
Part of the event´s exhibit area will be dedicated to digital solutions for cardiology.
If you would like to showcase your solution, visit the partnership page: https://radicalhealthfestival.messukeskus.com/partner-opportunities/
Radical Health Festival Helsinki: June 12-15, 2023 at Helsinki Expo and Convention Centre (Messukeskus). | https://www.radicalhealthfest.com | #radicalhealthfestival
Sign up to receive the latest news about the Radical Health Festival Helsinki: https://www.radicalhealthfest.com/
About the Radical Health Festival Helsinki organizing partners:
The Helsinki Expo and Convention Centre (Messukeskus), promoting Finnish trade and industry by enabling profitable face-to-face contact in trade shows, congresses and other events since 1919, is partnering with the international healthcare thought leadership and content creation agency éditohealth, whose leadership combines over 100 years' in promoting digital health and creating successful global health leadership conferences and exhibitions.
About the European Society of Cardiology:
The European Society of Cardiology brings together health care professionals from more than 150 countries, working to advance cardiovascular medicine and help people lead longer, healthier lives. https://www.escardio.org
Contacts
Pia Heikkurinen
Expert, Sitra, the Finnish Innovation Fund
Secretary General, Radical Health Festival Helsinki
Pia.Heikkurinen@sitra.fi I +358 50 4651025

Sean Roberts
Strategic Relations Officer, éditohealth
sean@editohealth.org I +33 619 553 339

ESC Press office
press@escardio.org | +33 489 872 075
Follow us on Twitter @ESCardioNews

About Messukeskus

Messukeskus
Messuaukio 1
00520 HELSINKI
+358 40 450 3250
http://www.messukeskus.com
Helsingin Messukeskus on Suomen elämyksellisin tapahtumakortteli ja vaikuttavin kohtaamismedia. Onnistuneet kohtaamiset jättävät vahvan muistijäljen ja tuottavat kiistatonta tulosta. Suomen suurin tapahtumajärjestäjä tuottaa laadukkaita tapahtumia sekä vuokraa tilojaan ja palvelujaan erilaisten tapahtumien areenaksi. Messukeskuksen itse tuottamia tapahtumia ovat mm. Habitare, Helsingin Kirjamessut, Educa, FinnBuild, Matkamessut ja Vene Båt. Vierastapahtumina Messukeskuksen tiloissa järjestetään mm. Slush, Nordic Business Forum, Assembly, Koiramessut sekä lukuisia kansainvälisiä kongresseja ja yritystapahtumia vuosittain. Tilat käsittävät 7 hallia, 40 muuntuvaa kokoustilaa, 21 ravintolaa ja oman tapahtumahotellin. Omistajayritys Suomen Messut Oyj perustettiin vuonna 1919. | Messukeskus. The real social media. | www.messukeskus.com @messukeskus
Helsinki Expo and Convention Centre (brand name Messukeskus) creates growth through encounters. We are the largest event organiser in Finland producing or hosting 50 exhibitions and one thousand meetings and congresses annually. We provide a perfect venue with 7 adaptable halls, 40 conference spaces, the 4,400-seater Amfi Hall auditorium, 21 restaurants, a fully renewed event hotel, and all event services, including live, virtual and hybrid events. | Messukeskus. The real social media. | www.messukeskus.com @messukeskus