Sitra in 2022: We funded a hundred experiments and provided tools to shape Finland's future
In 2022, a year marked by crises, Sitra encouraged people in Finland to think about the future and the various paths of development it may involve. We provided information and easy-to-use tools to support these efforts. The numerous experiments and tools are the result of Sitra's long-term future-oriented work, which is funded by the returns on investments. More information on Sitra and the results of our work is available in our annual report for 2022.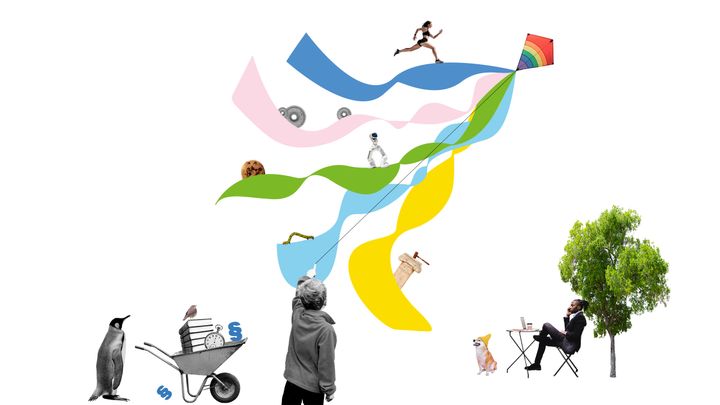 Together with our partners, our future fund seeks solutions for protecting biodiversity and helping Finnish companies build a competitive advantage through data. At the same time, there is a need for broader participation in societal decision-making, and carrying out pilot projects and experiments in this area is another important priority for us.

"Sitra's statutory task is to support Finland's renewal and strengthen the competitiveness and resilience of the economy," says Jyrki Katainen, President of Sitra. "Indeed, all of our future-oriented work is channelled directly or indirectly to benefit society, whether the activities in question involve funding, the production of information, tools, training or providing sparring support in the context of experiments."
The year 2022 brought surprises and concerns, such as Russia's invasion of Ukraine. When the war broke out, we immediately put together scenarios to help anticipate its long-term impacts.
"In a time of surprises and crises, it is important to maintain hope for a better tomorrow. One way to increase hope is to think about desirable future developments and work towards those goals," says Katainen.
To support the building of a vision, we developed tools such as the Good Cards game, which can be used by people of all ages, from schoolchildren to pensioners. We published the popular Weak Signals report, which provides an insight into the first signs of change in everyday contexts: at home, at work and in nature. We also updated our analysis of megatrends and published the Megatrends 2023 report, which sheds light on the global trajectories of development.

The Futures Frequency workshop method launched by Sitra in 2021 was praised in an evaluation by the VTT Technical Research Centre of Finland for strengthening the future-related competence of participants.
Nature is essential to us
The carrying capacity of nature is being put to the test and there is an urgent need to make the transition to the kind of society that strengthens nature and human well-being. The focus of Sitra's work also shifted from its award-winning climate and circular economy efforts to finding solutions that help protect biodiversity. In spring 2022, we invited people in Finland to discuss the significance of nature. Discussions organised by various parties in dozens of locations across Finland strengthened the view that halting biodiversity loss requires a wide range of tools and broad participation.

We published a study on the relationship between the circular economy and biodiversity loss – the first of its kind in the world. The hopeful message of the study is that biodiversity loss can be halted if we achieve a global transition to a circular economy. The key industries in this respect are food production and the construction, textile and forest sectors.
Following the start of the war in Ukraine, we put together lessons learned from previous energy crises and highlighted the need to save energy. The national Down a Degree energy-saving campaign was launched at Sitra's initiative. We also created an open call for solutions to find new data-driven tools for saving energy.
A national strategic commitment for the data economy
Data and the information processed from that data are vital for Finland's competitiveness and the Finnish economy. We are building a fair data economy together with a large network of partners. One example of these efforts is the national strategic commitment to build a fair data economy. Led by Sitra, around 100 public, private and third-sector entities participated in drafting the joint statement.
We helped companies carry out experiments on the benefits of sharing data in the recycling of cars and in the forest industry, for example. We also funded experiments on the use of data for digital therapies to treat medical conditions such as asthma and multiple sclerosis.

We also engage in co-operation with the European Union. For instance, Sitra co-ordinates TEHDAS, a joint project between 26 European countries to create rules and legislation on the sharing of health data between EU member states.
Elections alone are not enough – new channels of participation are needed
For people to have greater trust in decision-making and each other, it is important to provide new and inspiring opportunities for participation and influence that complement electoral voting. A survey conducted by Sitra revealed that over 700,000 people in Finland would like to participate more in societal decision-making if it were easier than at present. We are working on solutions to address this need. For example, we listed actions that would make national decision-making on EU legislation more transparent to the general public.
Sitra led a working group that helped the newly established well-being services counties create structures for participation and local democracy. Most of the well-being services counties intend to draft a separate programme concerning participation, complete with targets and actions.
The change programme Sitra Lab 4 and the teams selected for it carried out practical experiments on how to increase participation among the residents of a municipality, which took place in Kemi, Tampere and Vaasa, among other places.
Sitra does not receive funding from the government budget
Sitra does not receive funds from the central government budget. Instead, all of its future-oriented work is funded by the returns on investment assets. At the end of 2022, the market value of Sitra's equity, fixed income and other investments was 941 million euros. The annual return on the investments was –6.4 per cent. In terms of updating the climate strategy for investments, Sitra set a goal of having a carbon-neutral investment portfolio by 2035.

Sitra's operational expenses amounted to approximately 31 million euros. Approximately one third of project expenses were used for various experiments and pilot projects across Finland.
In many cases, the results of our work only take tangible form years later. A training pilot project that Sitra developed in 2017 and 2018 produced concrete results in autumn 2022 when a training programme for well-being analysts began at the Satakunta University of Applied Sciences and the Lapland University of Applied Sciences. The 75 participants admitted to the programme will learn how to interpret health data and they will support the data-driven development of the social welfare and healthcare sector.
Sitra's annual report and financial statements for 2022 are published in Finnish, Swedish and English. As part of our reporting of financial statements, we are also publishing Sitra's purchase invoices for the three previous years, covering the period 2020 to 2022.


Further information:

Jyrki Katainen, President, Sitra, tel. 0294 618 991, jyrki.katainen@sitra.fi
Elina Ravantti, Director, Communication, Sitra, tel. 0294 618 520, elina.ravantti@sitra.fi
Heidi Saario, Director, HR, Finance and ICT, Sitra, tel. 0294 618 203, heidi.saario@sitra.fi