Suomiveneilee.fi boat testing days in Lauttasaari, Helsinki 4–5 June
At the beginning of June, anyone interested in boating will have the opportunity to try different boats at sea. More than 20 different boats, from small outboard motorboats to sailboats, will be available for testing at the suomiveneilee.fi ("Finland goes boating") test days. The test rides are free of charge for the participants and the boats always have a skilled professional skipper.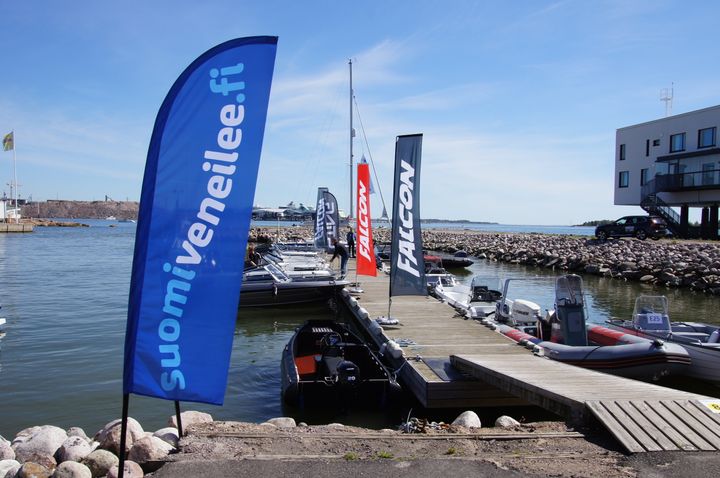 Joint test driving days for Finnish boat makers and importers will be held in Lauttasaari, Helsinki, on the shores of Veneentekijäntie street (Veneentekijäntie 1-5, 00210 Helsinki) on Friday and Saturday, June 4-5. The test runs start at 10 a.m. on both days and continue until 6 p.m.
Special attention is paid to hygiene and the detailed instructions of the authorities. Clear separate blocks and routes can be made to the shoreline areas of the companies in Veneentekijäntie street so that people can move around the area smoothly and without congestion or queuing. In any case, the majority of the audience is out testing the boats at sea, so no congestion is expected in the two areas reserved for the event and company and security staff will ensure that no congestion occurs either.
"We make sure that the event is as safe as possible even during the corona crisis. We recommend that the boat test runs are carried out by family or in another corona bubble, "says Jarkko Pajusalo, CEO of Finnboat.
COVID-19 has elevated summer cottage and boating life to unprecedented popularity
Now, at the latest, you should try boating. Finnboat estimates that the importance of domestic tourism has increased as a result of the COVID-19 crisis, and both boat sales and boating-related services have received an unprecedented boost. Last year, new boat registrations increased by 19%, and the same exceptionally strong growth rate has continued in the early part of the year - 19% more watercraft were registered in the first four months compared to the same period last year.
Motorboats are the largest category of boats in Finland and their registrations rose by as much as 21%. This year, the boat sales season started a little later than usual, which overemphasizes spring delivery congestion. At the same time, there have also been significant global disruptions in the logistics chains for equipment and components, so boat manufacturers and dealers have to do a lot of extra work for the boat deliveries.
"Boating and cottages have already proven to be the best ways for Finns to spend the summer in a corona-safe way, which is reflected in the industry's double-digit growth figures," says Pajusalo.
Helsinki Boat-Afloat in August
The Helsinki Boat-Afloat Show, to be held on 19-22 August 2021, is also in excellent buoyancy and more than 90% of the stands have already been booked in May. Boating is of interest to an exceptionally high number of people, and although it is already very difficult to get a new boat this summer, it is worth exploring the alternatives to ensure that you will find a boat that is just right for your needs.
Boating companies in the event
In addition to the industry association Finnboat and the Helsinki Boat Show, the event is organized by numerous Finnish boat manufacturers and importers.
Anyway, it is worth heading to Veneentekijäntie street, as local companies are organizing their traditional summer opening events at the same time. Veneentekijäntie street in Helsinki is Finland's largest concentration in the boat industry, where you can find a wide range of services, from repair yards to boat and boat equipment stores.
The exact list of boats to be tested will be published by the beginning of June.

About Finnboat
Finnboat
Käenkuja 8 A 47
00500 Helsinki
http://www.finnboat.fi/
Finnboat on maamme venealan teollisuuden ja kaupan toimialajärjestö. Finnboatin jäsenkunta vastaa lähes sataprosenttisesti alan kotimaan liikevaihdosta ja Suomen veneviennistä. Sivulta www.suomiveneilee.fi löydät nopeasti ajan tasalla olevat tiedot jäsenyritysten uusista ja käytetyistä veneistä ja moottoreista sekä tarvikkeista ja muista palveluista.