Survey: Finnish children have adjusted well to remote learning during COVID-19 crisis
Finnish families with children have successfully adjusted to remote learning during the COVID-19 crisis. Parents estimate that their children have adopted devices and connections related to remote learning naturally, and families have also been satisfied with the remote learning materials that teachers have prepared. Families have found many types of good practices to help schoolwork at home until school premises open in mid-May.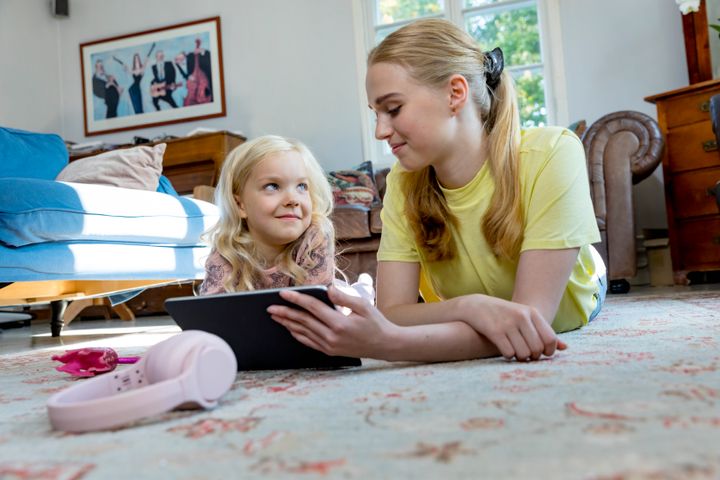 This is revealed by research agency Kantar's School survey *), which DNA commissioned in April 2020. *)
According to the parents who took DNA's survey, 88% of children aged 5–16 use remote learning devices and connections naturally (48%) or somewhat naturally (40%). Only two per cent of the parents fully disagreed with the ease of using the devices. Understandably, the older the children in the family are, the easier it is to use the devices and remote connections.
"We have been happy to hear that almost nine out of ten schoolchildren use devices and remote connections so well. In recent weeks, families have experienced challenging and stressful times as, in addition to everyday life and mealtimes, even work and school have often been carried out in the same place. Regardless, it's a relief to hear that Finnish schoolchildren have adopted digital methods as well as we could have hoped for. And these learnings from remote learning are most certainly useful when schoolwork gets back to normal again," says Senior Vice President, Consumer Business Pekka Väisänen from DNA.
Teachers have also contributed to making learning and studying easier for the schoolchildren. When the respondents were asked if the remote learning materials they had received from schools were good, more than eight out of ten respondents (83%) agreed or somewhat agreed. Families with young children are most satisfied, even though satisfaction remains high even as the children's age increases.
"We also applaud the teachers who were able to move education from classrooms to the internet so quickly. This shows that our high-quality education system is also creative, flexible and innovative," Väisänen says.
The majority of the respondents (82%) said that remote connections at home have worked reliably or somewhat reliably. Approximately one in ten respondents (11%) said that they have updated the internet connections at home to make remote working or learning more efficient. Approximately one fifth of the respondents (19%) said that they had acquired some new equipment for remote learning. There are no major differences in relation to the age of the family's children.
"It was obvious from the survey's free-formed answers that Finnish homes have a flexible and creative attitude towards the situation, and they also see many positive aspects in the situation. Many of them said that school is now going better — for some, waking up early or distractions at school had previously impacted their motivation to study. The parents also said that the shared activities have brought the family closer together," Väisänen says.
Finns watch the news and communicate more frequently
Due to the COVID-19 situation, Finns have started to follow the news more, and instead of physical contacts, many have started to keep in touch with others digitally. This was the result of the Digital lifestyle survey that DNA commissioned from Nepa in late March. More than 1,000 Finns aged 16–74 took the survey. **)
62% of the respondents said that they have started to follow the news more frequently, for example, on TV, online and radio because of the coronavirus situation. 29% of the respondents have started to watch films and TV shows more. The radio is the only medium with almost as many respondents who reduced its use as respondents who increased its use: 8% estimated that they listen to the radio less and 13% said that they listen to the radio more.
According to the survey, use of social media has also increased somewhat. 31% of the respondents estimate that they spend more time using social media services. WhatsApp and Instagram are the biggest social media winners, as WhatsApp's daily users increased from 59 per cent to 68 per cent in two weeks, while the percentage of Instagram's daily users rose from 28 to 35.
16% of the respondents have increased participation in virtual hobbies, for example, music lessons or group exercise classes online.
"People are desperate for news and want to know what's going on in this uncertain situation. On the other hand, they still want entertainment and activities. And, as many people spend more time at home, they have time to watch TV shows and movies, use social media and participate in hobbies. Listening to the radio has most likely decreased for those who used to do it during their commute," Pekka Väisänen ponders.
38% of the respondents estimate that they have increased communication with their loved ones on various applications (e.g. WhatsApp and Messenger) during the coronavirus pandemic. 26% have made more traditional phone calls, 15% have increased the use of video calls and 23% have had more virtual meetings.
"People have a need to stay in touch with each other. Now that you cannot do it face-to-face, digital methods are necessary," Väisänen says.

Parents' tips for making remote learning easier for children
DNA's School Survey also asked what kind of methods families have used to facilitate remote learning for children. DNA collected a short list of tips for parents from the numerous answers it received: 
Shared meal breaks, shared breaks and outdoor activities
Maintain your daily rhythm: waking up, breakfast, getting dressed, studying, breaks, hobbies, etc.
Siblings can support each other with school work
Tasks that require the most effort should be done in the morning
If the parents' work allows it, one of them can focus on helping the children in the morning and the other one in the afternoon
Make a schedule for the whole family: breaks, studying, parents' meetings, meals, etc.
Make rules for peaceful working conditions: When someone is at their desk, they are allowed to work in peace
Make sure to keep stress levels as low as possible
Support motivation with small prizes
Regular and sufficient outdoor activities
*) Koululaistutkimus (School survey) was carried out by Kantar on behalf of DNA. Data was collected as online interviews in Kantar's Gallup Forum panel 6–16 April 2020. The target group included parents of 5–16-year-old children. Parents with children who are learning remotely responded to the coronavirus-related questions, N=853, and the total number of respondents N=1006.
**) The Digitaaliset elämäntavat (Digital lifestyle) survey was commissioned by DNA and conducted by Nepa Insight Oy. Data collection was carried out in Nepa's online panel at the end of March 2020. Number of respondents n=1036, of which n=493 before the state of emergency and n=543 after the state of emergency began. The respondents were a representative sample based on age and gender of Finns aged 16–74.

ATTACHMENTS: Survey reports

Media enquiries:
Pekka Väisänen, Senior Vice President, Consumer Business, DNA Plc, tel. +358 44 0400 168, pekka.vaisanen@dna.fi  
Nina Frosterus, Senior Insight Manager, Kantar, tel. +358 40 524 5766, nina.frosterus@kantar.com  
Maris Tuvikene, Senior Analyst, Nepa Insight Oy, tel. +358 40 7742 508, maris.tuvikene@nepa.com 

DNA Corporate Communications, tel. +358 44 044 8000, viestinta@dna.fi