The Award for Development Journalism goes to Karoliina Knuuti and Mika Niskanen
An outstanding story about consumption-based emissions, published in Maailman Kuvalehti, led to victory. The jury also granted honourable mentions to Ujuni Ahmed and Liselott Lindström.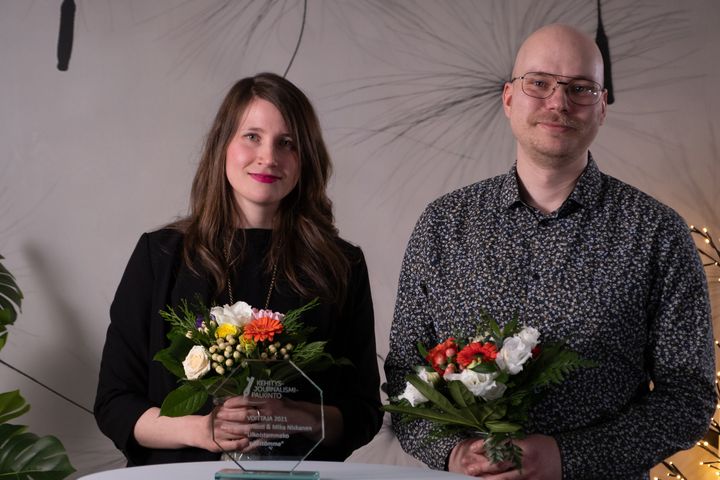 The €3,000 Award for Development Journalism in 2021 is shared between Karoliina Knuuti and Mika Niskanen for their story on a carbon-neutral country with carbon-hungry people: Hiilineutraali valtio, jossa asustaa hiilisyöppö kansa – ulkoistammeko päästömme? The story was published in Maailman Kuvalehti on 4 March 2021.
The award was granted by a jury comprised of five members, who felt that the article was thorough and skilfully constructed. It discusses carbon dioxide emissions caused by consumerism and how, for example, the emissions of many consumer goods bought in Finland but manufactured in China are classed as Chinese instead of Finnish in origin.
'The concept of consumption-based emissions is not yet particularly well known amongst the citizens and decision-makers in Finland,' says one of the jury members, Climate Policy Expert Oras Tynkkynen.
The jury stated that Knuuti and Niskanen had been able to explain a complex phenomenon in a plain and understandable way without oversimplifying it.
'It would have been all too easy to write a story on this theme that left the readers as baffled as they were to begin with,' Tynkkynen says.
Honourable mentions to Ujuni Ahmed and Liselott Lindström
The jury also awarded two honourable mentions.
Ujuni Ahmed received an honourable mention for the podcast episode Voiko maailman pelastaa kuluttamalla?, in which she discussed the problems of global manufacturing with Responsibility Expert Maija Lumme from Eetti ry.
The jury thought that the podcast's angle was innovative and gave praise for attracting new audiences to these themes. Moreover, the podcast approached the topic from various angles without preaching.
Another honourable mention was awarded to Liselott Lindström for her exceptional work as Yle's Africa correspondent. According to the jury, Lindström has provided Finnish audiences with fresh new perspectives on Africa and also allowed African voices to be heard. She has worked on several global themes, including climate change, migration, the economy, conflicts and human rights.
'Trying to make the African angle more visible is really hard and takes a lot of effort, and you often feel quite alone,' says one of the jury members, Taina Tervonen, who won the Award for Development Journalism last year.
'Through her exceptional journalistic skills, Lindström has been able to give us a whole new perspective.'
The Award for Development Journalism
The Award for Development Journalism was established by the Finnish Red Cross, the Finnish Foundation for Media and Development Vikes, the Helsingin Sanomat Foundation and the Union of Journalists in Finland.
The purpose of the award is to highlight high-quality, innovative journalistic publications addressing global themes and increase the visibility and prestige of Finnish development journalism. The €3,000 award was now granted for the second time.
The theme of this year's award was climate change, and the total number of nominees was 20. The jury stated that generally media stories about climate change are high in quality, but they tend be overly focused on Finland, and it was a shame that they were unable to find more high-quality stories with a global point of view.
The jury that picked the winners included cultural journalist Pauliina Grym, artist and Doctor of Arts Maija Tammi, journalist Taina Tervonen, Climate Policy Expert Oras Tynkkynen, and film producer and documentarist Iikka Vehkalahti.
Inquiries:
Pekka Reinikainen, International Advocacy and Communications, Finnish Red Cross, pekka.reinikainen@redcross.fi, tel. +358 (0)40 178 2235
Esa Salminen, Communications Specialist, Finnish Foundation for Media and Development Vikes, esa.salminen@vikes.fi, tel. +358 (0)50 464 9532

Award winners:
Mika Niskanen
mika.niskanen@fingo.fi
050 317 6715
Karoliina Knuuti
karoliina.knuuti@gmail.com

Photos: Esa Salminen / Vikes
About Suomen Punainen Risti SPR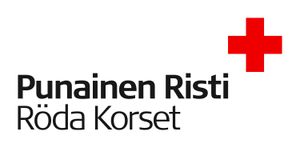 Suomen Punainen Risti SPR
Tehtaankatu 1 a
00140 HELSINKI
https://www.punainenristi.fi/
Suomen Punainen Risti on yksi Suomen suurimmista kansalaisjärjestöistä. Punaisen Ristin tehtävänä on auttaa apua eniten tarvitsevia kotimaassa ja ulkomailla.

Punainen Risti auttaa ihmisiä katastrofien ja onnettomuuksien sattuessa ja kouluttaa heitä varautumaan niihin. Järjestö kannustaa ihmisiä hoitamaan terveyttään ja pitämään huolta toisistaan. Inhimillisyyden puolustaminen on yksi järjestön päätavoitteista.

Finlands Röda Kors är en av de största frivilligorganisationerna i Finland. Röda Korset har i uppgift att hjälpa dem som mest är i behov av hjälp såväl i hemlandet som utomlands.

Röda Korset hjälper människor i samband med katastrofer och olyckor och ger utbildning i beredskap. Organisationen uppmuntrar människor att sköta sin hälsa och ta hand om varandra. Att försvara humanitet är en av Röda Korsets huvudmål.