The Futuro house will open to the public again on 16 May at Exhibition Centre WeeGee – the opening party will be held on Wednesday 17 May
The 55-year-old plastic utopian house will be open to the visitors of the exhibition centre until mid-September.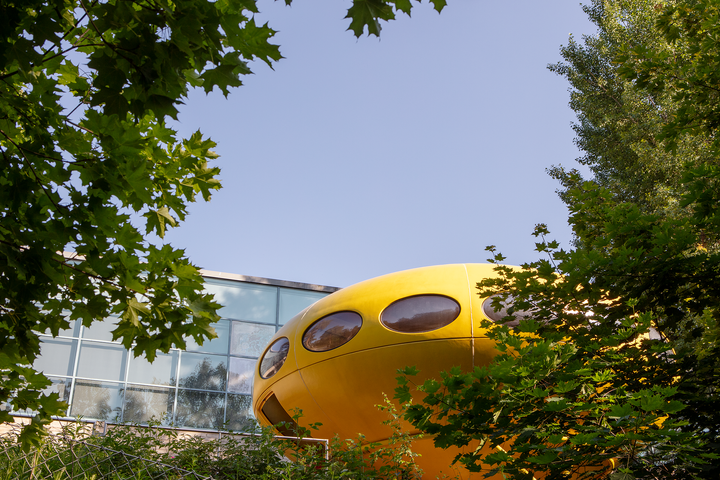 The opening party of the Futuro house will be held in the backyard of Exhibition Centre WeeGee on Wednesday 17 May 2023. There will be guided tours in the Futuro house from 12 noon to 5 p.m. The Mocktail Bar Futuro will serve mocktail versions of trendy cocktails from the 1950s and 1960s at 3.50 € a piece between 3:00 p.m. and 7 p.m. At the end of the opening evening, the Mary Ann Hawkins band playing instrumental surf rock will lead the audience on a music trip in the spirit of the 1960s.
Architect Matti Suuronen's design reflecting the space time and faith in the future, an architectural gem of its time, the mass produced Futuro house 001 was erected 55 years ago on the plot of entertainment artist Matti Kuusla's summer cottage in Hirvensalmi. The City of Espoo bought the deteriorating plastic house and restored it as an exhibition item. The Futuro house has been open to the public since 2012 in the back yard of the Exhibition Centre WeeGee during the summer season.
The Exhibition Centre's popular sight also challenges the visitors to think about our future and our dependence on fossil raw materials. In the 1960s, the plastic chosen as Futuro's material was expected to continue its victory march as a cheap, light and durable material, even though we think otherwise today. In the end, the production of Suuronen's plastic houses remained very small due to their weirdness and the steep plastic price hike due to the oil crisis in 1973, and Futuro ultimately failed to conquer the world.
The Futuro house will be open according to the opening hours of the Exhibition Centre WeeGee from 16 May to 17 September 2023. You can join the opening programme on 17 May 2023 at the price of a museum visit.
Marko Home, expert on the Futuro house, will give interviews to media on Tuesday 16 May or at other times upon agreement.
Tilaa tiedotteet sähköpostiisi
Haluatko tietää asioista ensimmäisten joukossa? Kun tilaat tiedotteemme, saat ne sähköpostiisi välittömästi julkaisuhetkellä. Tilauksen voit halutessasi perua milloin tahansa.
Lue lisää julkaisijalta Espoon kaupunki - Esbo stad
Uutishuoneessa voit lukea tiedotteitamme ja muuta julkaisemaamme materiaalia. Löydät sieltä niin yhteyshenkilöidemme tiedot kuin vapaasti julkaistavissa olevia kuvia ja videoita. Uutishuoneessa voit nähdä myös sosiaalisen median sisältöjä. Kaikki tiedotepalvelussa julkaistu materiaali on vapaasti median käytettävissä.
Tutustu uutishuoneeseemme