The Hotel Maria aims to offer the best hotel experience in the Nordics
A major new player will join Helsinki's hotel selection when The Hotel Maria opens on December 15, 2023. The Hotel Maria will take Nordic hospitality and the modern luxury hotel experience to a whole new level.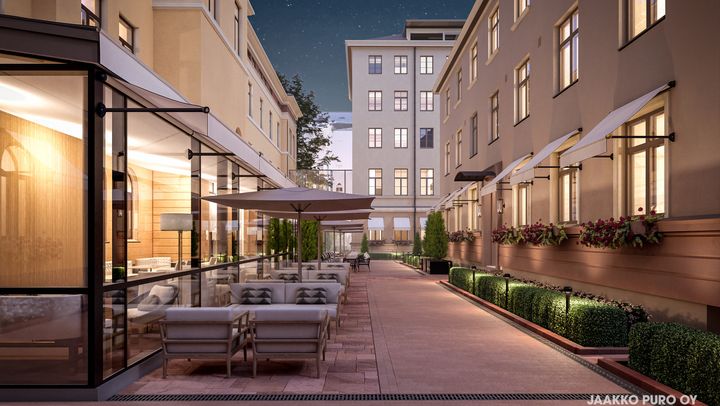 A survey commissioned by investment company Samla Capital showed demand for a hotel that meets the criteria of international luxury in Helsinki. The Hotel Maria will answer to this by offering luxury services at Mariankatu 23 in Kruununhaka, Finland.
"The Hotel Maria is a significant new arrival on the Finnish hotel scene, offering a new alternative and service experience for guests who appreciate Nordic hospitality and a refined luxury hotel experience," says Samppa Lajunen, founder and Portfolio Manager of Samla Capital, the company financing the hotel project.
The Hotel Maria's largest client sector will consist of foreign luxury tourists for whom Finland is an enticing destination. Luxury tourism is growing steadily around the world, and a demand for hotels that meet this need is also emerging in Finland and Helsinki.
"Other Nordic countries have hotels that offer international luxury, and that's what we want to see in Helsinki, too. The desire to travel and gain experiences hasn't disappeared, and luxury hotel room rates in the Nordic countries have hit new records. For those accustomed to luxury, The Hotel Maria will meet the international standards of excellence, while adding a touch of local individuality to the experience," says Lajunen.
Multiplying the number of suites in Helsinki
Among The Hotel Maria's most distinguishing features are its spacious rooms, great number of suites, high-quality service experience, interior design concept, and its location in historic Kruununhaka, which reinforces the Urban Resort experience it offers.
"The Hotel Maria's 40 suites will significantly increase the overall number of suites on offer in the center of Helsinki. All 117 rooms are twice the average size of what we're used to in Finland. We've really invested in the rooms' spa experience by adding saunas, steam rooms, or bathtubs to their bathrooms. All the rooms are impressive and the sense of space is maximized by a ceiling height of up to four meters. And the old arched windows and spirit of the building's history are something quite unique. This is something that new construction can never achieve," Lajunen points out.
The hotel's interior design is elegant and lavish, with furniture, lighting, and design details from American luxury furniture specialist Restoration Hardware.
Independent hotel believes in Preferred's Legend brand
The Hotel Maria will open as a member of Preferred Hotels & Resorts' prestigious Legend Collection. This will be the brand's first Legend hotel in Finland.
"The partnership with Preferred Hotels and Resorts will offer The Hotel Maria its high brand standards, international sales and distribution network, and global marketing and visibility, while still enabling us to operate as an independent hotel, managed entirely from Finland. We will be able to combine the best practices of international luxury with a unique, locally delivered customer experience," says Samppa Lajunen, who has been promoting the hotel project for three years.
The Hotel Maria consists of four different buildings built between 1885 and 1930, originally designed by architect Evert E. Lagerspetz. The hotel as a whole covers a total area of 14,200 square meters. In addition to its rooms and suites, it boasts two restaurants and two bars, a separate Spa & Wellness section, a gym, banquet facilities, magnificent outdoor areas with terraces, a chapel, and a shop.
The Samla Hotels fund (SC Hotels I Ky), managed by Samla Capital, will provide the investment required for the hotel. The investment budget is around EUR 116 million.
Subscribe to releases from The Hotel Maria
Subscribe to all the latest releases from The Hotel Maria by registering your e-mail address below. You can unsubscribe at any time.
Latest releases from The Hotel Maria
In our pressroom you can read all our latest releases, find our press contacts, images, documents and other relevant information about us.
Visit our pressroom