The Second Cave Ice Carving World Championships in Finland
The first Cave Ice Carving World Championship (CICWC) in 2017 was a success among competitors, organizers and audience. Positive and grateful messages was spread all over the globe by famous ice art carvers about the unique venue and organisation.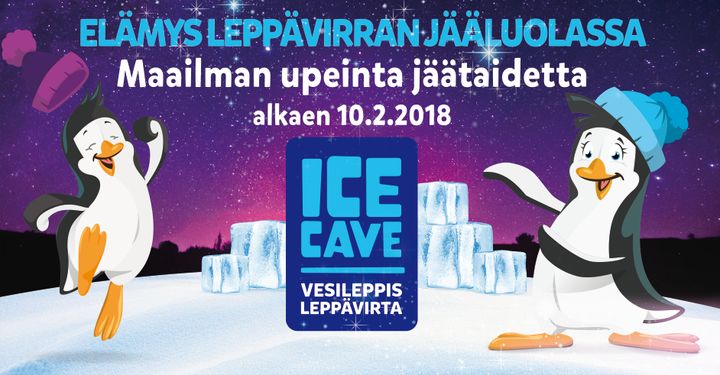 15 300 spectators visited the ice exhibition that lasted from February to June! The sculptures were in perfect shape all the time. For these reasons the decision to continue and arrange the second competition and exhibition was easy.
In November 2017 an invitation was sent to carvers around the world and we got 26 good applications (drawings, sketches). Unfortunately we could only take 12 teams (two persons). The selection was not easy but we managed. Of some reason we got many applications from the Far-East and we thought that they could bring an exotic touch to the exhibition. The chosen teams represent the top carvers in their countries. They come from Malaysia, Singapore, Thailand, Taiwan, Japan, China and Mongolia (last year winner). Also other famous ice carving countries are represented, USA, Russia, Switzerland, Poland, Italy, Sweden and Finland.
The competition begins on 3 February and last a week. Final results will be published on 10 Februay at 16.00. The winners are chosen by an international jury. The competitors have to achieve a big at least 3 meter high sculpture adequate to the theme: "Stone age in the Ice Cave". The spectators will also choose their favourite work and they will also be allowed to watch the carvers working on two days during the week (Thursday and Friday).
The competition venue is a cave 40 meters under the ground. It has enchanted the carvers for many reasons, no wind, constant temperature -5 degrees Celcius, accomodation and service just above in the Hotel Vesileppis plus that the cave will be illuminated with atmospheric lights and music. You can't find a similar cave like this anywhere in the world. Plus the competition we build a childrens ice world with slides, ice labyrint, functional sculptures and snowmen. Every competing team has to make a sculpture for the children.
The Ice Cave is decorated and built by the famous Finnish ice carving company Icemagic Oy led by Anssi Kuosa and his international team.
The exhibition will be open for the public from 10.2. - 24.6.2018 everyday.
Subscribe to releases from Jäälinna ry
Subscribe to all the latest releases from Jäälinna ry by registering your e-mail address below. You can unsubscribe at any time.
Latest releases from Jäälinna ry