This summer's local travel gem: Söderlångvik Museum opens on 3 June
Amos Anderson's Italian-style classicist villa stands amid a large apple orchard in Kimitoön (also known as Kimito Island and Kemiönsaari). The main building displays art from the Amos Rex collection, featuring artists such as Sigrid Schauman, Rafael Wardi, Sulho Sipilä and Ellen Thesleff.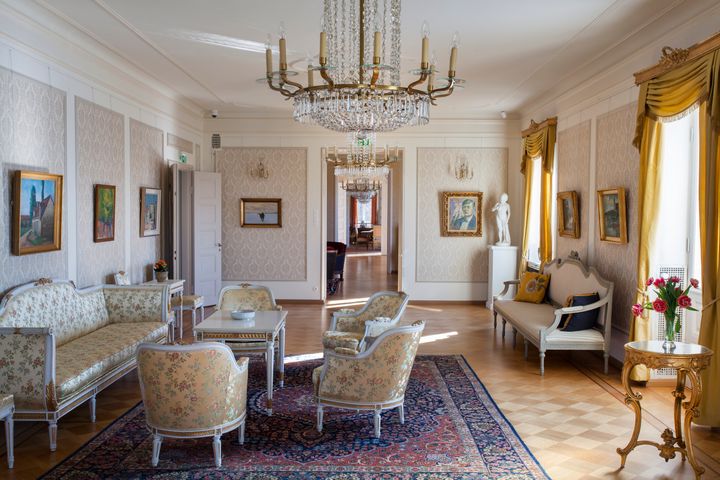 Söderlångvik Museum re-opens on 3 June 2021 after a hiatus of more than two years. Now meticulously restored, the building showcases a selection of works from Amos Rex's modern art collection, set amid Amos Anderson's original interiors. The place breathes with the atmosphere of the 1930s when Anderson converted the nineteenth-century country house into an Italian-style classicist villa. The manorial garden, designed by Paul Olsson, has also been rejuvenated and restored, including its fountain and colonnade.
Media representatives are invited to a press event at Söderlångvik's museum on 2 June (12.30-2.30 pm). RSVP: kerttu.raittila@amosrex.fi
Through New Eyes opening exhibition showcases Amos Rex collection
To celebrate the re-opening of Söderlångvik's main building, the museum presents the exhibition Through New Eyes. It features more than 100 Finnish paintings and sculptures from the Amos Rex collection, mostly from the first half of the twentieth century.
Some of the works are familiar from Amos Anderson's own collection while others are gems from the Amos Rex collections that have not previously been shown at Söderlångvik. The works in the exhibition have been carefully chosen to suit the atmosphere and interior design of each room. The artists include Sigrid Schauman, Rafael Wardi, Sulho Sipilä, Santeri Salokivi, Ragnar Ekelund, Alvar Cawén and Ellen Thesleff.
Museum visitors can now also see parts of the mansion that have not previously been open to the public such as the chauffeur's room and the cinema in the basement, as well as new exhibition rooms that provide information about Amos Anderson and Söderlångvik as well as the works in the opening exhibition and how they have been conserved. You can also explore Söderlångvik with a new audio guide and daily guided tours in July. The museum is open daily 11 am-5 pm until the end of September (except Midsummer weekend, 25-27 June).
A new book on Söderlångvik will be published in Finnish and Swedish, entitled Amos Anderson's Söderlångvik. It sheds light on Anderson's relationship with Kimitoön, on Söderlångvik's architecture, the museum's history, the Söderlångvik estate's businesses and the just-completed renovation.
An all-day summer travel destination
Besides the museum, the Söderlångvik Manor grounds include a restaurant, nature paths and two villas, available for rent. Söderlångvik is set amid one of Finland's largest apple orchards. The estate, with its archipelago milieu, is renowned for its unique cultural landscapes and the natural beauty of the protected forests and shore of the Purunpää peninsula. The estate is owned by the Föreningen Konstsamfundet Association.
This summer, the Söderlångvik Restaurant Café features an exhibition of culinary-themed paintings by Paul Osipow (b. 1939). Also on display will be previously-unseen graphic works by the artist. The restaurant offers a new à la carte menu, a large terrace and a children's playground.
In July a boat route will being operating three times a week from Hanko to Söderlångvik, continuing once a week on to Pargas (Parainen). A ship route is also planned from Turku to Söderlångvik.
Summer activities at Söderlångvik
Summer cruises from Dalsbruk (Taalintehdas)
12 June: Small-scale season opening of the manorial estate.
Programme includes the opening of a Purunpää photography exhibition in the restaurant, art workshops and various guided tours. More information on the event: https://soderlangvik.fi/en/events/
19 June: Kimito Island Nordic Gravel cycling competition
11 July & 15 July: Baltic Jazz and Kimito Island Music Festival concerts
July: Yoga on the manor house terrace
14–15 Aug: Watercolour painting course
25 Sept: Seasonal finale: Apple Day
Press photos: media.amosrex.fi
Contacts
Söderlångvik Manor (events, outings, nature trails, restaurant etc)

Hanna Vuorio-Wilson, Coordinator
+358 40 562 2198, hanna.vuorio-wilson@soderlangvik.fi

Amos Rex collections and Söderlångvik Museum (museum operations and art)

Kaj Martin, Head of Collections
+358 50 523 1343, kaj.martin@amosrex.fi

Iia Palovaara, Head of Communications
+358 (0)50 544 3331, iia.palovaara@amosrex.fi

Press photos: media.amosrex.fi

Images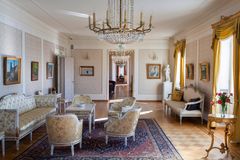 About Amos Rex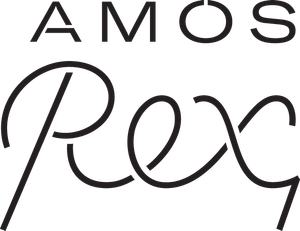 Amos Rex
Mannerheimintie 22-24
00100 HELSINKI
museum@amosrex.fi
http://www.amosrex.fi
Amos Anderson (1878-1961), owner of the newspaper Hufvudstadsbladet, bought Söderlångvik Manor in 1927. He was one of the leading businessmen and cultural patrons of his time. Since 1965, Söderlångvik's main building has been a museum devoted to Amos Anderson's personal history and housing his art collection. During the summer, both the museum and restaurant present rotating art exhibitions. The estate's operations include the orchards, farming, dining and accommodation, group activities and various kinds of events. Söderlångvik Manor is a living entity that manages a valuable cultural heritage and actively develops new operational models. Söderlångvik Manor is owned by the Konstsamfundet Association.
Söderlångvik is located in Kimitoön (Kemiönsaari), 100 km from Turku, 180 km from Helsinki and 70 km from Salo
Amos Rex is an art museum where the past, present and future meet. It is located within a functionalist gem, the Lasipalatsi (Glass Palace), with its distinctive square featuring gently curved domes. The museum space offers 10,000 square metres for unique experiences under and above ground and on the Bio Rex's silver screen. Amos Rex's exhibition programme includes the newest, often technically experimental contemporary art, twentieth century modernism and ancient cultures.
www.amosrex.fi #amosrex
Amos Rex
Mannerheimintie 22-24
00100 HELSINKI