Welcome to FinnBuild 2022 4–6 October
Digital solutions supporting circular economy, net-zero construction, efficient energy saving and building systems at Finland's largest construction industry event FinnBuild held at Helsinki Expo and Convention Centre next week.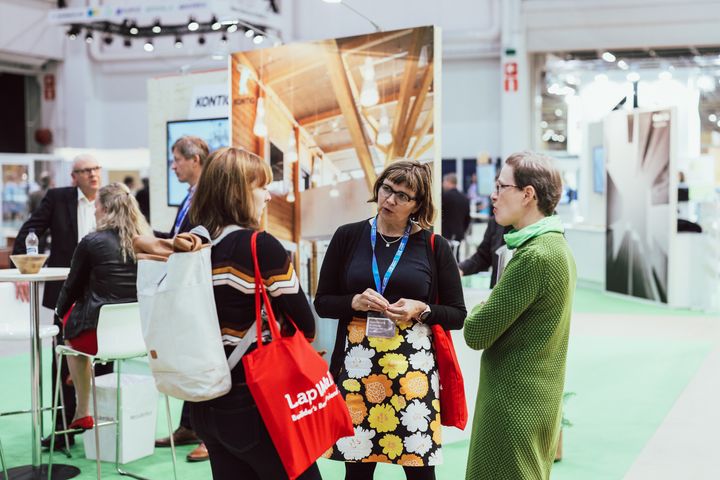 The program for FinnBuild presents digital and circular economy solutions and energy saving systems within the construction industry, not forgetting timber building. In addition to an abundant expert program, the three-day event presents the newest products and services, working methods and solutions within construction industry and building technology.
"Green transition and net-zero construction in addition to topical energy saving systems and the effects on industry caused by the war in Ukraine are the most topical discussions this year. People are truly looking forward to meeting up again after a four-year break", says FinnBuild's Business Manager Jussi Kivikari.
In addition to numerous innovations and novelties, the FinnBuild Highlights jury has chosen the Highlights of products and solutions presented at the fair. They include energy saving and antibacterial products, air purification with blue light, real-time measurement data, a reinforced concrete micro-factory, circular economy, air cooling, a bio-based PEX pipe and a safe parking house for bicycles. For more details.
In hall 6, FinnBuild exhibits extensively companies in the building services industry. There is a theme area for concrete building (hall 6) and wood (hall 1). All technology, machinery and equipment are to be found in hall 7. The construction area in hall 6 offers a most comprehensive set of products and services. All auxiliary components such as doors, windows, stairs, railings, and glass solutions are presented in hall 3.
FinnBuild is the largest event in the field of construction and building technology in Finland, both in terms of number of participating companies, number of visitors and exhibition area. During normal circumstances, the fair is organised every second year. In 2018, more than 25,000 visitors visited the event.
finnbuild.fi, LinkedIn, Twitter
Further information: Helsinki Expo and Convention Centre, Communications Manager Anu-Eveliina Mattila, anu-eveliina.mattila@messukeskus.com.
About Messukeskus

Messukeskus
Messuaukio 1
00520 HELSINKI
+358 40 450 3250
http://www.messukeskus.com
Helsingin Messukeskus on ihmisläheinen media ja turvallisuudestaan palkittu tapahtumatalo, joka luo kasvua aitojen kohtaamisten kautta. Suomen suurin tapahtumajärjestäjä tuottaa laadukkaita tapahtumia sekä vuokraa tilojaan ja palvelujaan live-, hybridi- ja virtuaalitapahtumien areenaksi. | Messukeskus – kasvua kohtaamsista | www.messukeskus.com | @messukeskus | twitter.com/messukeskus 
Helsinki Expo and Convention Centre (brand name Messukeskus) creates growth through encounters. We are the largest event organiser in Finland producing or hosting 50 exhibitions and one thousand meetings and congresses annually. We provide a perfect venue with 7 adaptable halls, 40 conference spaces, the 4,400-seater Amfi Hall auditorium, 21 restaurants, a fully renewed event hotel, and all event services, including live, virtual and hybrid events. | www.messukeskus.com | @messukeskus |  | twitter.com/messukeskus