Welcome to Finnish Pavilion at METSTRADE
Welcome to Finnish Pavilion at METS Trade 16–18 November 2021 and meet Finnish manufacturers Lahnakoski Oy, Nawa / Lankapaja Oy, Navix Oy, Nextfour Solutions Oy, Oceanvolt Oy, Safire / SF-Lämmitin Oy, Toppi Oy, TM Company Oy and VA-Varuste Ltd hosted by Finnish Marine Industries Federation Finnboat.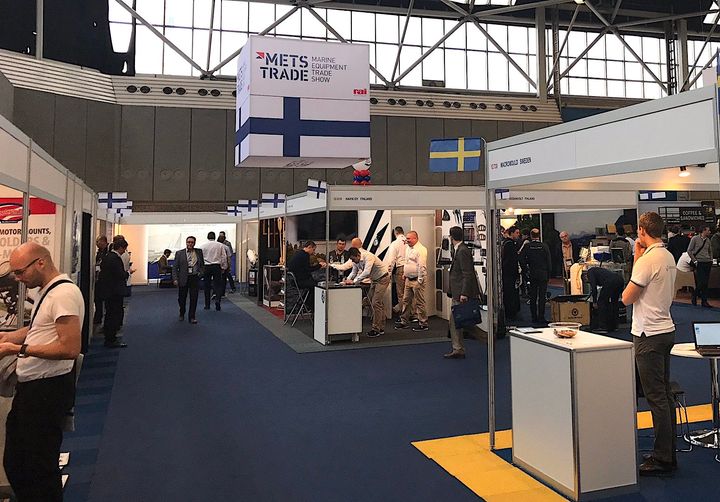 The Finnish Pavilion, hall 05:
Lahnakoski Oy – stand 05.722
Being the leading manufacturer of wooden oars in Europe, Lahnakoski is a family enterprise where expertise and experience have been honed in four generations. The extensive range includes oars, paddles, flagpoles, boathooks, and more.
Lankapaja Oy / Nawa – stand 05.721
Nawa is a Finnish brand of marine equipment manufactured by Lankapaja Oy. The idea of Nawa products is to make mooring and fastening of different equipment easy. Nawa equipment includes line- and rope reels, fender baskets, lifebuoy holders, light holder, safety line holder, spinnaker pole holder, antenna bracket, flag pole holder, mooring hook, and patented connectors for rail tubing.
Navix Oy – stand 05.822
Navix does it all: From engineering and design to end product. Navix combines functionality and design to achieve the best solutions on land and at sea. Navix is an integration specialist that designs and produces custom tailored electrical and interior products and assemblies of these for the leisure boat and machine industry. For Navix, a smooth engineering process is the creative application of planning, construction, materials and documentation. That guarantees that the solutions answer the customer's special needs. Each year Navix's dedicated engineering and design team finishes nearly 500 projects into high quality products, ranging from electrical systems and products for small to larger motor yachts and sailing boats to rugged work boats and utility vehicles. Navix - When Design needs to Work.
Nextfour Solutions Oy - stand 05.620
Nextfour Solutions is presenting the renewed Q Experience display family – definitely the easiest-to-use smart plotters on the market. The new generation of navigation is here with the new Q Experience 2.0. Our mission is to make navigation smarter and boating easier. Q2.0 has a very user-friendly interface and superb technical specifications.
Nextfour presents also the totally new Connected Boat device - your boat always connected and secure. Aimed for smaller boats without a display. Stay connected with your boat and guard it when you are away. With Connected Boat you can also do fleet management for your fleet.
Oceanvolt – stand 05.727
Founded in 2004, Oceanvolt is a leading manufacturer of clean electric power and propulsion systems for boats. Oceanvolt offers clean, safe, reliable and state-of-the-art electric motors, which promote sustainability. The hydrogeneration or "creating energy while sailing" function is an automatic feature in all Oceanvolt motors and makes any sailing vessel truly selfsustainable
Safire / SF-Lämmitin Oy – stand 05.621
Safire diesel heaters are manufactured with 30 years' experience in design and production. Safire products have been developed in accordance with requests from the users of the heaters. Boat heaters from the Safire family provide an easy and safe way to create the ambience and warmth of a leisure boater.
Toppi Oy – stand 05.723
Toppi Oy is a family-owned company, established in 1953 – a pioneer in the Finnish plastic industry and extrusion techniques. Toppi Oy manufactures high-quality plastic hoses, tubes, profiles, and multicables for industrial and consumer needs.
TM Company Oy – stand 05.820
TM Company is specializing in marine innovations to make boating safe and convenient. They have recently unveiled the new Snubber mooring product line of user-friendly and aesthetically pleasing boating accessories.
All products are made of the highest quality materials in Finland and have passed rigorous quality testing needed to perform well in rough mooring conditions for any kind of boat.
TM Company's Snubber Twist Mooring compensator has been nominated by the jury for the DAME - Design Award 2021 competition.
VA-Varuste Ltd – stand 05.623
VA-Varuste Ltd is one of the leading manufacturers of fitted boat textiles in the whole Europe. The main products are boat canopies, harbour covers, boat cushions and seats. Boat textiles represent peak expertise in the field both in relation to quality and practical use. The functionality, appearance and durability are the key factors in designing new products. VA-Varuste uses 3D programs by which they can model a wide variety of alternatives without having to prepare a prototype of products. The factories are located in Finland and Poland, and VA-Varuste is opening a new factory in Portugal in 2022.
Finnboat – stand 05.720
Finnish Marine Industries Federation Finnboat hosts the Finnish Pavilion. Finnboat is the umbrella organisation for Finland's marine industry and trade. Finnboat membership represents close to one hundred percent of both the nation's domestic marine industry turnover and the value of boat exports.
See you at the Finnish Pavilion at METSTRADE 16–18 November!
About Finnboat
Finnboat
Käenkuja 8 A 47
00500 Helsinki
http://www.finnboat.fi/
Finnboat on maamme venealan teollisuuden ja kaupan toimialajärjestö. Finnboatin jäsenkunta vastaa lähes sataprosenttisesti alan kotimaan liikevaihdosta ja Suomen veneviennistä. Sivulta www.suomiveneilee.fi löydät nopeasti ajan tasalla olevat tiedot jäsenyritysten uusista ja käytetyistä veneistä ja moottoreista sekä tarvikkeista ja muista palveluista.