Coolbrook and ABB expand partnership with investment to accelerate decarbonization of heavy industries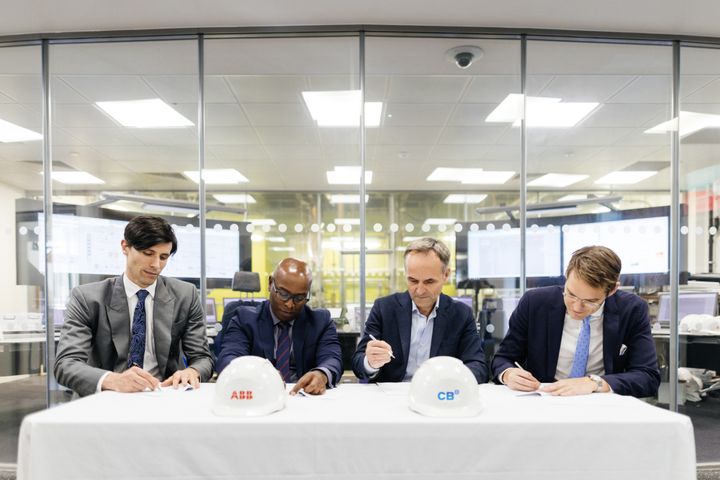 · ABB and Coolbrook sign agreement to advance technology that helps decarbonize hard-to-abate chemicals, cement and steel industries, collectively responsible for 70 percent of industrial CO2 emissions
· Enhanced offering to combine Coolbrook's RotoDynamic technology, which replaces burning of fossil fuels with electrification in heavy industries, with ABB's motors, power electronics and process automation for increased efficiency
· Collaboration promises to scale up development and rollout of breakthrough decarbonization technology
26th October 2022: ABB and transformational technology and engineering company Coolbrook have signed an agreement to accelerate the development, industrialization and adoption of RotoDynamic technology to decarbonize hard-to-abate sectors such as petrochemicals and chemicals, cement and steel. RotoDynamic technology replaces the burning of fossil fuel with renewable electricity as the energy source. The new agreement expands ABB and Coolbrook's existing partnership, launched in January 2022, and was signed at Imperial College in London last week.
It is widely recognized that the decarbonization of heavy industries is essential to achieving net-zero emissions by 2050. According to the International Energy Agency (IEA), chemicals, cement and steel production collectively account for 70 percent of industrial CO2 emissions, equal to approximately six billion tons annually.
ABB and Coolbrook will leverage their respective capabilities and resources to rapidly commercialize Coolbrook's patented RotoDynamic technology, which can electrify hard-to-abate industrial sectors. ABB will provide their automation, electrification and digitalization expertise, as well as integrate their electric motors and variable speed drives, to further enhance Coolbrook's technology by optimizing energy efficiency and operational processes. ABB's investment will also enable quicker technology readiness and increase corporate capacity to achieve the joint goal of industrial scale up.
"We believe that our RotoDynamic technology, which can help cut up to 2.4 billion metric tons of carbon emissions annually, is one of the major inventions of our time. Together with ABB we can speed up the development of this groundbreaking technology to help reduce carbon dioxide emissions from energy-intensive processes and bring about the beginning of a clean new industrial era," said Ilpo Kuokkanen, Executive Chair, Coolbrook. "ABB's global footprint and technology leadership will be key to accelerating market adoption."
"The electrification of heavy industry with Coolbrook technology will have a significant impact on our global decarbonization goals," said Colin Ward, Senior Vice President Chemicals and Refining, ABB Energy Industries. "This new agreement with Coolbrook supports our sustainability strategy and commitment to helping our customers reduce their annual CO2 emissions by 100 megatons by 2030."
Earlier this year the two companies collaborated in the petrochemicals market to accelerate the adoption of Coolbrook's RotoDynamic Reactors (RDR) technology to reduce greenhouse gas emissions in steam cracking plants. Together they created a combined offering to reduce energy consumption by 30 percent and improve yield by 20 percent in ethylene production. Across cement and steel, Coolbrook's RotoDynamic Heaters (RDH) technology has potential to replace the burning of fossil fuels with high temperature electric heating to reduce carbon dioxide emissions and increase process efficiency.
Both RDR and RDH have received significant attention from leading players in chemicals, cement and steel industries, and Coolbrook has already started cooperation with major industry actors including Shell, CEMEX, Ultratech and ArcelorMittal. According to a study conducted by KPMG, RotoDynamic technology has an estimated gross market potential of approximately 400 billion euros and is expected to become the industry standard in industrial electrification.
Contacts
Media inquiries and further information:


Ella Mäkelä
ella@tekir.fi
+358 44 354 9093

About Coolbrook Oy

Coolbrook Oy
http://www.coolbrook.com
ABB's Process Automation business is a leader in automation, electrification and digitalization for the process and hybrid industries. We serve our customers with a broad portfolio of products, systems, and end-to-end solutions, including our # 1 distributed control system, software, and lifecycle services, industry-specific products as well as measurement and analytics, and marine offerings. As the global #2 in the market, we build on our deep domain expertise, diverse team and global footprint, and are dedicated to helping our customers increase competitiveness, improve their return on investment and run safe, smart, and sustainable operations. go.abb/processautomation
ABB (ABBN: SIX Swiss Ex) is a leading global technology company that energizes the transformation of society and industry to achieve a more productive, sustainable future. By connecting software to its electrification, robotics, automation and motion portfolio, ABB pushes the boundaries of technology to drive performance to new levels. With a history of excellence stretching back more than 130 years, ABB's success is driven by about 105,000 talented employees in over 100 countries. www.abb.com
Coolbrook Oy is a transformational technology and engineering company on a mission to decarbonize major industrial sectors like petrochemicals and chemicals, iron and steel, and cement. Coolbrook's revolutionary rotating technology combines space science, turbomachinery and chemical engineering to replace burning of fossil fuels across all major industrial sectors. The technology has two main applications: RotoDynamic Reactor (RDR) to reach 100% CO2 free olefin production, and RotoDynamic Heater (RDH) to provide carbon-free process heating to iron and steel, cement and chemicals production. For more information, please visit www.coolbrook.com