Coolbrook and Braskem to enter into decarbonisation project for olefins production through electrification
Braskem and Coolbrook plan to cooperate in a large-scale pilot project with Coolbrook's patented RDR technology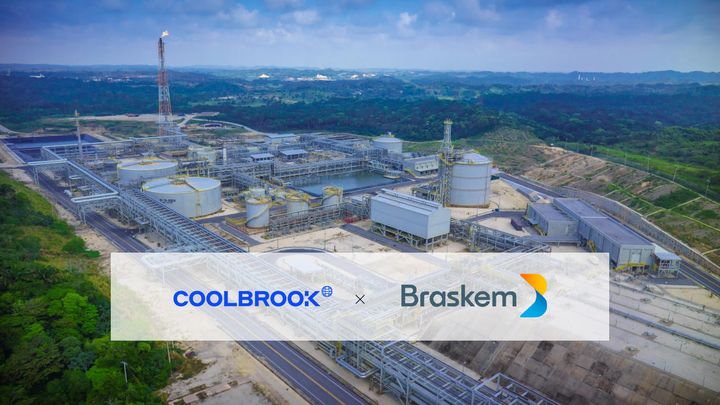 Coolbrook, a transformational technology and engineering company, and Braskem, the leading integrated petrochemicals company in the Americas, have entered into discussions to join forces to cooperate for the scale-up of Coolbrook's patented Roto Dynamic Reactor (RDR) technology and potentially deploy it in its steam cracker units.
As part of the potential cooperation, Braskem will become a key partner to Coolbrook's large-scale pilot project in the Netherlands. The companies will also jointly evaluate the industrial deployment of Coolbrook's RDR technology in a large-scale demonstration project at Braskem's production site. This potential cooperation will support Coolbrook's ambition to make its revolutionary RDR technology available for commercial use at scale as soon as 2024.
Steam cracking to produce ethylene, propylene, and other valuable chemicals is one of the most energy intensive and CO2 emitting industrial processes globally. With Coolbrook's patented RDR technology it is possible to replace the burning of fossil fuels with electrification in steam crackers to reduce global CO2 emissions by approximately 300 million tons annually. In addition, the RDR technology improves energy efficiency and increases ethylene yield by up to 20% compared to traditional cracker technologies. Through its commitment to the low-carbon economy, which is firmly ingrained in its strategy, Braskem makes an important contribution to sustainable development. Braskem reduced the intensity of greenhouse gas emissions by more than 17% between 2002 and 2020, achieving 94% of the long-term goal set on climate change. In 2021, the company created the industrial decarbonization program and mapped and approved projects that contributed to the reduction of 285 thousand tons of CO2 from 2022. The project with Coolbrook is another important initiative aligned with this strategy.
Coolbrook and Braskem will cooperate closely to bring the RDR technology to industrial scale. Braskem's access to renewable electricity, circular and bio-based feedstock alongside other sustainable initiatives, will contribute to CO2-free production of ethylene, propylene and other high value chemicals to achieve the full decarbonisation of its production processes.
Ilpo Kuokkanen, Executive Chairman of Coolbrook, said: "Braskem is amongst the largest chemical actors in the Americas and the cooperation is a significant step in our strategy to decarbonise the petrochemical sector globally. Braskem is known for its innovative culture and readiness to deploy cutting-edge technologies, for example, in ethylene production from renewable feedstock. Braskem is also an excellent addition to our comprehensive and responsive partnership ecosystem spanning across leading industrial actors, academic institutions, and the public sector."
Gus Hutras, Global Process Technology Director at Braskem, said, "We have strong ambitions to significantly reduce CO2 emissions, increasing the circularity and sustainability of our products. We achieve this through innovation, including internal developments as well as key partnerships. Coolbrook's revolutionary RDR technology will help Braskem achieve its goal of reaching carbon neutrality by 2050, while also increasing overall efficiency and versatility."
Contacts
Media inquiries:
Ella Mäkelä
ella@tekir.fi, tel. +358 44 354 5093

About Coolbrook Oy

Coolbrook Oy
http://www.coolbrook.com
About Coolbrook:
Coolbrook Ltd. is a transformational technology and engineering company on a mission to de-carbonise major industrial sectors such as petrochemicals and chemicals, iron and steel and cement. Coolbrook's revolutionary rotating technology combines space science, turbomachinery and chemical engineering to replace burning of fossil fuels across all major industrial sectors. The technology has two main applications: RotoDynamic Reactor (RDR) to reach 100% CO2 free olefin production, and RotoDynamic Heater (RDH) to provide carbonfree process heating to iron and steel, cement and chemicals production. Backed by a growing number of governments, technology partners, industrial producers and environmental regulators, Coolbrook technology is set to become the new global standard in industrial electrification. For more information, please visit: www.coolbrook.com
About Braskem:
With a global vision of the future, oriented toward people and sustainability, Braskem is committed to contributing to the value chain for strengthening the circular economy and reducing the CO2 emissions. Every day, Braskem's 8,000 team members work to improve people's lives through sustainable solutions in chemistry and plastics and engage with partners throughout the value chain to advance the circular economy. With 41 industrial units in Brazil, United States, Mexico and Germany, net revenue of R$58 billion (US$15.8 billion) and exports to around 100 countries, Braskem produces annually over 20 million tons of plastic resins and chemical products.