REMINDER: Invitation to press conference on 25th April for Eastern Spirituality at Villa Gyllenberg Art Museum
Villa Gyllenberg Art Museum's summer exhibition opens on Wednesday 26th of April and sheds light on 'Eastern Spirituality' in Finnish art. The press conference is on Tuesday 25th of April at 11 a.m, sign up now!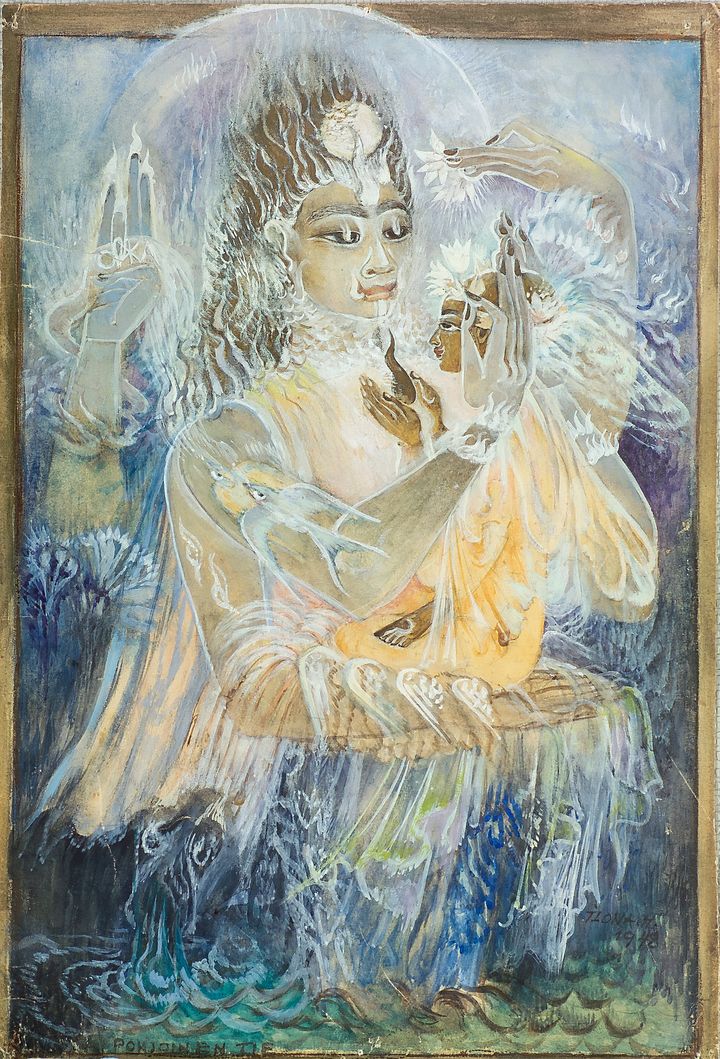 Press release
Eastern Spirituality at Villa Gyllenberg 26.4–13.8.2023
Imaginings of Buddhism, the ancient cultures of India and the sages of the East have inspired many artists. This history is intertwined with problematic confrontations and power relations, but also with a genuine desire to understand and learn from other cultures. The new exhibition presents art from the 19th century to the present by more than twenty artists, including Akseli Gallen-Kallela, Ilona Harima, Anitra Lucander and J.O. Mallander. The exhibition offers new perspectives on the history of Finnish art and is based on the pioneering research of Nina Kokkinen, Ph.D., who has previously studied esoteric spirituality.
Finding answers in Eastern spirituality
Answers to the challenges of today's hectic lives are often sought in yoga, meditation, trips to Asia and homes decorated with images of Buddha. Eastern religions have long inspired artists to collect artefacts, travel, contemplate and seek new ways of approaching both artmaking and their own spirituality. A deeper, more authentic spirituality was sought from the East and its religions.
"My dissertation dealt with esotericism in the art of Akseli Gallen-Kallela, Pekka Halonen and Hugo Simberg. During my research, it became clear that the ideas about Eastern spirituality are closely intertwined with esotericism, and these topics were also of great interest to artists who worked later in the 20th century. For some, like Ilona Harima and Anitra Lucander, Eastern spirituality became an important part of their lives. This exhibition highlights the influence of Eastern spirituality on art and culture as a broader phenomenon and examines its development over a period of more than a hundred years," says Nina Kokkinen, curator of the exhibition.
Fascinating life stories and art
The exhibition highlights interesting works, fascinating life stories and artefacts in which notions of Eastern spirituality have lived on in Finnish art and culture. Over a period of a hundred years, Eastern spirituality gained different expressions and was used to describe bohemian life, the pursuit of spiritual development, and conceptual avant-garde. In addition to visual art, the exhibition includes historical photographic material and religious artefacts collected by e.g. Gustaf Mannerheim and Akseli Gallen-Kallela.
"Ane Gyllenberg had a profound interest in spirituality and collected not only works related to Christianity but also Buddhist artefacts. He also acquired two works by Ilona Harima that have rarely been exhibited in the museum. Harima was rumoured to create art in a kind of trance state, and she depicted her own spirit guides in her works. I invited Nina Kokkinen to curate this exhibition at Villa Gyllenberg to shed light on the importance of the Eastern religious sculptures in Finnish collections and how artists have drawn from Eastern religions in different periods," says Lotta Nylund, Chief Curator of the Villa Gyllenberg Art Museum.
Art permeated with Eastern Spiritualism
Eastern spirituality has had a wide influence on all fields of art and culture. In addition to fine art and collecting, the exhibition sheds light on the influence of Eastern spirituality on the dance art of the early 20th century. The enthusiasm for oriental dance experienced in Finland also highlighted the religious nature of Asian dance and theatre art. Dancers began to move in a way characteristic of yoga, meditation and the ritual sign language of the East. They were seen to express their connection to cosmic harmony through their body and movement. Artists were inspired to depict dancers as saints, angels and mediums with extrasensory abilities.
The influence of Eastern spirituality in the early 20th century was also visible in literature and illustration art, such as the beloved fairy tale illustrations of Rudolf Koivu. Along with works related to Buddhism, artists also read works such as the Bhagavad Gita, the holy book of Hinduism.
Travel and meditation
Perceptions of Eastern spirituality became increasingly concretised as tourism proliferated after the Second World War. During their travels, artists gained first-hand experiences of Hinduism, Buddhism and Islam, and artists like Per Stenius and Anitra Lucander sought the counsel of spiritual teachers in India.
In the 1970s, numerous communities based on Eastern religions were founded in Finland, and gurus and other spiritual teachers paid visits to Finland. Artists were often involved in organising these visits.
Eastern spirituality became intertwined with avant-garde and artistic experimentation. It also increasingly gained conceptual and philosophical expressions. Art approached meditation. Towards the end of the 20th century, the importance of the artistic process grew and began to acquire ritualistic dimensions. J. O. Mallander's Wang is named after a Buddhist ritual, and Silja Rantanen's series of large paintings draws from the tradition of tantric art.
The exhibition is curated by Dr. Nina Kokkinen (The Donner Institute) and is based on her broader research project on 'Eastern spirituality' in Finnish art. In 2020, Kokkinen curated the acclaimed exhibition The Path to Hidden Knowledge at Villa Gyllenberg.
The artists featured in the exhibition are: Wäinö Aaltonen, Eva Bremer, Carolus Enckell, Akseli Gallen-Kallela, Meri Genetz, Ilona Harima, Werner von Hausen, Outi Heiskanen, Ester Helenius, Rudolf Koivu, Inari Krohn, J. O. Mallander, Ahti Lavonen, Anitra Lucander, Leena Luostarinen, Silja Rantanen, Venny Soldan-Brofeldt, Per Stenius, Matti Visanti, Hannu Väisänen and Jan Kenneth Weckman.
For media
The press conference will be held Tuesday 25th of April at 11 a.m. at Villa Gyllenberg, Kuusisaarenpolku 11, 00340 Helsinki. Registrations: siiri.oinonen@gyllenbergs.fi
The exhibition's curator Nina Kokkinen and Lotta Nylund, Chief Curator and project manager for the exhibition, will be available for interviews.


Contacts and interview requests
Lotta Nylund, Chief Curator, Villa Gyllenberg, lotta.nylund@gyllenbergs.fi, +358 40 576 1753
Nina Kokkinen, Exhibition Curator, nina.kokkinen@stiftelsenabo.fi
Opening hours, tickets and group bookings
Opening hours: Wed, Sat, Sun 12–17 and other times for group bookings
Admission: 12/10 € (0 € for under 18s and with Museum Card)
Group bookings: villa@gyllenbergs.fi