Extensive exhibition of outsider art opens at the National Museum
Untamed Art, an extensive exhibition of outsider art, will open at the National Museum on 5 May. In recent decades, outsider art created outside of the art scene has become a visible part of the art world, attracting art collectors and giving rise to museums and galleries specialising in outsider art. In 2022, outsider art was prominently displayed at the Venice Biennale. Untamed Art will be on display at the National Museum in Helsinki from 5 May to 24 September 2023.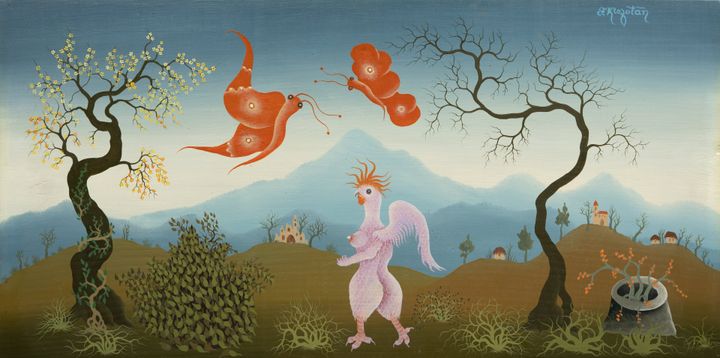 Untamed Art gathers together 280 works of art by 46 outsider artists from Europe, Brazil and Finland. The artists featured in the exhibition include the internationally acclaimed Franjo Klopotan, Madge Gill, Natalie Schmidtova and Tyyne Esko, among others.
Outsider artists are self-taught artists from outside the art world who make art ambitiously over a long period of time. They do not seek to become professional artists; in fact, many of them do not even want to show their art. As people, they are often visionaries, hermits or others at the margins of society. Many of them have dedicated their entire life to art.
The exhibition is curated by art historian and non-fiction writer Tuula Karjalainen (PhD), who has previously worked as director of Kiasma and Helsinki Art Museum, and Bachelor of Culture and Arts and art publisher Liisa Heikkilä-Palo. Heikkilä-Palo can be respectfully referred to as a forerunner in ITE art, a Finnish variant of outsider art.
Outsiders as part of the international art world
In recent decades, outsider art has become prominent in the international art scene, even being featured at the Venice Biennale. The creative potential of these works has also always inspired contemporaries.
For example, the first exhibit of works by Natalie Schmidtova, who is one of the artists featured at the exhibition, was organised by artists Dora Maar and Pablo Picasso at the famous Galerie Pierre Loeb in Paris in 1947. Schmidtova herself was illiterate, but she painted dreams about the South Seas, landscapes from South America and Egyptian subjects based on stories that her husband told her out loud.
The Finnish artist Tyyne Esko worked as a building cleaner until her retirement on disability pension, after which she built a career as a self-taught visual artist and ended up holding an exhibit praised by the New York Times at Luise Ross Gallery in SoHo, New York. The Croatian artist Ivan Rabuzin has illustrated the Suomi dinnerware collection by Timo Sarpaneva.
Many people have discovered their creativity and need to make art after traumatic events. After going through her ordeals, Madge Gill from the United Kingdom spent 40 years creating drawings containing architectural patterns and featuring a stylish woman. Gill often worked in a trance-like state, guided by a spirit called Myrninerest.
"What is particularly charming about outsider art is that it speaks directly to the viewer. You can sense from the works what they meant to their creator," says Karjalainen. "Outsider art is like a dear child with many different names around the world. Its indeterminacy and boundlessness specifically are what makes it fascinating."
"For example, ITE art is specifically a Finnish phenomenon, but, on the other hand, it has laid the groundwork for outside art in Finland. The late Erkki Pirtola used the term 'tool shed Picassos' to aptly describe ITE artists," says Heikkilä-Palo.
Outsider art lives outside the mainstream. "Through this exhibition, the National Museum shines a spotlight on originality and margins as challengers to the current mainstream and norms. As the National Museum, it's natural for us to display outsider art stemming from people's inner need for creativity that is created outside the mainstream and, through it,feature many voices from outside the high art scene," says Exhibition Producer Viveka Forsman from the National Museum of Finland.
To subconscious worlds through five themes
The exhibition has five themes. They explore everyday life and the joy of existence, but the works also lead the viewer to the world of dreams, beliefs and nightmares. Politics, and particularly harsh criticism of it, is a life-long passion for many creators. Several of the works are like surrealistic stories about subconscious worlds or cosmic dimensions. The Christian tradition and mental images of the afterlife are recurring subjects in paintings and miniature sculptures.
Many of the works were made of materials available at the time. "For example, Jussi Tukiainen from Kerimäki represents the Arte Povera movement. The materials used in his works are practically waste, and the votive ships on display are built from chicken bones and old lasts," explains Heikkilä-Palo.
You can find out more about the exhibition's themes and artists on the guided tours held in the exhibition space on Sundays at 15.00.
The exhibition includes loaned exhibition pieces from private collections and artists, the collections of the Saarijärvi Museum and two international collections of the K.H.Renlund Museum.
A programme that challenges norms provides room for creativity
The public will also have an opportunity to reach outside the norms and make art in the spirit of outsider art at workshops organised in cooperation with Drink & Draw Helsinki.
The programme for May includes crochet and wine; the workshop participants can create a unique work either based on a pattern or without a pattern. While crocheting, they can sip on wine and pick tarot cards. On Pride Week in June, the National Museum's central hall will host a catwalk show. The models, accompanied by ballroom music, will stop for a moment at the end of the catwalk to pose, giving the participants time to make a quick croquis drawing. The soul building workshop held towards the end of August will give participants an opportunity to create a self-portrait using an intuitive mixed media technique. In September, participants will be able to create memes on a mobile phone or without one and study the role of memes in particular in activism.
A seminar held in June will feature discussion about power emerging from the margin, with speakers such as Professors Jussi T. Koski and Alf Rehn presenting the topic.
On the Night of the Arts on 17 August, the National Museum will host the Outsider Art Festival 2023. The evening, which will serve as the opening event of the festival, is dedicated to outsider art and equality. The event will feature performances, movie showings and discussion sessions.
The last exhibition before the doors close
Untamed Art, which will be the last temporary exhibition at the National Museum before a renovation and extension project is launched at the museum, will be open from 5 May to 24 September 2023. The National Museum will close its doors for roughly two to three years on 16 October.
Contacts
Art historian, non-fiction writer Tuula Karjalainen, tel. +358 (0)40 590 8809, karjalainen.tuula@elisanet.fi and Bachelor of Culture and Arts, art publisher Liisa Heikkilä-Palo, tel. +358 (0)40 046 5837, liisa.heikkila.palo@gmail.com

Images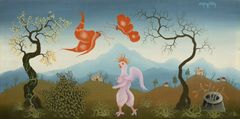 About Suomen kansallismuseo

Suomen kansallismuseo
Mannerheimintie 34
00100 HELSINKI
p. 0295 33 6000, kansallismuseo@kansallismuseo.fi
https://www.kansallismuseo.fi/fi/kansallismuseo/etusivu
Suomen kansallismuseo on valtakunnallinen kulttuurihistorian museo, joka ylläpitää ja kehittää kulttuurihistorian kokoelmiaan, edistää kulttuuriperinnön tutkimusta ja käyttöä, sekä tarjoaa näyttely- ja yleisöpalveluja museokohteissaan ympäri maan: Kansallismuseo, Seurasaaren ulkomuseo, Tamminiemi, Suomen merimuseo, Langinkoski, Hvitträsk, Louhisaari, Vankila, Hämeen linna ja Olavinlinna. Yhteiskunnallisena keskustelijana ja alan kansainvälisenä vaikuttajana toimiva Suomen kansallismuseo on osa opetus- ja kulttuuriministeriön alaista Museovirastoa.