HUS renews its digital ECG system
Diagnostic Center replaces its digital ECG recording and viewing system and recording devices. HUS's digital ECG archive is one of the largest in the world.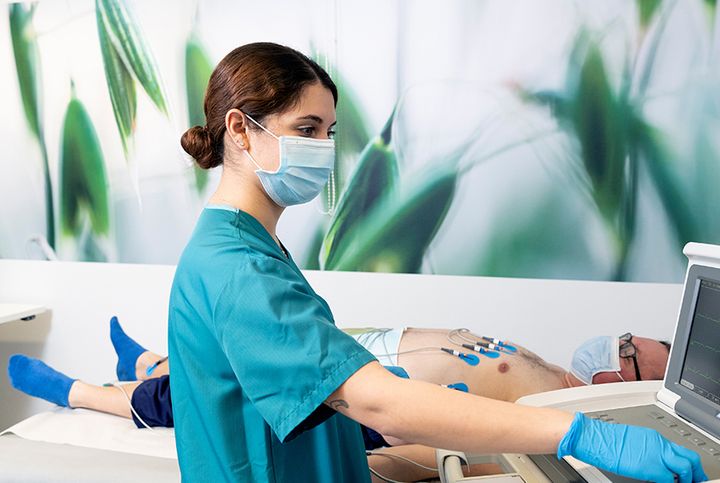 The new system will be launched in fall 2023. It will cover the regions of Uusimaa, South Karelia, and Kymenlaakso, and it will replace the current system acquired in 2008.
"We will purchase approximately 500–600 new devices, and they will replace the old ones within approximately 2–4 years," estimates Petri Haapalahti, Director of Physiology, Genetics and Preanalytics.
"In the procurement, we paid special attention to patient safety and the quality of the recording, as well as to making devices and systems easy to use for as many users as possible. It was important that different ECG recordings could be stored in the system and viewed on different devices. Viewing and analysing ECGs will become smoother now. "We look forward to using the new system and new devices," says Hanna Lantto, Chief Physician.
The devices are managed and maintained by Diagnostic Center. Neagen Oy and Medifin Healthcare Oy won the tender for the new system. The value of the procurement for the next four years is EUR 4.5–5 million. The procurement also includes new ECG recording devices.
HUS's digital archive is one of the largest in the world
The digital ECG archive has been in use since 2009. Thanks to the digital archive, patients' old ECG results have been quickly and easily available.
"With this arrangement, we can ensure that digital storage takes place in the same way across the public sector and that information is available without delay whenever it is needed," says Haapalahti.
Finnish legislation requires the recording and archiving of patient data. It is one of the reasons why the Finnish health care boasts exceptionally extensive archives from an international point of view. The HUS digital ECG archive, which is now being created, will include ECG recordings from about 2 million Finns, and it will be one of the largest in the world. This new archive will also be integrated into the national archive of imaging data, where all the data can be viewed with the patient's permission.
"Currently, 0.7 million new recordings are stored in the archive annually. The archive already contains over 7.4 million ECG recordings", says District Manager Reko Kemppainen.
The digital archive has also benefited medical research. In the studies, it has been possible to review and compare ECG measurements of different patient groups quickly and easily.
ECG is a very common examination
ECG (electrocardiogram) is most commonly recorded when examining cardiovascular diseases. The recordings are also used, for example, in health checks and when examining the effects of other diseases and medications on heart function.
"On average, an ECG recording with all the preparations takes about ten minutes. The measurement itself takes approximately ten seconds," Lantto estimates.
ECG may show, for example, myocardial infarction or cardiac arrhythmia. The basic recording technology has not changed over the decades. Electrodes are applied onto the patient's skin to record the cardiac graph. Instead, the archiving and viewing of measurement results have been improved. ECG is the most common cardiac examination performed on patients.
"I guess every Finn will have an ECG taken at some point in their lives," Lantto says.
Images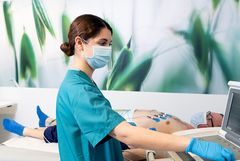 About HUS

HUS
Stenbäckinkatu 9, PL 100
00029 HUS
http://www.hus.fi
HUS Helsinki University Hospital is the biggest provider of specialized healthcare in Finland. Our high expertise is internationally recognized and accredited. As a university hospital, we are on the cutting edge of developing and evaluating our treatment methods and activities. 
HUS treats almost 700,000 patients every year. Our nearly 27,000 professionals work to provide the best possible care for our patients. We are responsible for organizing specialized health care in the Uusimaa region. The treatment of many rare and difficult diseases in Finland has been centralized to HUS as well.
HUS – Leading healthcare 
Subscribe to releases from HUS
Subscribe to all the latest releases from HUS by registering your e-mail address below. You can unsubscribe at any time.
Latest releases from HUS
In our pressroom you can read all our latest releases, find our press contacts, images, documents and other relevant information about us.
Visit our pressroom