Tampere Hall's dinosaur exhibition attracts 57,000 visitors
Tampere Hall's summer events attracted many domestic and foreign tourists. A total of 127,800 people visited Tampere Hall during the summer season. The popular Dinosaur Invasion summer exhibition was experienced by 57,000 visitors. Rock legends Patti Smith and Billy Gibbons performed for large audiences in the Main Auditorium in June. Tampere Philharmonic Orchestra's annual Park Concert in August attracted thousands of people who watched the outdoor concert live at Tampere's Duck Park or via Yle's broadcast.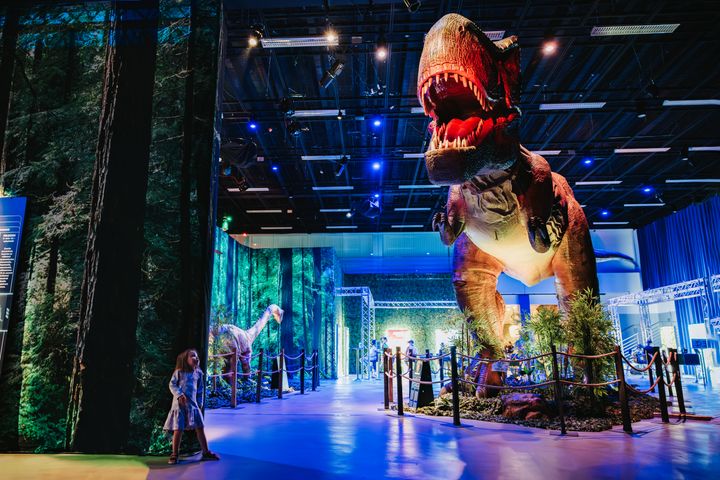 Tampere Hall enjoyed a successful summer season. A total of 127,800 visitors passed through the doors of the concert and congress centre between June 1 and August 13, 2023. The world's only Moomin Museum saw 29,800 visitors. A total of 57,000 people visited the Dinosaur Invasion summer exhibition. The exhibition, especially aimed at families with children, was open in Park Hall from 1 July to 13 August 2023 and remained a popular family destination throughout its six-week run.
The exhibition included twenty moving and roaring life-size dinosaurs, VR reality, and interactive play areas. The exhibition is owned by the European exhibition organiser World Touring Exhibitions, whose Unofficial Galaxies containing Star Wars collectibles was seen by 30,000 visitors at Tampere Hall during its four-week run in July 2022.
"Dinosaurs were clearly a thing this summer. We received visitors from all over Finland and abroad. It is important for us to make wishes come true for culture lovers of all ages in the future, as well. We are especially happy to be able to reach so many families as a target group", says Suvi Leinonen, Business Director of Tampere Hall.
Summer season continues with Tampere Beatles Happening at Tuulensuu Palace
Tampere Hall's autumn season of classical music was opened with the traditional Park Concert which was organised in cooperation with the Tampere Philharmonic Orchestra and Tampereen Sähkölaitos. The outdoor concert attracted an estimated 8,000 music lovers to sunny Duck Park on Saturday, August 12. The Finnish Broadcasting Company Yle broadcast the Park Concert at Yle Areena and on the Yle Teema television channel. The concert has reached 125,000 viewers so far and can be viewed in Yle Areena for a year.
Tampere Hall also collaborated with Tampere Theatre Festival. On Saturday, August 12, the Guinean circus company Circus Baobab performed in the Main Auditorium for 1,400 festival guests. At the beginning of summer, rock legends Billy Gibbons (June 12) and Patti Smith (June 13) performed in the Main Auditorium. A total of 3,200 people came to see the two concerts produced in cooperation with Live Nation.
Tampere Hall's summer season continues this coming weekend when Tampere Beatles Happening takes place at Tuulensuu Palace, located at Tampere's main street Hämeenkatu, from Friday 18 to Sunday 20, August. The festival celebrates the iconic British pop band and was organised at Tampere Hall eight times between 2010 and 2017. Finnish bands Jiri Nikkinen's The Beatles Tribute Band, Jussi Syren & The Groundbreakers, Beat Less and She's Leaving Home will perform at Tuulensuu Palace. In addition, international Beatles experts Kenneth Womack from the United States and Chris Thomas from Great Britain are included in the festival program. You can buy a festival pass that includes all events or individual tickets for the festival.
Check out Tampere Hall's autumn events here.
Additional information
Mrs. Suvi Leinonen
Business Director
Tampere Hall Ltd
+358 3 243 4031
suvi.leinonen@tampere-talo.fi
Interview and press ticket requests
Ms. Elsa Vähänen
Communications Specialist
Tampere Hall Ltd
Tel. +358 40 551 2739
elsa.vahanen@tampere-talo.fi
Tampere Hall Ltd
Tampere Hall is an event company and a big and bright culture and conference centre. We are situated in the heart of Tampere, the third largest city in Finland.
We have been voted as the best conference centre in Finland seven times in a row. Tampere Hall is also known for impressive acoustics and has great concerts and other cultural events all round the year. Our visitors can enjoy delicious food and sparkling drinks at à la carte restaurant Tuhto and buy wonderful gifts at Tampere Hall Shop.
Tampere Hall is an event promoter and a venue operator. We produce concerts and events in our centre, and also all over in Finland. Our event agency, Events Tampere, produces corporate events and provides congress services in Finland.
The organization's Managing Director is Ms. Paulina Ahokas. Tampere Hall's turnover and other income is amounted to a total of EUR 14,7 million in 2022. Tampere Hall Ltd was founded in 1987, and its only shareholder is the city of Tampere.
As being one of the largest conference and concert centres in the Nordic countries, we have 675.000 visitors per year, organize approximately 1 100 events and inject EUR 50 million into the local economy.
We also provide a home for Tampere Philharmonic Orchestra and the world's only Moomin Museum. The Courtyard by Marriott Tampere City is located next to Tampere Hall. Our doors are open to everyone, brighten up your day with Tampere Hall!
Tampere-talo Oy
Tampere-talo on ohjelmistoltaan, tapahtumiltaan ja kävijämäärältään Suomen suurin ja monipuolisin kulttuuri- ja kongressikeskus ja tapahtumayhtiö. Toimimme myös promoottorina tuottamalla tapahtumia ja konsertteja talon ulkopuolella, ja Events Tampere -tapahtumatoimistomme tuottaa yritystapahtumia ja kongressi- ja kokouspalveluita.
Tapahtumamme sisältävät mm. balettivierailuita, oopperaa, lastenkulttuuria, rock- ja pop-konsertteja, messuja, kokouksia, konferensseja, yritystapahtumia, seminaareja ja kansainvälisiä kongresseja.
Vuonna 2019 Tampere-talon liikevaihto oli 14,6 miljoonaa euroa. Vuodessa järjestämme yli tuhat tapahtumaa, kävijöitä on vuosittain 675 000 ja tuotamme Tampereen talousalueelle 50 miljoonaa euroa. 
Tampere-talo Oy on perustettu 1987 ja ovet avattiin yleisölle 1990. Se on Tampereen kaupungin omistama osakeyhtiö. Talossa on vieraillut jo lähes 10 miljoonaa kävijää. Yhtiön toimitusjohtaja on Paulina Ahokas ja työntekijöitä on 49. Hallituksen puheenjohtaja on Martti Silvennoinen.
Talossa toimivat lisäksi täysimittainen sinfoniaorkesteri Tampere Filharmonia, à la carte -ravintola Tuhto ja maailman ainoa Muumimuseo. Talon yhteydessä palvelee Courtyard by Marriott -hotelli.