Helsinki Boat-Afloat Show opens this Thursday bigger than ever
The Helsinki Boat-Afloat Show (Uiva Flytande) opens this Thursday bigger than ever. The floating boat show will present almost 300 boats, while the exhibition stands will cover a record 3000 square metres on land.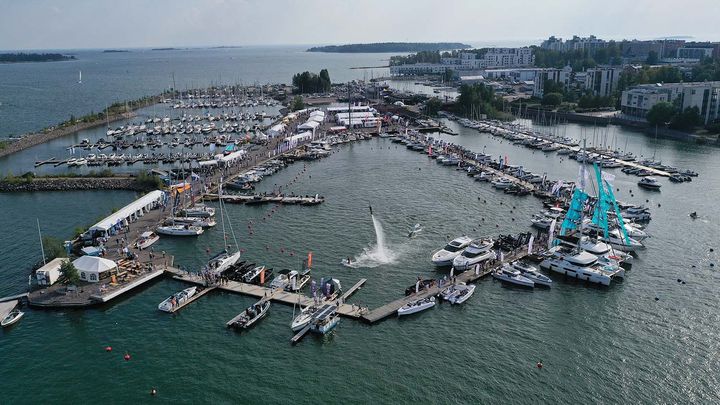 "The Helsinki Boat-Afloat Show has grown to become the biggest floating boat show in Northern Europe. The exhibition area at the HSK yacht club covers more than two hectares, offering a wide range of accessories, supplies and services for boaters," says Jarkko Pajusalo, CEO of Finnboat, organiser of the Helsinki Boat-Afloat Show.
This year's new boats at the floating boat show include two new AMT models (165 R and165 Rf) , the new Aquador 250 HT, the spacious Saxdor 270 GT designed for day trips, Suvi's new boats for summer cottages – the Suvi 423 console model and the Suvi 44 self-draining fishing boat, the new Silver flagship, full aluminium Silver Seahawk CCX and the Yamarin 80 DC, which combines the features of a day cruiser and walkaround and will receive its world premiere at the show,
At the boating supplies and accessories stands, visitors can find docking and maintenance services, trailers and docks, as well as boat electronics, lines, heaters and boating apparel. Exhibitors include Kapteenska, Marinekauppa, Maritim, Marnela, Mastervolt, Nautikulma, Ocean Spirit, Storm Marin, the boaters' online store Veneilijän Verkkokauppa.fi and WALTIC-boatcenter. In total, more than 150 companies are exhibiting this year.
Programme for both adults and kids
In addition to boats and supplies, the Helsinki Boat-Afloat Show offers a full programme for both adults and kids. A popular feature that has become a tradition in recent years is the amazing flyboard and freestyle jet ski demonstrations by the experts from Extreme-Life, which will be repeated three times a day from Friday to Sunday. In addition to these shows, kids will also be entertained at the activity centre run by the Finnish Sailing Federation next to the rowing boat area.
Visitors will be able to test outboard motorboats and Kawasaki jet skis daily without a reservation from the test-driving pier and try sailing with certified instructors from PORY near the breakwater at the northern end of the show. In addition, many exhibitors will be offering test-driving opportunities outside show hours.
The programme on the main stage will include daily presentations by Jan Sjölund from the boating magazines Venemestari and Totalvene about the new boats at the show. Maintenance experts Jouko Välikoski from Mauronet and Juuso Haggren from Flexiteek in turn will offer tips on how to maintain and repair your own boat, while Hannu "The Knot" Seppänen will demonstrate useful knots that all boaters should know.
Visitors can also hear about the waters of the world from Kalevi Westersund, an expert on harbours in the Baltics, Kari "Ruffe" Nurmi, who recently returned from an Arctic adventure, and Satu Morri-Niemelä, who has cruised the Caribbean with her family and children. Ari Känsäkoski will take visitors on an even longer journey as he prepares for the Global Solo Challenge around the world without stops. Känsäkoski will also entertain visitors daily on the main stage.
On Thursday, visitors can hear about the legendary Swan 651 "Spirit of Helsinki" (ex Fazer Finland) as it prepares for the Ocean Globe Race 2023, and on Friday, Tapio Lehtinen will tell the latest news about Galiana WithSecure direct from Gosport, England.
The fishing pier will feature daily talks by the Kalastajan Kanava fishing channel, and fishing guide Jani Ollikainen will share information about autumn fishing for half an hour each day on the main stage.
Visitors to the Helsinki Boat-Afloat Show will not have to survive on grilled sausages alone, as numerous street food vendors will be serving delicious cuisine from around the world. This year's street food vendors include Churros-Café, Fisu&Ranet, Happy Days Street Food, Levant, Thai Papaya and TreffiPub & bistro, as well as the Blue Peter restaurant next to the main entrance, the restaurant tent in the main square and the café at the northern end of the show area.
Hundreds of boats popular among Finns
The largest category of boats at the Helsinki Boat-Afloat Show in terms of sheer numbers comprises 5-7 metre open boats, which are particularly popular among Finns. A great selection of console and bow rider boats of different sizes and from different manufacturers, such as AMT, Buster, Cross, Falcon, Faster, Marino, Silacraft, Silver, Terhi and Yamarin, will be on display. Axopar and Saxdor in turn offer a new perspective on traditional boat classes.
For wooden boat fans, a new boat model by Puuveneveistajät ry named Kiisla can be admired along with Jakobstads Båtvarv's excursion yacht Nordwind 20 and Nordic Craft's Point Comfort 18 motorboat.
Fans of spinning in particular will be treated to mainly aluminium boats at the fishing pier, including Powerboat, which has been designed for the needs of anglers, a Buster XXL equipped for spinning, the aluminium-framed RIB Aquaspirit 585 DC, and the Alucat W6 Fish catamaran. Ukrainian aluminium boat expertise will be represented by the aluminium-framed Aquaspirit-RIB and the Powerboat and UMS boats, the largest of which is the over seven-metre UMS 700 HT cabin boat and the smallest the 5.4-metre UMS 545 Fishing.
In addition to aluminium boats, the fishing pier will also feature the sturdy Päijän 520 L rowing boat, which visitors can test using Päijän's new composite and aluminium Aero oars. In addition, Päijän's smaller 471L model designed for anglers can be found at the Kalastaja Kanava stand. The large rowing boat area is located near the E-pier on the eastern edge of the show area.
Growing number of electric boats
The number of electric boats at the boat show has increased year by year, and this year there will be at least a dozen boats equipped with electric propulsion on display. Domestic manufacturers have also eagerly entered the new market.
The most recent arrival on the electric boat scene is Valkama from Finland, which will present two versions of its five-metre electric boats: Valkama Fish and Valkama Picnic Cruiser. The Elvene electric boats section in turn will present the more than six-metre, twin-engine Amber day cruiser and the rowing boat-inspired Greta. The Finnish Q Yachts section will display their fully electric Q30 day cruiser, which is just over nine metres long, as well as the Q24 Club open boat, which is just over seven metres long and used by the Skipperi rental service, for example. In addition, the Suomi 475 Cat electric catamaran will be on display in the Tekno-Marine section.
The largest electric boat at this year's show is the 12-metre Greenline 40 Hybrid, which promises an electric range of up to 20 nautical miles. The boat is available both as a hybrid version that combines diesel engines, an electric powertrain and batteries, and as a fully electric version, which is powered by a 4 kW "range extender" diesel generator.
Sailing boats for those interested in competing and just cruising
A new model at the sailing boat pier this year will be the sporty Dehler 38 SQ, which is suitable for both competing and cruising, alongside which will be the impressive Finnish Scandi 42 deckhouse sailing boat.
Catamarans by distinguished maker Lagoon that will be on display this year include the nearly 13-meter Lagoon 42 Comfort and the nearly 15-meter-long Lagoon 50 Elegance, which both offer amazing living and recreation spaces with their width of about eight meters.. Finnish wooden boat building expertise will be represented in turn by the splendid Nordwind 20 by Jakobstads Båtvarv.
Those interested in speed can enjoy the sporty SB20 lightweight sports boat, as well as the Class40-category OCD40 boat belonging to Ari Känsäkoski, who is preparing for the Global Solo Challenge round-the-world race.
Wide selection of large cruising boats
The selection of large cruising boats will also be impressive this year. Visitors can see, for example, the Axopar 37 and 45, Jeanneau Merry Fisher 1095 Fly, Marex 360 Cabriolet Cruiser, Flipper 900 DC and 900 ST, Sargo models up to 36 feet, four different Grandezza boats, five Targas, the brand-new Aquador 250 HT and 300 HT, and the Windy 34 Alizé.
Large day cruisers on display include the Yamarin 88 DC and the new Yamarin 80 DC, which will be unveiled at the show, as well as AMT's flagship 240 DC and the Nordkapp Noblesse 830.
Crossover boat models will be represented by the likes of Axopar, Quarken and Saxdor. The Brabus Shadow 900 Stealth Green at over 11 metres is a particular eye-catching model among boats designed for adventures.
A strong selection of aluminium cabin boats that are especially popular for fishing and commuting in the archipelago will also be exhibited this year. Finnish Aaltomarine, Swedish Anytec, Arronet and Ockelbo, as well as domestic aluminium boat pioneer Buster with its Magnum Cabin model and Bella's aluminium boat brand Falcon with its C7 will present their own versions. Even more robust versions of cabin boats are represented by workboat-like MAX boats, as well as Alucat catamarans and the polyethylene Arctic 23 Cab. Reinforced plastic alternatives in the commuter and multipurpose cabin boats category are represented by the likes of TG and Quicksilver.
The largest motor yachts at this year's Helsinki Boat-Afloat Show are the Sunseeker 55 Manhattan at more than 17 metres, the 16-metre Princess V50, and the Targa 44, Galeon 470 Sky and Glacier 48 at more than 14 metres.
The sturdiest boats at the exhibition are Finnpilot's L153 pilot boat and the Finnish Border Guard's newest vessel.
About Finnboat
Finnboat
Käenkuja 8 A 47
00500 Helsinki
http://www.finnboat.fi/
Finnish Marine Industries Federation Finnboat is the umbrella organisation for Finland's marine industry and trade. Finnboat membership represents close to one hundred percent of both the nation's domestic marine industry turnover and the value of boat exports.