Aaron Heino pushes the boundaries of sculpture in Off Topic
Off Topic is a new exhibition at EMMA featuring the winner of the 2019 Fine Arts Academy of Finland Prize, Aaron Heino. Heino's organic treatment of form is informed by the abstract tradition of sculpture, but his subjects are universally relatable. His meditations on the cycle of life, sexuality and human relationships are placed in humorous juxtaposition with his surprising choice of materials. Off Topic will be on view at EMMA from June 2 to December 12, 2021.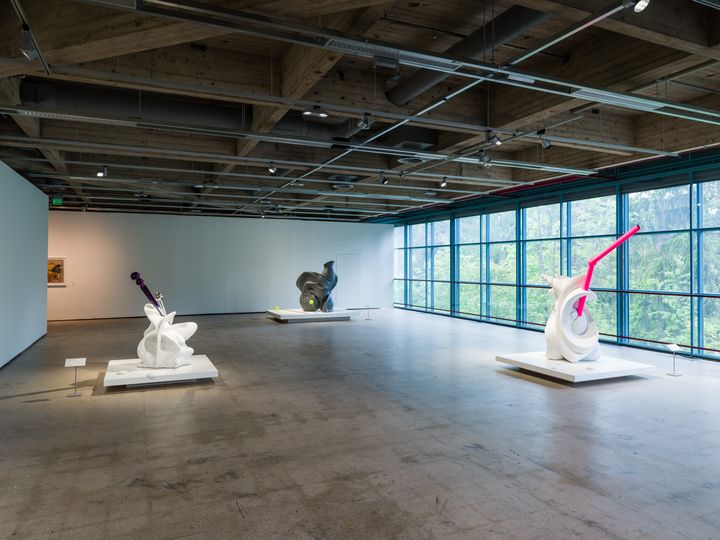 You are cordially invited to attend the online press conference on June 1, from 10 am to 11 am, via this link.
Aaron Heino's (b.1977) polished, well-nigh futuristic surfaces speak of his great love of working with his hands and his deep fascination with materials and their sculptural potentialities. Embracing a slow, physical process, he often works on several pieces simultaneously.
The title, Off Topic, refers to how Heino pushes his themes in tangential directions through unexpected associations. His work juxtaposes classical materials and the legacy of modern sculpture with surprising content inspired by popular culture. There is playful tension in the form and content, which is at once captivating and repulsive, creating an idiosyncratic aesthetic vocabulary through which the artist dismantles the masculine hero myths of sculpture.
EMMA's overarching theme for 2021 is the power of art. The exhibition is part of the Fine Arts Academy of Finland Prize awarded to Heino in 2019, and it was curated by EMMA's curator Milja Liimatainen. "Heino is an intriguing revolutionizer of form and technique. His work is a like a breath of fresh air," commented the chair of the jury Antti Linnovaara.
The Fine Arts Academy of Finland Prize is awarded to Finnish artists at the peak of their creative powers whose work deserves greater recognition and visibility. The award consists of 25 000 euro in prize money, an exhibition at EMMA, and an accompanying catalogue. Previous winners include Tuomas A. Laitinen, Camilla Vuorenmaa and Outi Pieski.