Adel Abidin's exhibition deals with the painful aspects of our history
From 14 March to 22 April 2018, the Ateneum Art Museum will host History Wipes, an exhibition by the contemporary artist Adel Abidin (born 1973, Baghdad, Iraq). The exhibition will present video installations and sculptures by the internationally recognised artist. Some of these works are completely new, while others have been created in recent years. The works deal with the painful aspects of our history and human existence in an increasingly unstable world.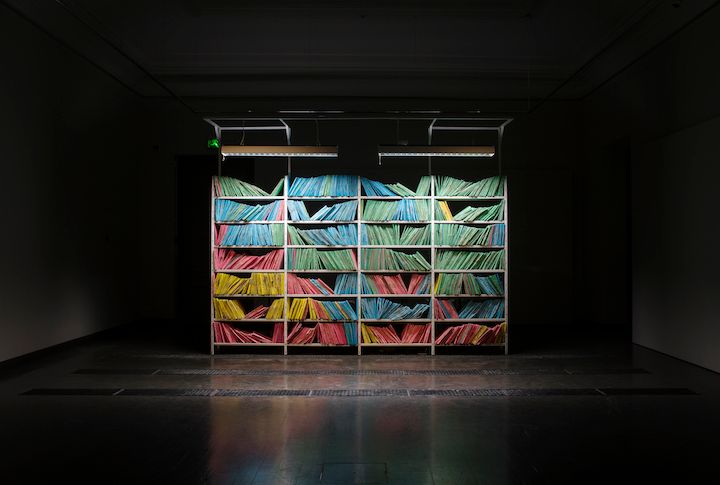 "Human existence is played out on just two stages: the past and the future. We are accustomed to relying on written history – but how can we be sure that we know the whole truth about our history? And what would happen if we were to forget all the wars that we caused and all the people that we killed? This is the hypothesis I will examine in my exhibition", Adel Abidin says.
"The Ateneum is one of the key memory institutions in Finland, and it has shaped the image of Finnishness and our common history ever since 1888. Issues related to identity and memory are also central in Adel Abidin's art", says the museum director, Susanna Pettersson, expounding on the motivation for the exhibition. 
History Wipes challenges us to look at what is happening around us right now, and what has happened over the previous decades and centuries. The exhibition deals with uncomfortable issues that we prefer to shut out from our minds. The subjects include ethnic cleansing, war, refugees, and manipulation exercised by the machinery of power. The artist is interested in what is being wiped from sight: what we seek to blot out and what we keep quiet about.
A total of 11 works will be on display in different parts of the museum, including the main staircase and the exhibition galleries on the second and third floors. Many of the new works in the exhibition have emerged in interaction with the museum's architecture. 
The exhibition produced by the Ateneum is curated by the director of the Ateneum Art Museum, Susanna Pettersson, Ph.D., and the chief curator Sointu Fritze. Concurrently with Abidin's exhibition, the Stories of Finnish Art exhibition will feature a selection of works by Henry Ericsson (1898–1933) that deal with the Finnish Civil War, curated by the special researcher Erkki Anttonen. 
The exhibition will coincide with publication of the book Adel Abidin – History Wipes, written by Susanna Pettersson. Published by the Parvs publishing company, the bookwill present new and older works by Abidin. 
Adel Abidin divides his time between Helsinki and Amman, Jordan. Abidin's work is characterised by a strong social ethos. Through his art, he deals with difficult topics, often using light humour and sarcasm. However, in the end, his works come across as profound, serious and even gloomy. 
Events related to the exhibition
Wed 21 Mar, 18:00–19:30, ATENEUM LIVE TALK SHOW
Ateneum Bistro. Live encounters once a month, hosted by Baba Lybeck: words, tones and ideas; crying and laughter; and bold debates. The show's topic is related to Adel Abidin's exhibition. Admission is free.
Wed 28 Mar, 10:00 to 20:00, ART FOR US! FREE ADMISSION FOR YOUNG PEOPLE AND STUDENTS
Free admission with a student card and for under-25-year-olds. Adel Abidin will present his exhibition, in English, at 16:00. Visible Idea badge workshop in the Ateneum courtyard, 15:00–18:00.
Wed 28 Mar, 18:00–19:30, HISTORY WIPES? PANEL DISCUSSION
Ateneum Hall. A panel discussion on identity, power and culture. Discussing the History Wipes exhibition will be the artist Adel Abidin; the director of the Ateneum Art Museum, Susanna Pettersson; the leading foresight specialist at the Finnish Innovation Fund, Mikko Dufva; and students from the Helsinki Upper Secondary School of Visual Arts. In Finnish and English.
OPEN GUIDED TOURS OF THE EXHIBITION
In Finnish Thursdays at 18:00 and Sundays at 13:00 | In Swedish Sunday 1 Apr at 14:00 | In English Sundays 8 Apr and 22 Apr at noon | In Russian Sunday 8 Apr at 14:00
Opening hours
Tue, Fri 10am–6pm | Wed, Thu 10am–8pm | Sat, Sun 10am–5pm | Mon closed
Admission
Adults €15 | Concessions €13 | Under 18s free admission | with S-Etukortti card €14
Twitter: @AteneumMuseum | Facebook: AteneumArtMuseum | Instagram: ateneummuseum
Yhteyshenkilöt
Anna Kari, Communications Officer, tel. +358 40 717 8185, anna.kari at ateneum.fi

Press photos: press.ateneum.fi | username: ateneum | password: mediat

Tietoja julkaisijasta

Ateneumin taidemuseo / Konstmuseet Ateneum / Ateneum Art Museum
Kaivokatu 2
00100 HELSINKI
0294 500 401
http://www.ateneum.fi
Ateneum's main corporate partners are Helsingin Sanomat, HOK-Elanto and KPMG. The production of the video installation Cleansing has been supported by The Promotion Centre for Audiovisual Culture (AVEK) and Qatar Museums (QM). 
Ateneum Art Museum is Finland's leading art museum, which houses Finnish art from the 19th century to the modern age. Ateneum is part of the Finnish National Gallery, together with the Museum of Contemporary Art Kiasma and Sinebrychoff Art Museum. www.kansallisgalleria.fi/en