Amos Rex's 2022 exhibitions explore worlds above and underground
In 2022 Amos Rex invites you to explore natural and man-made worlds above and underground: the lure of the underworld, the warm embrace of a huge wooden nest and the cool mystery of an achromatic garden in the heart of the museum. "Subterranean" delves into the underworlds through contemporary and historical works from nearly 60 artists. Tadashi Kawamata builds "The Nest", a site-specific artwork composed of recycled materials on top of the museum. Finally, the hypnotic world of Hans Op de Beeck's new immersive installation takes over Amos Rex and invites visitors to ponder the essential questions of being.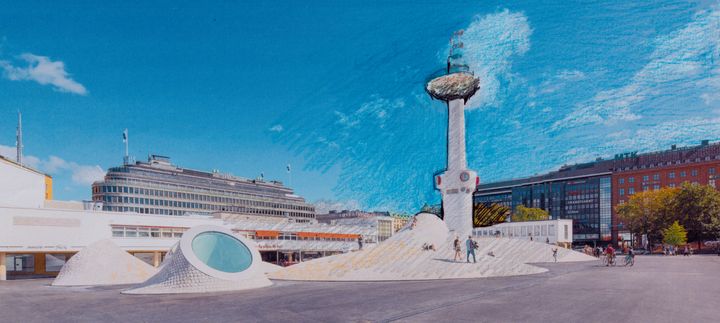 In March, Amos Rex underground exhibition spaces are filled with enigmatic, frightening, alluring and mysterious depictions of underground worlds. The group exhibition Subterranean brings together hundreds of works by nearly sixty artists across painting, sculpture, video, installation art and performance. Combining contemporary and historic works, the exhibition takes us into the caves and cavities of geology, to the Death realms of mythology, down the rabbit holes of literature as well as into the exploitation of the earth under our feet. The exhibition is curated by Pontus Kyander and Anastasia Isakova.
May sees the unveiling of a two-part sculptural constellation by Japanese sculptor Tadashi Kawamata. The Nest is constructed from reclaimed materials, and attaches itself to the Lasipalatsi (Glass Palace) building. Since the 1980s, Kawamata has carried out site-specific projects all over the world, to landmarks and monuments such as the Palace of Versailles and Centre Pompidou. His installations add layers and structures to natural and urban spaces often in collaboration with local groups. The exhibition is curated by Itha O'Neill.
In the autumn Amos Rex has the pleasure of presenting Belgian artist Hans Op de Beeck for the first time in Finland. Known for his large-scale spatial installations, monochromatic works and figurative sculptures that capture frozen moments, Op de Beeck creates a new immersive installation to Amos Rex. The hypnotic world of The Quiet Parade invites the viewer to reflect on our complex society, as well as the universal questions of existence and mortality. The exhibition is curated by Terhi Tuomi.
The exhibition Bill Viola: Inner Journey opens on 22 September 2021 and runs until 27 February 2022.


Amos Rex exhibitions 2022
Bill Viola – Inner Journey, 22 September 2021 – 27 February2022
Subterranean, 30 March – 21 August 2022
Tadashi Kawamata: The Nest, 18 May – 4 September2022
Hans Op de Beeck: The Quiet Parade, 21 September 2022 – 26 February 2023
Collections 2022
Frosterus Collection display, ongoing
Amos Rex collections are on view at Söderlångvik museum on Kimito island, open May – September 2022.
Press photos